There's one thing all NFL owners must have: A lot of money. NFL owners are absurdly rich, with all but four being worth at least a billion dollars. Sporting News has compiled the richest owners, and we're here to break down the 14 richest. 
Before we get started, it's worth teasing that the richest owner has a surprisingly massive lead on everyone else. And if you're wondering who is last, it's Panthers owner Jerry Richardson, who is worth "only" $500 million. With that in mind, here are the 14 wealthiest owners in the NFL. 
14. Jim Irsay, Indianapolis Colts - $1.6 Billion
Irsay came into his wealth from his father Robert. The son took over the team in 1997, after his father had moved the team from Baltimore in 1984. Robert actually originally owned the Los Angeles Rams, but traded them for the Colts. Seriously. 
13. Arthur Blank, Atlanta Falcons - $1.8 Billion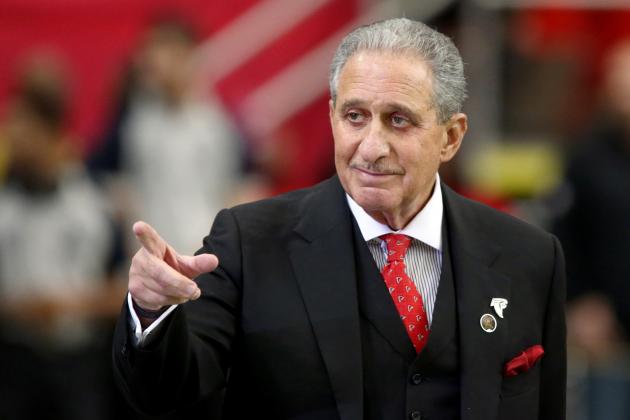 Blank co-founded Home Depot back in 1978 after he had be fired from another home-improvement company. For more NFL News, download the Chat Sports App!
12. Bob McNair, Houston Texans - $2 Billion
McNair owned a Texas energy company, and sold it to Enron in 1999, just before that company collapsed. He landed the expansion rights to the Texans three years later. 
11. Steve Bisciotti, Baltimore Ravens - $2.2 Billion
Bisciotti owns a business staffing company, which sounds boring, but has made him a lot of money. Bisciotti started as a minority owner of the Ravens in 2000, before becoming the majority owner in 2005. 
10. Joan Tisch, New York Giants - $2.8 Billion
That's right - it's not just the Mara family that actually owns the Giants. Tisch's husband Bob co-owned the team with the Maras starting in 1991 and his family was in charge of the Lowes Corporation. Her son Steve and John Mara run the Giants, but it's Tisch that is the wealthiest. 
9. Robert Kraft, New England Patriots - $2.9 Billion
Kraft took his father's paper and packaging company and turned into a holding group that includes several privately owned companies and real estate developments. Kraft is also part of a group trying to buy UFC. He already owns the MLS' New England Revolution. 
8. Shahid Khan, Jacksonville Jaguars - $2.9 Billion
Khan once tried to buy the Rams, but eventually got his team in the Jaguars. His business now sells parts to most of the major auto manufactures. He also owns Fulham FC and the NFL's best facial hair. 
7. Jerry Jones, Dallas Cowboys - $3 Billion
For all his talk, Jones isn't in the Top 6 richest owners. He made his money through oil and gas prospecting in Arkansas. 
6. Woody Johnson, New York Jets - $3.5 Million
Johnson is the great-grandson of the founder of Johnson & Johnson. He's also the CEO of a private investment firm. 
5. The Glazers, Tampa Bay Buccaneers - $4.4 Billion
When Malcolm Glazer died in 2014, Joel, Bryan and Edward took over as co-chairmen. Joel is the one who represents that family at owner's meetings. They also own Manchester United. 
4. Terry Pegula, Buffalo Bills - $4.6 Billion
Pegula is a relatively new owner, and that helps explain why he's isn't as well known by fans outside of Buffalo. He bought the team following Ralph Wilson's death in 2014. He's made his money through fuel, and also bought the Buffalo Sabres in 2011. 
3. Stephen Ross, Miami Dolphins - $5.4 Billion
Ross made his money via commercial real estate. Most of his work has come in Manhattan. 
2. Stan Kroenke, Los Angeles Rams - $5.6 Billion
Kroenke got his money through real-estate, and also married into the Walton family, i.e. the Wal-Mart founders. His wife is worth $4.8 billion. He also owns the Denver Nuggets and Colorado Avalanche. 
1. Paul Allen, Seattle Seahawks - $15.9 Billion
Allen co-founded Microsoft with Bill Gates, and also owns the Portland Trail Blazers. He's so rich, he's worth more than the previous three owners combined. 
Back to the NFL Newsfeed
Related Topics: Stan Kroenke, Paul Allen, Jim Irsay, Stephen Ross, Arthur Blank, Terry Pegula, Shahid Khan, NFL Owners, NFL News, Jerry Jones, Robert Kraft