With the 2015 NFL season now over, everyone has already turned their attention to the offseason. Everyone's first priority is re-signing its own players, but there are several big-name players that will likely hit the free agent market this offseason. Here are 12 guys that are most likely to be cut:
QB Johnny Manziel 
The Browns will probably try to trade Manziel first, but unless Jerry Jones goes rogue, that's unlikely to happen. Cutting Manziel will cost the Browns an extra $2 million on their salary cap this season and $1 million if they spread out the hit by making Manziel a post-June 1 cut. However, that's a small price to pay for a QB who doesn't seem to have a future in Cleveland and has been too much of a distraction. The Browns have already said that Manziel won't be on their roster in March.
QB Robert Griffin III
It's practically a foregone conclusion that RGIII won't be back in Washington next season after losing his starting job to Kirk Cousins and was demoted to third-string QB all season. The Redskins can save over $16.1 million by letting Griffin go, and they have no plans to pay a backup quarterback that much money. Washington may try to trade him, but Griffin will not be back with the Redskins next year.
QB Colin Kaepernick
This seemed like a nearly forgone-conclusion after Kaepernick was benched in favor of Blaine Gabbert earlier this season, but now that Chip Kelly is the head coach in San Francisco, Kaepernick might be staying. He's a perfect fit for Kelly's system and Kelly could want to keep him. Kaepernick's contract is complicated, but cutting him would save the team $8 million of his nearly $16 million cap hit next year. It's large hit, but the 49ers will likely elect to keep Kaepernick for another year. If he struggles again, the team can save nearly $15 million by dumping him next year. 
CB Brandon Carr
Dallas owes Carr over $9 million next season, which is a HUGE overpay considering his lack of production. He'll turn 30 years old this offseason, and Carr has now gone two entire seasons without recording a single interception despite being a starter. The production just isn't there, and the Cowboys could use that cap space elsewhere.
SS Donte Whitner
Whitner can still play in the league, but he's not the same player he was when the Browns signed him to a 4-year, $28 million contract before 2014. He carries a $8.45 million cap hit this season, the third largest of anyone on the team. The Browns can save nearly $4 million by cutting him this year. They might not elect to do so because Whitner is only 30 years old, but expect Cleveland to at least consider parting ways with Whitner. 
RB Darren Sproles
Sproles has been very productive during his time with the Eagles, but he was demoted to thrid-string running back last year behind Ryan Mathews and DeMarco Murray. Philadelphia wants to protect their investment in the other two backs, so expect Sproles to be on his way out. The Eagles will likely try to trade him, but if they can't find an offer they want, expect them to cut him.
WR Brandon LaFell LaFell looked poised to have a breakout year in 2015 after a productive end to the 2014 season, but that didn't turn out to be the case. Instead, he took a giant step back, catching just 37 passes for 515 yards and no touchdowns, racking up numerous drops along the way. New England has gotten by without a big bodied receiver since Randy Moss left, and with LaFell's lack of production, they're sure to part ways with him this offseason.
RB Joique Bell
Detroit was counting on Bell to be their featured back this season, but instead, he was one of the biggest reasons why they had the worst rushing attack in the league. He finished the season as Ameer Abdullah's backup and only received 90 carries for 311 yards and four touchdowns this year. Expect Detroit to try to save the $2.5 million they owe Bell next year.
WR Dwayne Bowe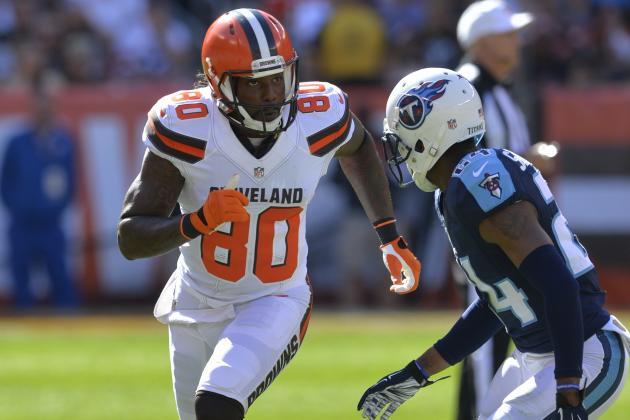 Bowe was one of the worst signings last offseason, with the Browns giving him a 2-year, $12.5 million contract with $9 million of that guaranteed. Bowe only caught five passes for 53 yards ALL SEASON. It was a disastrous signing and the Browns can save $3.4 million by cutting Bowe this offseason.
RB Roy Helu Jr.
Helu is under contract for $1.9 million next season, but none of it is guaranteed. Helu was an extremely small part of Oakland's offense, running for just 39 yards on 17 carries this year. At this point, the Raiders would be much better off spending half of that money on a rookie back that will produce instead of on an ineffective veteran like Helu.
TE Brandon Pettigrew
Pettigrew is losing almost all of his snaps at tight end to Eric Ebron, and considering he only had seven catches for 67 yards in eight games this year before tearing his ACL, it's clear he's not a focal point of the offense. That being said, Detroit owes him over $8 million over the next two years, and that cap space would be MUCH better spent elsewhere.
Back to the NFL Newsfeed
Related Topics: Browns News, Donte Whitner, Darren Sproles, Lions News, Brandon Carr, Redskins News, Johnny Manziel, NFL News, Joique Bell, Eagles News, Cowboys News, Brent Celek, Colin Kaepernick, 49ers News, Patriots News, Brandon LaFell, Robert Griffin III, Dwayne Bowe, Raiders News, Roy Helu Jr.