Week 3 of the NFL season promises to be just as insane as the first two weeks have been, with a litany of top-tier matchups coming which will help us separate the early contenders from the pretenders. Here are 10 Things To Keep An Eye Out For During NFL Week 3's Sunday Slate.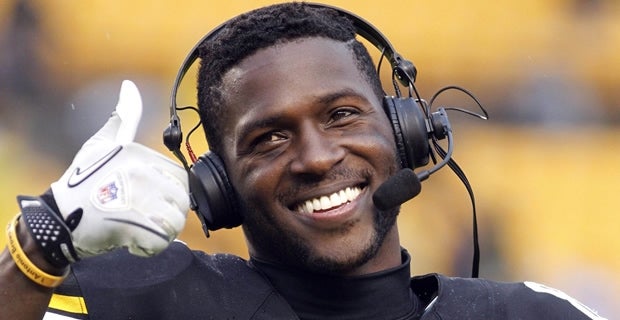 1. Pittsburgh Steelers WR Antonio Brown has posted 100 yards or more receiving in four straight games, including Week 17 of 2014 and the team's playoff loss to Baltimore. He's halfway to Calvin Johnson's modern-day record of eight (2012) and should have a great chance of making it five in a row against a St. Louis Rams secondary that has been spotty.
2. Expect the New York Jets to blitz at Philadelphia Eagles QB Sam Bradford early and often on Sunday. Jets head coach Todd Bowles has dialed up pressured on 47% of the team's defensive snaps, per Grantland.com. The hyper-rush strategy neutralized Andrew Luck and the Colts, so there's no chance the Jets stop that trend against Bradford.
3. The Jacksonville Jaguars' pass rush has improved by leaps and bounds this year. However, they'll face the ultimate test on Sunday against Tom Brady and the Patriots. No NFL quarterback sets his feet quicker and throws with more confidence than Brady. If the Jags are going to have a chance in this one, they'll have to collapse the Pats pocket quickly and force Brady to move off his spots with regularity.
4. Will it be a Marcus Mariota field day? The Indianapolis Colts defense hasn't done much of anything this year, including allowing Tyrod Taylor and Ryan Fitzpatrick to operate comfortably against them in back-to-back losses. If you have Mariota on your fantasy bench, now might be a good time to plug him in with the Tennessee Titans rookie getting another chance to wow the home crowd in Nashville against a suspect pass defense.
5. The Atlanta Falcons are 2-0 and headed to Dallas to face a Cowboys squad sans an injured Tony Romo. This might not be the litmus test needed to gauge whether or not the Falcons (who won their first two games by a combined six points) are legit NFC contenders, especially since we have no idea what to expect from a shellshocked Cowboys squad helmed by Brandon Weeden. Call this the Question Bowl, especially if Weeden struggles and is pulled in favor of newcomer Matt Cassel.
6. We're taking the Seattle Seahawks as 14.5-point home favorites over the Chicago Bears. Heck, we might even lay three touchdowns if someone asked us nicely. Bears QB Jimmy Clausen was 14-of-23 for just over 120 yards in relief of Jay Cutler last week and his accuracy wavers dramatically in the face of aggressive pass rushes and pinched-up secondaries. With Cutler sidelined due to a hamstring injury, life is going to suck for the Bears and Clausen in the Pacific Northwest.
7. Best QB in the NFL through two weeks? You can't go wrong if you say Arizona Cardinals veteran Carson Palmer. Palmer is connecting on 64.3 percent of his passes, and most of those have been absolute strikes past the chains. He's also drawn four pass-interference flags for 120 yards -- the most in all of the NFL right now. He's the ultimate shootout QB, so don't be surprised if he starts getting some early MVP consideration with a big-time performance against the NFC West rival San Francisco 49ers.
8. Is this a must-win game for Miami Dolphins head coach Joe Philbin. Philbin barely skirted a pink slip last offseason after another mediocre season for the Phins, and a loss this Sunday at home against Buffalo would drop the Dolphins to 1-2 and alone in the cellar of the AFC East. We're not saying he'll be fired with a loss. However, we do think the seat will get unbearably hot if Miami falters.
9. Who are the Baltimore Ravens? After a demoralizing 37-33 loss at the hands of the Oakland Raiders last week, the Ravens are 0-2 and in legit danger of falling to 0-3 after hosting the surging Bengals on Sunday. Without Terrell Suggs, Baltimore's defense seemed to lack an identity last week. Can they find themselves over these 60 minutes at home, reannouncing themselves as contenders in a stacked AFC North race?
10. The Oakland Raiders have prepared for Johnny Manziel AND former Raiders QB Josh McCown in preparations for their road opener at the Cleveland Browns. We're not buying into this being a straight McCown start after the way Manziel looked in Cleveland's win last week, and neither are the Raiders. Keep your eye out for a fluid QB game plan on the Browns' side.
Back to the NFL Newsfeed
Related Topics: Todd Bowles, Terrell Suggs, NFL Week 3, Antonio Brown, Sam Bradford, Josh McCown, Johnny Manziel, Jimmy Clausen, Tom Brady, Marcus Mariota