Can you feel it? Fall is coming, which means relationships/jobs/social lives we be sacrificed at the altar of the National Football League. Or, more accurately, the altar of FANTASY FOOTBALL. With that in mind, we thought this would be a good time to save you some hassle and embarrassment and point out a handful of players you should avoid at all costs when your league's draft gets underway. Here's 10 Players To Avoid Drafting In Your Fantasy Football League.
(Note: If you can get one of these guys on the cheap in later rounds, that's fine. Just don't pick there ANYWHERE near the projected #s listed below.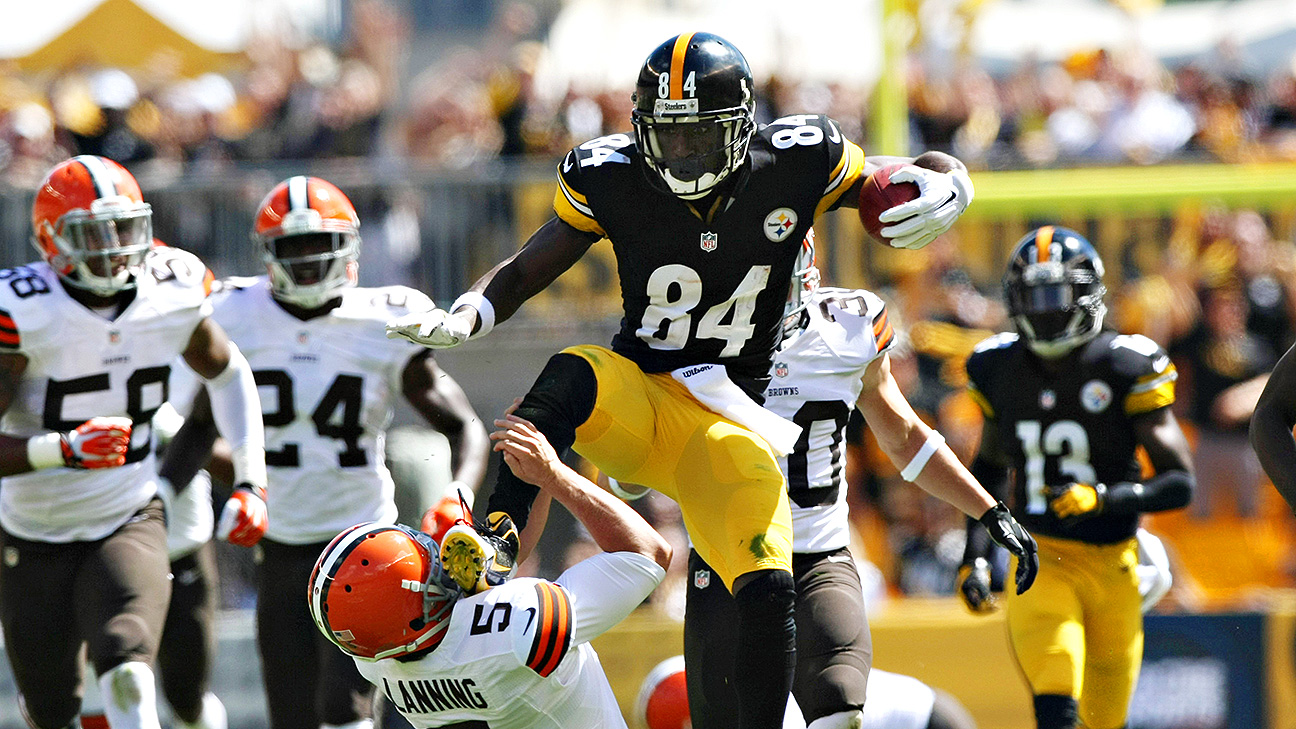 Projected Average Draft Spot (WRs): #1
Controversial we know, but there's some warning signs here which point to a regression season for a guy who will be going in the top three or so of many a league. He's a top-five WR no doubt, but career years are often followed up by relative sparkler duds based on both shifting talent and the stress of providing a follow-up. Brown remains undersized and will lose some targets to a budding WR corps in Pittsburgh (Sammie Coates, Martavis Bryant, Markus Wheaton). His TD upside could be less than you think, especially compared to behemoth wideouts such as Detroit's Calvin Johnson. A great top-level pick, but not a consensus #1 as some will have you believe.
Projected Average Draft Spot (QBs): #4 
First and foremost, the Seahawks don't actually pass the ball. Seattle finished #32 out of 32 teams with 454 pass attempts in 2014, along with posting a middling 63.2% overall completion rate and 7.7 yards/completion ratio. If you can get Wilson in the middle rounds, his legs alone could easily make him a top-ten QB fit. However, this remains an insanely run-heavy system that will remain predicated on using Wilson as a decoy to open up holes for Marshawn Lynch and the rest of the backfield depth chart.
Projected Average Draft Spot (QBs): #5
We're not sold on drafting a quarterback early to begin with, especially if you're in a PPR league. If you're inclined to do so, however, stay away from Brees until further down the draft line. The veteran QB posted his lowest passing yards and touchdown totals since the beginning of the decade in 2014. Now, with a questionable receiving depth chart and ultimate weapon Jimmy Graham off to Seattle, Brees could easily slip in a major way when it comes to overall point production.
Projected Average Draft Spot (WRs): #14
Benjamin was a downfield beast in his 2014 rookie season, elbowing opposing cornerbacks and safeties out of the way and winning more than his fair share of 50/50 balls. Regardless, Carolina's late-season success came when they re-instituted the ground-and-pound attack led by Jonathan Stewart. Rookie Devin Funchess will also eat into Benjamin's targets, making for a two-pronged sophomore slump recipe.
Projected Average Draft Spot (WRs): #13
New Denver Broncos head coach Gary Kubiak's presence alone will mean decreased overall value for Sanders. Kubiak goes heavy with a zone-blocking rushing attack, leaning on the X wide receiver while using his tight ends as safety valves/leverage targets. All of that leads us to believe that Sanders won't have a fair shot to replicate his impressive 2014 campaign.
Projected Average Draft Spot (RBs): #17
Cool your jets on Hyde. While the defense is the ultimate question mark for San Francisco, the offense is also in a state of flux. We see a pass-heavy scheme in the 49ers' future under Geep Chryst. That'll cut significantly into Hyde's role and overall carries. There's also Reggie Bush to account for. Expect growing pains and sub-top 20 value.
4. QB Cam Newton (Carolina Panthers)
Projected Average Draft Spot (QBs): #9
Newton's placement on this list may raise a few eyebrows, especially since he's just a year or so removed from being a top-five fantasy quarterback. We're not docking him completely for an injury-riddled 2014 season, but combine that with steadily decreasing passing numbers, rushing yards and rushing attempts and he's overvalued on many website's projection lists. Expect Carolina to protect Newton more than they have in recent years after signing him to a lucrative contract extension -- something which could limit his overall impact on designed running plays.
Projected Average Draft Spot (WRs): Undrafted
Here's a stretch play that somebody's going to take a chance on even with White being placed on the injured reserve/PUP list with a shin fracture. Take White off your board completely. While there's a chance he'll be back in the season's second half, there's a 95% chance he'll be an ineffective depth option for the first few weeks of his return. Don't stash him, even late. Name value aside, let someone with a fantasy football death wish make this pick.
Projected Average Draft Spot (RBs): #20
Remember the Zac Stacy fiasco last year? Gurley's a much more talented and dynamic back than Stacy, but he's also a year removed from ACL surgery. Gurley is a hope play who is undoubtedly going to be overdrafted in plenty of leagues. You'd be better served stashing Tre Mason and letting the market on Gurley define itself as he adjusts to NFL speed and shakes off the inevitable self doubt that comes with an ACL injury.
1. RB Matt Forte (Chicago Bears)
Projected Average Draft Spot (RBs): #6
Most Chicago Bears fans may be elated that former head coach Marc Trestman was run out of town, but Bears fans' glee means headaches for fantasy football players who have Forte stocked away in a legacy league. Forte's value ballooned as a result of Trestman's offensive philosophy, upping his catch totals to 70+ in each of the past two seasons. His previous high was 57. He's also 29 years old and potentially tabbed for a significant decline as early as this year. Not exactly a volume touchdown scorer to begin with, Forte's value has diminished in our eyes to the point of dropping him off our top-ten running backs list.
Back to the NFL Newsfeed
Related Topics: Fantasy Football, 2015 Fantasy Football, Russell Wilson, NFL, Cam Newton, Matt Forte, Drew Brees, NFL Fantasy Football, NFL Fantasy