NFL Free Agency starts on Thursday, March 9 at 4:00 pm ET (the start of the new league year), but teams are already taking advantage of the two-day free agency negotiating window that opened yesterday. During this time before free agency starts, teams may negotiate all aspects of the contract but can't finalize the deal.
Several free agents have already agreed to the parameters of a deal with new teams, namely Brian Hoyer and Pierre Garcon joining the San Francisco 49ers. Other top would-be free agents like Kirk Cousins and Le'Veon Bell had the franchise tag placed on them, taking them off the market. So, here are the 10 biggest free agents that are still available when free agency officially gets underway:
10) QB Mike Glennon
Glennon has emerged as the hot name on the open market for teams that need a quarterback but don't want to pay Tony Romo over $20 million a year. He spent the past two seasons as Jameis Winston's backup in Tampa Bay, and they have offered him a deal that would make him the league's highest paid backup. However, Glennon wants to start, and the Bears and Jets are targeting him for that role.
Glennon was the starter for part of his first two years with the Bucs, completing 57.9 percent of his passes for 4,025 yards with 29 touchdowns and 15 interceptions in 19 appearances.
9) WR Terrelle Pryor
Pryor emerged as one of the league's better receiver last season with the Browns, catching 77 passes for 1,007 yards and four touchdowns. Cleveland has said that re-signing Pryor is their "top priority," but did not place the franchise tag on him, which would have paid him $15.826 million for the 2017 season. Several other teams are interested, namely the Steelers, the Giants, 49ers, Titans and Eagles. 
8) TE Martellus Bennett
In his first season with New England, Bennett caught 55 passes for 701 yards and seven touchdowns while playing a major role in the Patriots' Super Bowl run. He is expected to command a three-year deal worth roughly $18 million on the open market, according to Spotrac. New England is trying to re-sign him, but the Raiders and Jaguars are also interested.
7) DT Calais Campbell
Arizona opted to let Campbell walk in order to use that cap space to sign Chandler Jones, and the 30-year-old is looking to sign with a contender. Campbell had 53 tackles with eight sacks and two forced fumbles last season.
6) LB Dont'a Hightower
Another Patriots player, New England let Hightower - arguably their best defensive player - hit the open market, but both sides are interested in his return. That said, as the top linebacker available, he has received a high level of interest from a number of teams. He recorded 65 tackles with 2.5 sacks and one forced fumble in 13 games last season.
5) WR DeSean Jackson
The Redskins don't have a lot of cap space next season after using the franchise tag on Kirk Cousins for the second straight year, but after losing Pierre Garcon to the 49ers already in free agency, they can't afford to lose Jackson. That said, there will always be a market for a game-breaking deep threat like Jackson.
4) CB Stephon Gilmore
Gilmore has demanded top cornerback money from the Bills in seeking an extension with the team, but Buffalo quickly shot that down. As such, Gilmore will try to get that contract on the open market. He's very unlikely to get the top-tier money he is seeking, but another team will likely give him more than what the Bills will. Look for a team like the Saints or Falcons to emerge as the favorite to sign him.
3) WR Alshon Jeffery
Chicago is in full-on rebuilding mode, and after franchising Jeffery last year, the Bears let him hit the open market. They're also unlikely to give him the high-priced contract he'll demand on the open market (in part due to his four-game suspension this season for violating the league's performance-enhancing drug policy). Still, he's an elite red zone threat and a very good wide receiver at just 26 years old.
2) RB Adrian Peterson
Minnesota released Peterson to avoid his $18 million cap hit for next season, and while both sides have said they are open to a return, that seems very unlikely at this point. Peterson has expressed interest in signing with either the Giants, Raiders, Seahawks or Patriots, even saying he would take a team-friendly deal to play in New England. 
A knee injury limited Peterson to just three games in 2016, in which he rushed for just 72 yards on 37 carries. In 2015, he led the league with 1,485 rushing yards and 11 touchdowns.
1) QB Tony Romo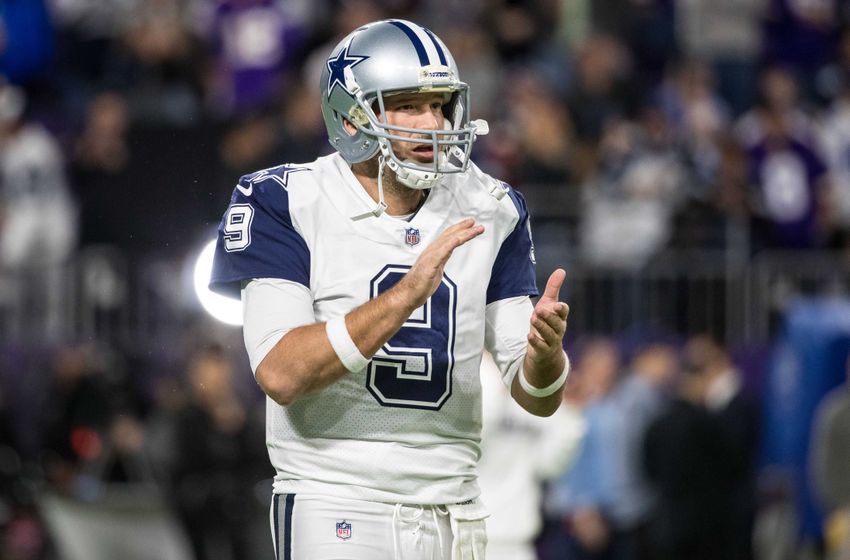 The best quarterback to hit the free agency market since Brett Favre, Romo will have no shortage of suitors. The Cowboys finally made a decision on his future and will release him on Thursday, avoiding his $25 million cap hit to backup Dak Prescott. Romo played just one drive this past season, completing 3/4 passes for 29 yards and a touchdown. In his last full season in 2014, Romo threw for 3,705 yards with 34 touchdowns and just nine interceptions.
Back to the NFL Newsfeed
Related Topics: NFL Free Agency News, Tony Romo, Adrian Peterson, DeSean Jackson, NFL Free Agency Rumors, Martellus Bennett, Stephon Gilmore, Mike Glennon, NFL News, Dont'a Hightower, Alshon Jeffery, Terrelle Pryor, Calais Campbell, NFL Free Agency