Though most NFL veterans are safe after surviving pre-free agency cuts, there are a few who may find themselves on the open market after training camp starts. Veterans being cut before the season is a ritual in the NFL and the Pittsburgh Steelers already got things started by dumping TE Ladarius Green after a failed physical. 
The order below is alphabetically only and it's highly likely at least a few players avoid getting cut. Teams will likely try to trade these players before cutting them, but more often than not, the players are simply cut. With that in mind, here are 10 big-name players who could be cut before the NFL season starts. 
Eric Decker, WR, Jets
This is one of the least likely players on the list. On one hand, Decker has proven to be a reliable option, he's easily the Jets best WR on the roster and he's only 30 years old. On the other, he's set to count $8.75 million against the cap ($5.75 million of which can be saved), he's coming off hip and shoulder surgeries and there was a report earlier this year he could be cut. Decker won't be cut until he passes a physical and the additions of ArDarius Stewart and Chad Hansen could help the Jets move on from Decker.  
Lamarr Houston, OLB, Bears
The Bears have some good depth at the OLB spot, with Pernell McPhee, Leonard Floyd, Willie Young, Lamarr Houston on the roster, plus veterans like Sam Acho and Dan Skuta. That's probably too many players for the spot, so the Bears could try to save some money but cutting Houston. He barely played last year because of a torn ACL. The Bears didn't draft another edge rusher, which helps Houston's chances, but he is set to count nearly $7 million against the cap. If Houston doesn't look the same in the preseason, the Bears could save over $5 million by cutting him. 
Sebastian Janikowski, K, Raiders
The idea of cutting Janikowksi has already been rumored. This mostly comes down to the cap hit for the 39-year-old kicker, as he's set to count $4.41 million against the cap. That's near the top of the NFL for kickers and about $4 million of can be saved. However, it's unclear if the other kicker on the roster, Giorgio Tavecchio, is ready to take over. Janikowski still nailing kicks at a higher rate than his career average, although he wasn't as good as he was from beyond 50-yards last year. 
Mychal Kendricks, LB, Eagles The Eagles tried like hell to find a trade partner for Kendricks before and during the NFL Draft, but weren't able to. Kendricks didn't play a ton last year (not even a third of the team's snaps) and he's set to count $6.6 million against the cap. That's too much to pay for a part-time player. He's still a solid player, but the Eagles have been unable to find that trade partner. If they can't, they might elect to just cut Kendricks. The other problem is that cutting him can only save $650K this year (a lot more money can be saved next year or by trading him). So the guess here is the Eagles keep Kendricks unless they get that trade offer. 
Doug Martin, RB, Buccaneers
Martin has apparently looked sharp in offseason workouts, but head coach Dirk Koetter didn't commit to him as the main back once he returns from his suspension at the start of the season. Koetter said Martin's future was still yet to be determined. With the suspension, the guaranteed portion of Martin's contract for 2017 is voided. That means the Bucs can cut him and save all $5.7 million of his contract this year. If someone shines during training camp, the Bucs could take the savings and move on from Martin. 
Ryan Mathews, RB, Eagles
Mathews is pretty much a sure-fire goner. Once he passes a physical, the Eagles will release Mathews and save about $4 million in cap space. The signing of LeGarrette Blount pretty much guaranteed the Eagles will cut Mathews. He'll get another shot with an NFL team, but his health will continue to hold him back.
Alfred Morris, RB, Cowboys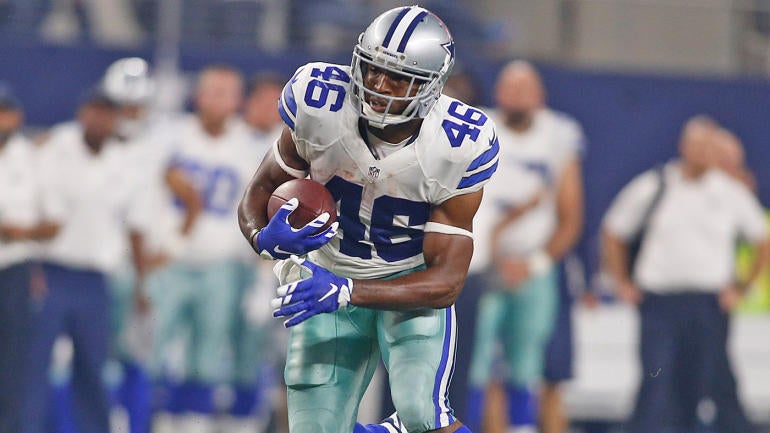 Ezekiel Elliott clearly isn't going anywhere and Darren McFadden is back as the No. 2 running back (on a cheap deal). Much like Kendricks, the Cowboys tried and failed to deal Alfred Morris. The clear-cut No. 3 back on the roster has a $2.1 million cap hit this year, with over $1.67 million of that getting saved via a cut. Don't be surprised if the Cowboys cut Morris and sign a different running back before or after the initial 53-man roster moves. 
Haloti Ngata, DT, Lions
Ngata has elected to comeback for another year after weighing retirement, but there's no guarantee it will be the Lions who bring him back. At age 33, Ngata can still contribute, but he's not the same player he once was. After posting career-worst tackle numbers for three straight years, Ngata might be cut. The Lions aren't loaded at DT, which helps Ngata's chances, but the Lions can save $5.7 million by cutting him. 
Michael Oher, OT, Panthers
Michael Oher was already on the roster bubble before his arrest for assaulting an Uber driver. Matt Kalil (who was wildly overpaid) is the new left tackle, leaving a battle between Daryl Williams and Oher for the right tackle spot. If Oher doesn't win the job, are the Panthers going to take a $5.5 million cap hit for a swing tackle? I don't think so, especially with a potential $4.5 million in savings if they cut him after June 1st. Plus, Oher is still waiting to be cleared from the concussion protocol.  
Ben Watson, TE, Ravens
Watson tore his Achilles last year and never played a regular season game for the Ravens after signing with them. He might not again this year, as he's a candidate to be cut. The Ravens can save $3 million by cutting the 36-year-old and it's not like they're hurting for tight end help. With Dennis Pitta, Maxx Williams and Crocket Gillmore already on the roster, there might not be room for Watson. 
Back to the NFL Newsfeed
Related Topics: NFL Rumors Roundup, Ryan Mathews, Ben Watson, Alfred Morris, Mychal Kendricks, NFL Rumors, NFL News, Michael Oher, Haloti Ngata, Lamarr Houston, Eric Decker, Sebastian Janikowski