There are good NFL players and then there are great players. Even above that are the elite players which stand out in the Sunday crowd and consistently function above and beyond what is expected of them. These are those guys. Here's the 10 Best Players In The NFL So Far This Season.
Forte leads the NFL in rushing attempts (102) and yardage (438). He's been the only really consistent offensive force for a Bears team mucking through Jay Cutler's injury issues.
Carson Palmer's presence has once again lifted the Cardinals into the upper echelon of the NFL. His 13 TD passes are tied with Aaron Rodgers for the NFL lead.
Green is the only wide receiver with 30 catches or more (31) this season to average more than 14.1 yards per catch. He is averaging 16 per grab -- 14th best in the NFL.
The sophomore back became the first running back since the NFL merger to rush for three touchdowns in each of his first two career starts. He is the backbone of Atlanta's offense right now.
Meet the newest superstar cornerback. Norman has four interceptions through four games, including two returned for a touchdown. No one throws on Norman and gets away with it right now.
5. WR Julio Jones, Atlanta Falcons
Jones is second in overall receiving yardage (545) and first in yards after catch (190) amongst NFL wide receivers. He's still the most dynamic wide receiver going.
4. QB Andy Dalton, Cincinnati Bengals
You could make a case for Dalton being anywhere from 1-3 on this list and we'd buy it. He's #2 in passing yards (1,518) and has fast become one of the most CLUTCH QBs in the game.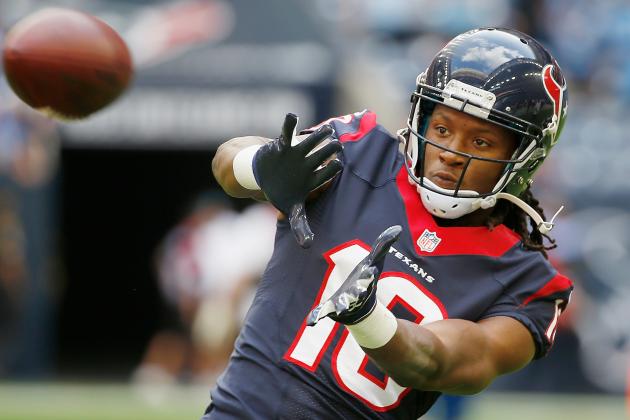 Hopkins leads the NFL is receiving yardage (578) for a team that basically has chewing gum and baling wire playing at quarterback. Other receivers do more after the catch, but Hopkins has been the most consistent overall of the bunch. Rodgers has completed 70.6 percent of his passes and is tied for the NFL lead with 13 touchdowns. He had zero interceptions in his first four games and has been in MVP form for a good 95% of the season so far.
Brady hasn't thrown a pick yet (against 11 TDs) and leads currently-active quarterbacks with a 72.5% completion rate. Until someone forcibly knocks the Pats off their perch, Brady's #1.
Back to the NFL Newsfeed
Related Topics: Devonta Freeman, Carson Palmer, DeAndre Hopkins, Andy Dalton, Julio Jones, Aaron Rodgers, Matt Forte, Tom Brady, AJ Green, Josh Norman