The New York Knicks made the unexpected move of firing head coach Derek Fisher early Monday morning, and assistant coach Kurt Rambis will take over the job on an interim basis. That being said, Rambis is highly unlikely to be the permanent job, so who will be the next Knicks head coach? Here are the top five candidates:
5) Mark Jackson, former Golden State Warriors head coach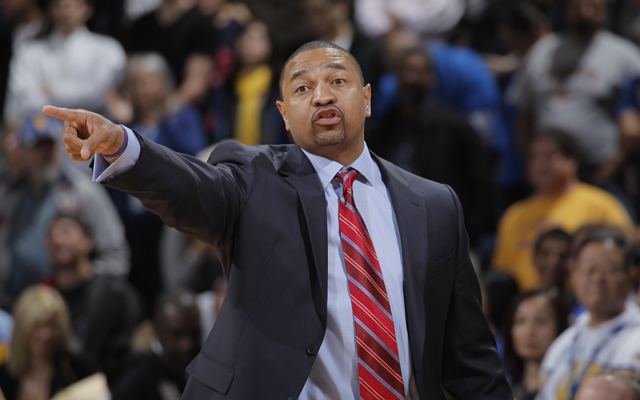 Jackson's only three seasons of coaching experience came with the Warriors, who he guided from a 23-43 record in his first year to a 51-31 record in his third year. Though he was fired after that year (2014) and Golden State won the title in 2015, he is credited for building the foundation that has led to the Warriors' success. The Knicks really need a coach that can help build their roster and improve their current players in a similar way, but there are major questions about his ability to get along with members of the front office, which led to his ousting in Golden State.
He is the only member on this list with a previous connection to the Knicks, having been drafted by them in 1987 and playing for them from 1987-1992 and 2001-2002. Jackson is also from Brooklyn and played his college basketball at St. John's.
4) David Blatt, former Cleveland Cavaliers head coach
Blatt also fell victim to the mid-season firing bug, being let go by the Cavs a few weeks ago, which had more to do with his inability to get LeBron James to like him than his ability to coach. A coaching legend in Europe, Blatt had a 83-40 record in his year and half with the Cavs, including a berth in the Finals in his lone full season of NBA coaching experience.
3) Brian Shaw, former Denver Nuggets head coach
Shaw had a tumultuous stint with the Nuggets, going 56-85 in his only two years as a head coach. Denver was starting a rebuild under Shaw, and he admitted that he had trouble communicating to his players at times. That being said, Shaw was an assistant coach with the Lakers from 2005-2011, most of which was under current Knicks president Phil Jackson. Expect Shaw to at least get an interview.
2) Luke Walton, Golden State Warriors assistant coach
Walton will be perhaps the most sought-after coach on the market this offseason after leading the Warriors to the best start in NBA history as their interim head coach with Steve Kerr sidelined. That is the only time Walton has been a head coach in his career, but he'll be the top candidate for every opening this offseason.
1) Tom Thibodeau, former Chicago Bulls head coach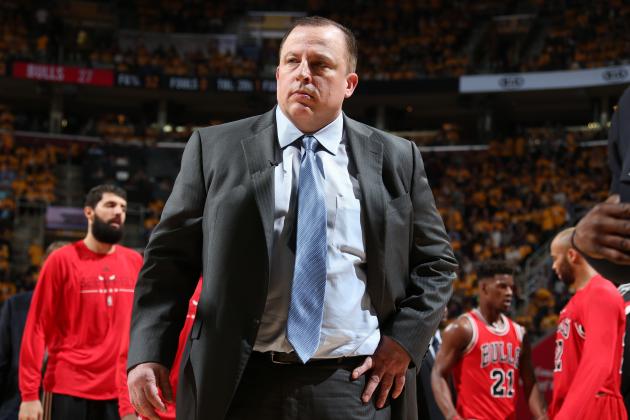 The Knicks will do a thorough search for their next head coach, but all signs point to Thibodeau as the favorite to get the job.
Thibodeau served as head coach of the Chicago Bulls from 2010-2015, leading them to three 50-win seasons in his five seasons with a 255-139 overall record. Chicago made the Conference Finals in Thibodeau's first year, but failed to advance past the Conference Semifinals in each of the last four seasons, which caused the Bulls to fire him. However, he is respected as one of the best coaches in the sport, particularly defensively.
Back to the New York Knicks Newsfeed
Related Topics: Derek Fisher, David Blatt, Knicks News, Phil Jackson, Luke Walton, NBA News, Tom Thibodeau, Kurt Rambis, Mark Jackson, Brian Shaw