The NFL Draft is a fickle process. It's not always easy to separate first-round busts from late-round gems, but some teams have proven to be better at scouting and developing players than others. While the New York Jets have done a solid job of finding talent in the draft, the team has missed on a few picks. With that in mind, here are the 5 Worst Picks By The Jets Since 2005: 
5. CB Dee Milliner, Alabama
Milliner is the most recent Jets' pick on this list, going No. 9 overall in the 2013 draft. He's failed to live up to the expectations that came with being the No. 9 pick and has been plagued by injuries. He's played just 21 games in his three-year NFL career, starting 14. There's still time for Milliner to turn around his career, but he's trending toward bust status right now.  
4. CB Kyle Wilson, Boise State
Another corner is up next, although Wilson wasn't as high a draft pick, going No. 29 overall. Wilson played five seasons for the Jets, but was a starter for only one of them. Wilson is still in the league, playing for the Saints. But he never lived up to his first round status, with just four career picks. 
3. LB Quinton Coples, North Carolina
Coples showed promise in the 2014 season, posting 6.5 sacks and starting 15 of 16 games. But he didn't last in 2015, playing 10 games with the Jets and failing to record a single sack. The Dolphins claimed him off waivers, but he barely played. The Dolphins will assuredly cut Coples to save $7 million in cap space next season. While Coples is young enough to turn things around, he has not come close to living up to the No. 16 overall pick the team spent on him in 2012. 
2. K Mike Nugent, Ohio State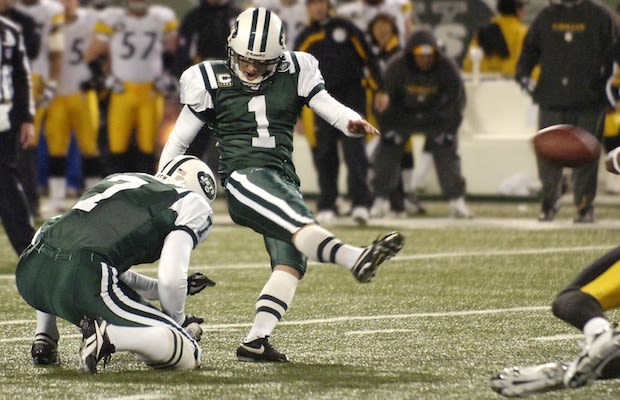 The Jets didn't have a first round pick in 2005, and spent their first pick on Nugent at No. 47 overall. That was a mistake at the time, as no kicker is worth a second rounder. Jets fans hated the pick and Nugent lasted only four seasons, one of which he played just one game. Nugent was a terrible pick for the Jets, although he's managed to find success in the last six years with the Cincinnati Bengals. 
1. LB Vernon Gholston, Ohio State
Gholston was the No. 6 overall pick in the 2008 draft, which didn't seem like a reach given his impressive combine effort. The Jets thought they were getting a great pass rusher. Instead, they got a workout warrior. Gholston never recorded a single sack in three years Jets, and is one of the biggest busts in team history. He was out of the league after the 2010 season. 
Back to the New York Jets Newsfeed
Related Topics: Quinton Coples, Mike Nugent, Vernon Gholston, Dee Milliner, Kyle Wilson, Jets News, NFL Draft