New York Jets quarterback Ryan Fitzpatrick tore at least one ligament in his left thumb during NY's loss to the Raiders last weekend, which will require surgery. That means he's likely out for the foreseeable future, leaving the Jets in the hands of backup Geno Smith and rookie Bryce Petty. Both are not great options at this point, so who could the Jets add to play QB? Here are the top five guys they could sign:
4) Josh Freeman
If the Jets want a younger QB that they can get more than a season out of, Freeman is the best choice. He's on his last NFL chance after struggling in the preseason with the Miami Dolphins, but he was a starter only a few seasons ago and does have some potential being just three seasons removed from throwing 27 touchdown passes.
3) Ryan Mallett
Mallett was released by the Texans last week after numerous clashes with the coaching staff (including missing a team flight), and it's only a matter of time until he gets picked up by someone. He has all of the physical talent in the world and is the only one on this list that could be more than a game manager. However, New York seems to be turned off by what happened in Houston - though it might get to a point where they're willing to look past it.
2) Christian Ponder
If the Jets are looking for another veteran to bring in, Ponder is the best option. He's a free agent and he's smart enough to learn the playbook quickly. He's not the most talented quarterback in the league, but he can take care of the ball and did lead the Vikings to the playoffs as the starter. Simply put, he won't mess things up - and that's a positive for New York.
1) Matt Flynn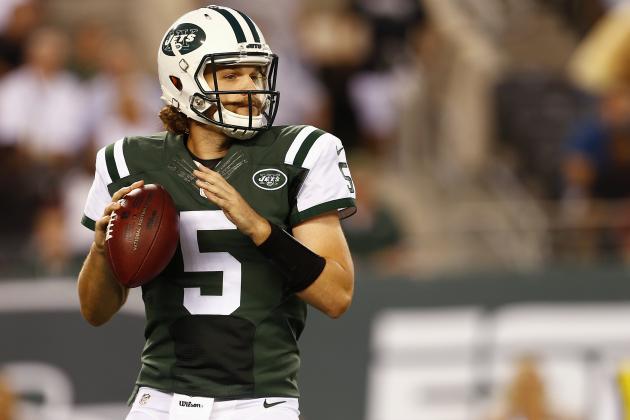 Flynn has been a career backup, but he has proven he can be a capable fill-in starter in the past. He also spent a few weeks with the Jets this offseason before getting cut, so he has some knowledge of their system. Flynn doesn't have the biggest arm in the world, yet he can be effective with shorter passes and is an effective game manager - which might be all that the Jets need. 
Back to the New York Jets Newsfeed
Related Topics: Ryan Fitzpatrick, Ryan Mallett, Matt Flynn, NFL News, Jets News, Josh Freeman, Christian Ponder