The New York Jets had a dispiriting 2014 regular season marred by QB controversy and the constant distractions of a lame duck coach and GM. There's plenty of optimism, however, coming out of Jets camp nowadays, with an AFC East title in the front of the minds of every coach and player on the roster. With that being said, here's 3 Things We Learned About The New York Jets This Offseason.
1. The QB situation is a mess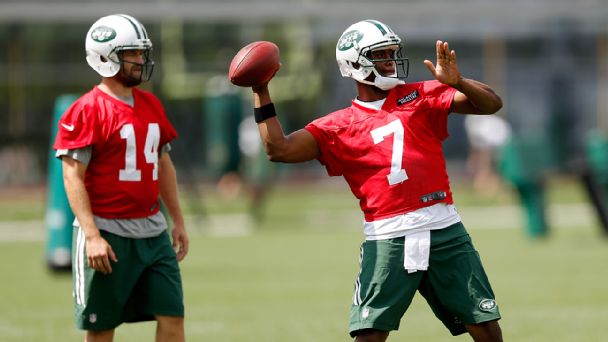 New head coach Todd Bowles has tabbed Geno Smith as the Jets' starting quarterback, but his two-year career numbers of 5,571 yards, 25 touchdowns, and 41 turnovers have a vocal sect of New York fans calling for his head. However, their other two options are rookie Bryce Petty, who isn't ready to run a pro-style system, and Ryan Fitzpartick, who has proven he's only slight above a replacement-level quarterback in the league. It'll be very interesting to see how this plays out and who - if anyone - takes full control of the starting job this season.
2. We're still relatively in the dark about the new regime
Former head coach Rex Ryan and GM Jeff Idzik are both gone and have been replaced by Todd Bowles and Mike Maccagnan respectively. Ryan and Idzik both shouldered the blame for the Jets' struggles during the past two years, and inserting fresh blood gives everyone a clean slate and a fresh start. Now, it's up to Bowles and Maccagnan to produce and get victories. This offseason has been exciting, but summer fervor doesn't guarantee victories. The real test of this regime will be the week-to-week progression of this team and roster as the regular season wears on.
3. There's reason to be excited about the secondary 
The New York Jets had the sixth best defense in the league last year, but their secondary was consistently gashed and was the weakest part of the unit. Todd Bowles made it a point to improve the secondary, and did so in a huge way by signing Darrelle Revis, Antonio Cromartie, and Buster Skrine. Now the Jets suddenly have one of the best secondaries in the league, perhaps edging a good defense into a greatness that could mean big things in the AFC East.
Follow our New York Jets team page for the latest Jets news!
Back to the New York Jets Newsfeed
Related Topics: New York Jets, Geno Smith, Jets News, Ryan Fitzpatrick, Todd Bowles