The New York Giants and their fans remain optimistic about the wealth of young talent this week's NFL Draft could bring to the franchise. However, drafting the wrong players could very well send them spiraling in the opposite direction. Here's 3 Players The Giants Need To Avoid In The 2015 NFL Draft.
ILB Benardrick McKinney, Mississippi State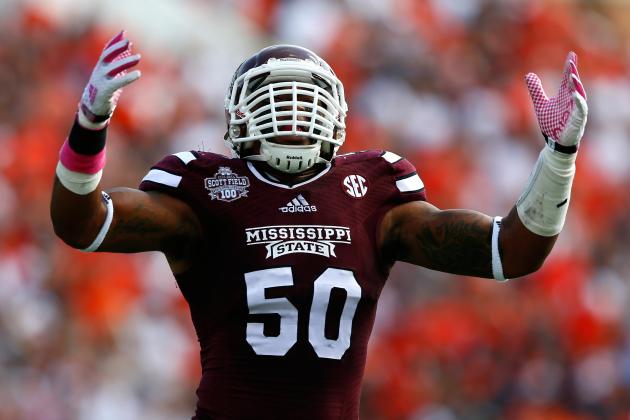 McKinney is a near-elite linebacker against the run, but he's constantly adrift when it come to pulling back into coverage. He also struggles with both speed and hip movement in tight spaces, becoming rigid and losing explosiveness. McKinney has a solid skill set regardless of his weaknesses, but he's got a host of limitations that make him a pure scheme fit and not much more.
OT Cedric Ogbuehi, Texas A&M
New York can use some help on their offensive line, and should be set up to take a prospect somewhere in the first few rounds. Ogbuehi is widely thought of as one of the top 10 offensive tackles in the draft, but concerns linger over key attributes like his core strength and his work in pass protection. The ACL injury he suffered in A&M's bowl game adds some more doubt to his short-term outlook, positioning Ogbuehi as more of a long-term project. The Giants should look for more certainty if they're picking a lineman early in the draft.
DE Owamagbe Odighizuwa, UCLA
New York is in the market for a pass rusher in the draft, but spending an early pick on a guy who struggles winning on the edge and doesn't have the versatility to act as a moving piece in different formations is counterintuitive to the direction defenses in the NFL are currently evolving. Odighizuwa is a solid scheme fit for a coach that wants to cater to his talents, but the Giants would be better served targeting someone with a wider skill set and more malleability.
Back to the New York Giants Newsfeed