The NFL Draft is approaching quickly. The national attention is starting to turn away from free agency and towards the Draft since free agency is wrapping up and the draft is just over a month away. We've already put together a full first round mock draft, and now we have a three round mock just for the New Orleans Saints. 
The Saints are coming off a rough season and have needs at multiple positions. The defensive side of the ball badly needs help and that should be the main focus. With that in mind, here is the Saints' 3 Round 2016 NFL Mock Draft. 
Round 1, Pick No. 12: A'Shawn Robinson, DT, Alabama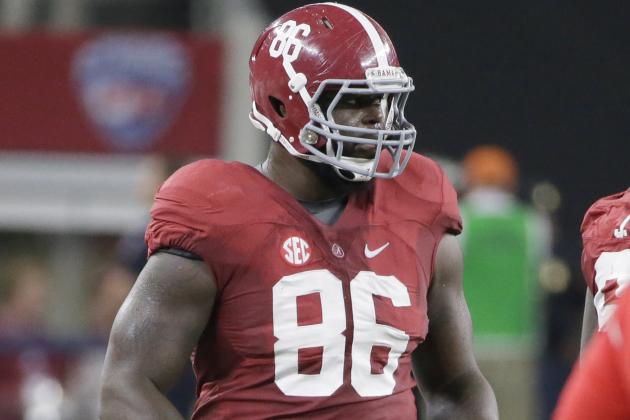 The Saints defense needs help everywhere and Robinson is a perfect fit for the team's 3-4 defense. The Saints must find a way to upgrade their defensive line and Robinson would help do that. The team's first rounder will likely be spent on the defensive side of the ball and there will be several talented options. 
Round 2, Pick No. 47: Vadal Alexander, OG, LSU
The Saints cut OG Jahri Evans, leaving them with really only Tim Lelito on the roster as a starting-worthy guard. He was okay, but unless the team plans on moving a tackle inside, the Saints need another guard. Alexander needs some work, but is strong in the running game. He'd be a solid second round pick. 
Round 3, Pick No. 78: Harlan Miller, CB Southeastern Louisiana
Delvin Breaux played well last season, and Kyle Wilson was good enough as a No. 3 corner. But even if Keenan Lewis and P.J Williams bounce back, the Saints need CB depth. Miller needs time to develop, but is one of the better small-school prospects this year. He has good size and looked sharp at the Senior Bowl. He could develop into a No. 2 CB. 
Back to the New Orleans Saints Newsfeed
Related Topics: Saints News, NFL Mock Draft, A'Shawn Robinson, Vadal Alexander, Harlan Miller, Saints Rumors, NFL Draft, 2016 NFL Draft