The New Orleans Saints have had some wonderful luck in the NFL Draft over the years (Marques Colston, anyone?) but they've also had their fair share of draft busts who've broken our hearts with heaping spoonfuls of potential unfulfilled. Here's our list of The 3 Biggest Draft Busts In New Orleans Saints History.
3. DE Kevin Hardy (#7 in 1968)
Hardy didn't do anything on the field to warrant inclusion as a bust for the Saints. That's because he never actually played a snap with the team. After failing to make New Orleans' squad, Hardy bounced around to four other NFL teams before quietly making his way out of the league. One of the most underwhelming and top-ten picks in NFL Draft history. So underwhelming that we couldn't find a picture of him wearing a football uniform.
2. DT Johnathan Sullivan (#6 in 2003)
The Saints picked up two first-round picks in 2003 by trading our #1 entrant to Miami, but instead of using those picks to stock up on talent, New Orleans used them to trade up to #6 and pick Sullivan. That didn't exactly pan out as planned, as Sullivan amassed just 1.5 sacks and 77 tackles in three seasons, looking completely lost at times within the increased speed of the NFL game. Not exactly trade-up material.
1. RB Ricky Williams (#5 in 1999)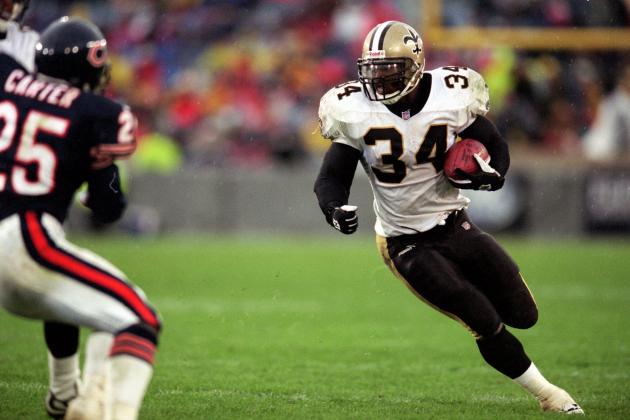 Williams wasn't exactly horrid in his four years with the Saints, amassing 3,129 yards and 16 touchdowns while helping the Saints win their first playoff game as a franchise back in 2001. However, the fact that Mike Ditka mortgaged the entire 1999 draft and part of the 2000 draft for a player that was merely serviceable most of the time was downright destructive for the franchise as a whole. Ricky would go on to have some success in Miami, but he remains an all-time bust that would thake the Saints years to shake off.
Follow our New Orleans Saints team page for the latest Saints rumors!
Back to the New Orleans Saints Newsfeed