What can be said?
The Saints led the Lions 23-10 midway through the fourth quarter, seemed to be cruising towards their first road victory of the season, a victory that would even them back up at 3-3. Then all of the team's worst habits reared their ugly heads. Long TD to Golden Tate, offense gets the ball, another worst-possible-moment interception from Drew Brees, defense gives up another touchdown drive (which included a fourth-down pass interference penalty). In seemingly the blink of an eye, 23-10 became 24-23, and the Saints fell to 2-4.
But hey, NFC South, so they're still only a game and a half out of first.
Next up: the Green Bay Packers, and with them, another big challenge for the Saints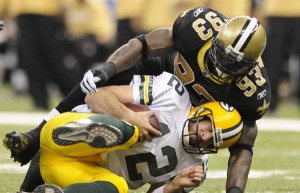 defense. For all the hype and talent of Aaron Rodgers and company, the Packers don't pile up the yards like one might think, but they're as efficient with those yards when it comes to scoring as anyone: despite only ranking 25th in the NFL in total offense (325.4 yards per game), Green Bay ranks 4th in scoring (28.4 points per game). For his part, Rodgers this season has thrown for 239 yards per game, 21st in the NFL. On the other hand, he's thrown 18 touchdowns and only one interception, way back on opening night.
On the field this season, the Packers have clearly been the better team. However, one thing the Saints have going for them is that this is a Sunday night game, and they've always seemed to be able to pull out a little bit of magic in those night games at home. Since their Super Bowl win following the 2009 season, the Saints have won 13 consecutive prime-time home games by an average of over 20 points.
If they want to make it 14 in a row, momentum will be key. Whoever gets out to the early advantage will have a much smoother path to a win. If the Saints can score quickly and stop the Packers for a quarter or so, they can get the crowd into the game and ride that wave. If they fall into a quick hole and spend the game trying to climb out of it, well, that rarely works out well for them.
Grading Last Week's Predictions
Reggie Bush gains over 100 total yards. Much like Jimmy Graham the week before, injury kept Bush off the field for much of the game, and he finished with only 32 yards. No Credit.
Brandin Cooks leads the team in receiving yardage. Not even close. Marques Colston and Kenny Stills both gained over 100 yards, and Cooks had to settle for two catches for 23 yards. No Credit.
Multiple sacks for the Saints defense. THREE SACKS! THEY GOT THREE SACKS! Full Credit.
Last Week: 1/3 (.333)
This Season: 7.5/18 (.417)
Three Predictions for Sunday's Game
Mark Ingram gains over 90 yards rushing. With Pierre Thomas and Khiry Robinson both out this week, the rushing load will be almost all Ingram's. Travaris Cadet will also see some action, but his role is primarily in the passing game. The Packers give up 147.9 yards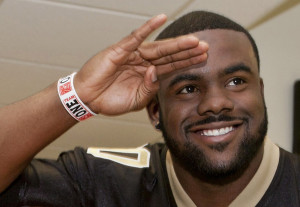 per game on the ground (2nd-worst in the league). The Saints' highest individual rushing performance this season was Robinson's 89 yards against Tampa Bay. Look for Ingram to top that.
Multiple sacks for the Saints defense. Let's let it ride, shall we? Green Bay allows about two and a half sacks per game, and in the Superdome, especially if the Saints can get out to an early lead and get the crowd into the game, the noise will get the defense fired up and they'll get to Rodgers at least twice.
One defensive/special teams score. Pure hunch here. I can't help but shake the suspicion that there will be a defensive or special teams touchdown scored by one of these two teams. The odds based on turnover numbers this season favor Green Bay, but could go either way.
Final Score
Trying to predict the winner of this game essentially comes down to weighing two factors against one another: the compared performances of the two teams on the field this season versus the Saints' track record in prime-time home games. As noted earlier, it could all come down to who gets off to the hotter start. If the defense can stifle Rodgers and the Pack for a while and the Saints get out to an early lead, they have a really good shot to come away with the win. If they fall behind quickly, it could get ugly. Maybe it's the hopeless optimist in me, but I'll buy into the prime-time magic and hope that 2-5 really isn't around the corner. Saints win, 34-30.
Back to the New Orleans Saints Newsfeed