What can one say?
The Dallas Cowboys came into the season with expectations that they could have a historically bad defense, and while it hasn't been that bad, it certainly hasn't been good. The Saints, while they've lost some key personnel on offense, still have a potent attack, particularly through the passing game. But there I sat, watching the third quarter come to an end with the score 31-3 in favor of Dallas. This was largely the same Cowboys team that came into the Superdome on Sunday night last season and got beat 49-17.
Does playing on the road really make that much of a difference? The 2013 season was one where the Saints seemed to have a legitimate shot at a Super Bowl run, but head-scratching road losses at St. Louis and the Jets (not to mention allowing New England and Carolina each to drive down the field to win in the final minute) cost them the division title, a first-round bye, and a home playoff game.
Perhaps it isn't just the location, because even in the Saints' lone victory thus far this year (at home) they didn't look like the offensive juggernaut they're supposed to be. Drew Brees threw for 293 yards, which is a great day for many quarterbacks, but it was the first time Brees failed to crack 300 yards passing at home since week 12 of the 2012 season. They scored only 20 points, their lowest home point total since week 8 of 2010 (vs. Pittsburgh in a 20-10 win).
Meanwhile, the defense has seemed to regress, more closely resembling the 2012 nightmare than the 2013 squad that ranked near the top of the league in most categories. Pressure on quarterbacks is all but non-existent, opposing offenses are moving the ball at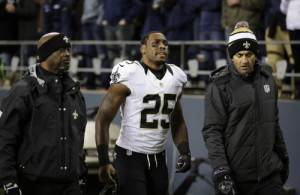 will, and through four games the Saints' defense has forced all of one turnover, way back in week 1. That was a fumble by Julio Jones, forced by marquee free agent Jairus Byrd, who's now out for the year with a torn meniscus. Awesome. At least they didn't let Rafael Bush go to Atlanta in the offseason.
You know what? Let's just go with the home/road thing. Besides, if they can go 8-0 at home like they did last year, then they're virtually guaranteed to win at least 9 or 10 games, which could very well win the NFC South, where Carolina and Atlanta currently sit tied at the top of the division with 2-2 records. Yes, I am currently at the point where I'm celebrating the NFC South's mediocrity as a potential saving grace for the New Orleans Saints.
And speaking of mediocrity in the NFC South…
Their opponent for the return home will be the Tampa Bay Buccaneers, fresh off of a thrilling final-minute comeback against Pittsburgh. The victory was doubly-pleasing for Bucs fans, as it not only gave them their first win of the season, but also provided them with a new top highlight for 2014, which until Sunday had been this:
Positively hypnotic.
The Bucs spent $10 million over two years on Josh McCown, fresh off of an impressive run filling in for the Bears last season. If you haven't been paying attention to how he's been doing in Tampa, I'll sum it up in one sentence for you: he was terrible and now he's hurt. Taking the snaps for Tampa now is Mike Glennon, a second-year man who's generally looked solid, if not much more, in the time that he's been on the field.
Tampa also has a defense that's pretty much as bad as the Saints'. The two teams are tied for 28th in the NFL in passing defense, each giving up exactly 272.5 yards per game thus far. Tampa does have one interception to the Saints' zero, but where the Saints have the advantage is in completion percentage, where the Bucs are allowing opponents to complete 75.8% of their pass attempts, dead last in the league. Combine that with the Saints offering up a quarterback who currently shares the all-time lead in completion percentage (66%, tied with Chad Pennington), and this could be a good day for the Saints' air attack.
Grading Last Week's Predictions
300+ passing yards, 3+ TDs for Drew Brees: 340 yards, two touchdowns. Close enough that I'd normally give myself half credit here if not for the fact that both touchdowns came in the fourth quarter, which began with the Saints down 31-3. I thought he'd reach these numbers by way of a consistent assault on Dallas' questionable defense, not because "Holy crap we're in a hole time to throw it every single play." No Credit.
75+ rushing yards for Khiry Robinson: Hit this one, even if 62 of them came on one run. Robinson finished with 87 yards on eight carries. Full Credit.
Less than 100 rushing yards for DeMarco Murray: LOL OK. 149 yards on 24 carries (6.2 ypc). Way to go, defense. No Credit.
Grade from two weeks ago: 1/3 (Correct: Brees throws 0 INT vs. Minnesota, Incorrect: 3+ Sacks, C. Patterson goes for 50+ on one play)
Last Week: 1/3 (.333)
This Season: 4.5/12 (.375)
Three Predictions for Sunday's Game
Jimmy Graham: 7+ catches, 80+ yards, at least 1 TD. Against Pittsburgh, Tampa gave up 10 catches, 85 yards and a touchdown to Heath Miller. Suffice it to say, Heath Miller is no Jimmy Graham. The Bucs will surely concentrate more of their game plan on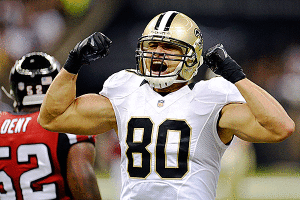 Graham than they did on Miller, but Graham will get his and put up at least comparable numbers.
Saints defense forces a turnover. We've gone from anticipating 3+ sacks to a single turnover. My, how the bar has lowered. Predicting one turnover may not seem that bold, but consider that so far they're only averaging 0.25 per game. Baby steps, people. Meanwhile, Tampa has given the ball away eight times (five interceptions, three lost fumbles), tied for fourth-worst in the league. Someone, somewhere, somehow will make a play for the defense.
Over 450 yards of total offense. Tampa ranks 26th in the league in total defense, giving up 387.8 yards per game. New Orleans ranks third in total offense, gaining 425.8 per game. A strength of the Saints going up against a weakness of the Bucs looks pretty good.
Final Score
There's not a whole lot I can say here that hasn't been said. If you want to keep pace in the division and give yourself a chance down the road, this is a game you simply cannot afford to lose. The Saints have a bye in week 6, so if they can get the win here, they'll remain within a game of the division lead (or perhaps even be tied for the lead, depending on what the Panthers and Falcons do) and have two weeks to regroup and figure out what needs to be done. But this Sunday, they cannot think about anything but the present moment. This is a must-win, and they will. Saints 31, Bucs 20
Back to the New Orleans Saints Newsfeed