Can a week off make a difference?
The Saints did what they had to do two weeks ago, even if it wasn't pretty. They came away with a much-closer-than-it-had-to-be overtime win against Tampa Bay, which got them to 2-3, still within a game's grasp of the division lead, and gave them two weeks to figure out how to get back on track.
With any luck, "how to get back on track" will involve a defense that didn't see a lot of personnel changes from last year actually looking like the defense from last year, and Drew Brees not continuing to gift wrap interceptions for opposing defenses. Had the Sants lost to the Bucs, the two things that would've stood out most would be the defense giving up 31 points to a team that's averaged 17.8 in their other five games, and a classic "what the hell was he thinking" Brees pick-six that put the Bucs up by 11 in the third quarter.
But this week it's on to Detroit, where the Saints will have a lot more than just their road woes to contend with. The Lions boast quite possibly the best all-around defense in the NFL this season, ranking 2nd in rushing defense (73.5 ypg), 2nd in passing defense (197.2 ypg), 1st in total defense (270.7 ypg), 1st in scoring defense (13.7 ppg), tied for 1st in sacks (20) and are tied for 5th in interceptions (7). If the Saints want to be able to win this one, the offense will have to be on top of their game.
The Lions offense is considerably less worrisome, only ranking 14th in passing offense (243.8 ypg), 29th in rushing (86.3 ypg), 23rd in total offense (330.2 ypg), and 27th in scoring (19.3 ppg). The Saints' defensive woes are well-documented, but they need to step it up. If Detroit is suddenly scoring in the 30s, it's going to be a lot harder to overcome that here than it was against the Bucs.
One thing that should help this week is the likely return of Mark Ingram, who was off to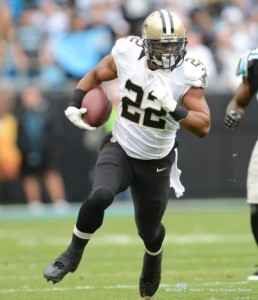 easily his best start as a pro before a broken hand against Cleveland forced him to miss the next three games. On the other hand, Jimmy Graham had to leave the Tampa Bay game with a shoulder injury, and while he hasn't been ruled out for this week yet, he hasn't practiced and it looks increasingly unlikely that he'll suit up.
Grading Last Game's Predictions
Jimmy Graham: 7+ catches, 80+ yards, at least 1 TD: 2 catches, 36 yards, 0 TD. In fairness, he was forced from the game with an early injury, but still, didn't happen, and not close enough that I'm willing to give half credit. No credit.
Saints defense forces a turnover. They did indeed get their second turnover (and first interception) of the season via Patrick Robinson picking off Mike Glennon. Full Credit.
450+ yards of total offense. It took overtime to get there, but they ended up with 511 yards. Full Credit.
Last Week: 2/3 (.667)
This Season: 6.5/15 (.433)
Three Predictions for Sunday's Game
Reggie Bush gains over 100 total yards. This will be the first time the Saints go up against their marquee first draft pick of the post-Katrina era, and despite all the nice things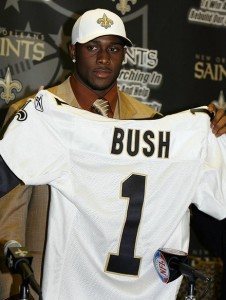 both sides are saying about each other, you know that Bush would like to have a big game against his former team. Add in the fact that Calvin Johnson very well might not play, and Bush could be in for a very busy day in both the rushing and passing games.
Brandin Cooks leads the team in receiving yardage. As stated, this is a tough defensive matchup. Brees will likely be under pressure often, so look for him to throw a lot of short routes. If Cooks can get short catches with some space in front of him, he can make plays. Look for Cooks lead the team in receiving with most of it coming after the catch.
Multiple sacks for the Saints defense. Not going to try the 3+ sacks prediction again, but two is definitely a possibility. While Detroit has 20 sacks of their own, they've actually given up 21 through six games. The Saints only have one multi-sack game to their credit this season (two, against Minnesota), and this could be a good opportunity to get their second.
Final Score
At the beginning of the season I predicted that the Saints would lose this game. Of course, I had them at 5-0 going into it, so take that for what it's worth. The possibility of no Calvin Johnson definitely helps, but whether he plays or not, the key to this game will be the Saints' defense. The offense has struggled enough, and going against Detroit's defense won't make things any easier. The Saints' defense will need to step up big time and contain the Lions' offense if they want to win this game. If they can keep the Lions in the teens-to-low-20s in terms of points, they have a really good shot. Unfortunately, that's something they've had a problem with (in five games, they've given up 30+ points three times, and 26 to Cleveland). I hope I'm wrong, but I don't see this one with a happy ending. 31-23, Lions.
Back to the New Orleans Saints Newsfeed