It's time!
Finally, after seven months of waiting, the 2014 NFL season is underway, and just like last year, the Saints open the campaign with their greatest rival, the Atlanta Falcons. Though to be honest, the rivalry has been pretty one-sided in recent years, as the Saints hold a 13-3 record against Atlanta since 2006, when Sean Payton and Drew Brees came to town. Nonetheless, this is a game that gets the fans of each team pumped up, so what better way to kick it all off?
On one side, you have the New Orleans Saints, a team that looked to be running away with the NFC South less than halfway through the season, only to see it slip away thanks to a couple of head-scratching losses and an 11-1 Panthers finish to the regular season. On the plus side, the Saints finally got their first road playoff win in franchise history in Philadelphia, but it came to a halt the following weekend in Seattle.
The Saints are back, and possibly more talented than ever. Most of the aging receiving corps have been replaced with a younger, faster group including Kenny Stills and rookie Brandin Cooks. The defense, already one of the league's most improved last year, got stronger with the addition of one of the top free agents in this year's class, safety Jairus Byrd. Expectations for this team are high, and they're even a semi-popular Super Bowl pick among NFL experts and analysts.
On the other side, you have the Atlanta Falcons. After a few years of winning lots of regular season games then getting clobbered in the playoffs, the Falcons opted for a new strategy last year, namely "just go in the toilet from day one." If that's what they were going for, then I suppose it worked out very well for them. Julio Jones' injury certainly didn't help, but the team just didn't look good at all throughout the season.
These Falcons are also largely back, save for the retired-for-real-this-time-(for-now) Tony Gonzlaez. Also missing is starting left tackle Sam Baker, out for the season with a knee injury. Word is that rookie Jake Matthews, the 6th overall pick in this year's draft, will move from right tackle to left to take Baker's place. So we have a rookie playing out of position (he played right tackle three of his four years in college) starting in his first game protecting Matt Ryan's blind side. How do you feel about this, Matty?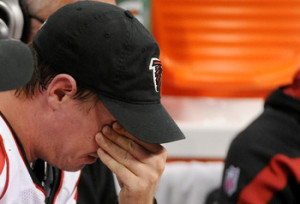 Terrific.
Key Matchup: Saints Defensive Line vs. Falcons Offensive Line
One thing the Falcons do have going for them this year is that they're getting back their dangerous wide receiver tandem of Julio Jones and Roddy White. Working against them however, is their aging, injury prone running back Steven Jackson and offensive line that wasn't especially good even before Baker went down for the season (in 2013 Atlanta ranked dead last in rushing and tied for 20th in sacks allowed).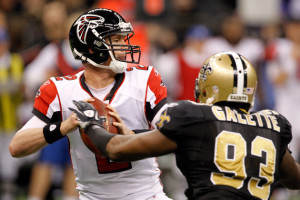 The key to this game for the Saints' defense will be to not allow Matt Ryan to hit Jones and White for big gains, and that will start with getting pressure on Ryan. The pass-rushing duo of Cam Jordan and Junior Galette (24.5 combined sacks in 2013) and the ready-for-a-breakout-year defensive tackle Akiem Hicks will need to lead the way in getting to the quarterback quickly, thus not allowing Jones and White to stretch the field.
Three Predictions for Sunday's Game
Mark Ingram: 75+ yards rushing. This is a make-or-break year for Ingram. The Saints declined to pick up his fifth-year option on his rookie contract, so if he doesn't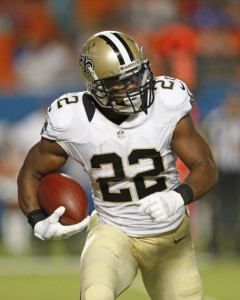 perform this season he's likely out the door. After a slow start in 2013 he picked up and had some big performances down the stretch and in the playoffs, and has run hard in the preseason. Look for him to try and get 2014 started on the right foot.
3+ Sacks on Matt Ryan. As stated earlier, pressure on the quarterback will be key in this game, and the Falcons offensive line simply isn't very good. Jordan and Galette will lead the way as the line keeps Ryan on the run and they'll get to him at least three times.
Brandin Cooks scores a touchdown. Fans in New Orleans are excited about this speedy rookie, who made big plays seemingly every day in camp and always seemed to be able to get behind the defense in preseason games. I expect Drew Brees to take some shots downfield and look for Cooks, who'll turn some heads in his NFL regular season debut.
Final Score
This has the feeling of a big year for the Saints. The much-improved defense of a year ago is back with a bit more experience under their belts, Drew Brees has perhaps as good a set of weapons around him as he has had in his time with the Saints, and fan expectations are high. They just missed winning the division last season, and the consensus among experts largely seems to be that they're the favorite to take it this year. It all begins this Sunday, when the Saints go into the Georgia Dome and establish themselves as the team to beat in the NFC South.
Saints win, 34-17
Back to the New Orleans Saints Newsfeed