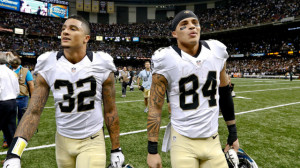 It's almost that time again!
The New Orleans Saints, fresh off an 11-5 season and their first road playoff win in franchise history, are ready to take the field again for the 2014 season. It's sure to be another exciting year, but if you just can't wait to see how it shakes out, I'm here to once again peek into Grey's Sports Almanac and let you know how it's all going to go down. Just like last year, when I spoiled the season for everyone by announcing that the Saints would finish the regular season 11-5 and they did just that.
"But you said they'd lose to the 49ers and Bears. You also said they'd beat St. Louis and the Jets. Seriously, how did they lose to the Rams?"
https://www.youtube.com/watch?v=gxPF9AeHznE
ON TO 2014!
September 7, at Atlanta: Once again the Saints open against Atlanta, this time going on the road to do so. The Falcons were quite possibly the biggest disappointment in the NFL last season, and I don't know that things are going to get much better for them this year. They do have Roddy White and Julio Jones back and healthy, but Tony Gonzalez is gone, the defense lost key players and the offensive line has not looked good in the preseason. They expect to have Steven Jackson ready to go, but with his age and injury history, how long can he last? It could be another long year for the dirty birds. Oh, and the Saints have owned the Falcons since Drew Brees and Sean Payton came to town (13-3 vs. Atlanta). Result: W (1-0)
 September 14, at Cleveland: For all the hype around Johnny Manziel, Cleveland looks like it could be a total mess this year. Brian Hoyer may be starting the season (as he should be), but you know fans will be calling for Manziel from the first snap. Ben Tate's there as the lead running back, but he's still a question mark as a featured back. Josh Gordon's suspension being upheld robs the Browns of their only real playmaker on offense. The defense looks like it could be decent, but it's hard to see the Browns putting up enough points to win this game. Result: W (2-0)
 September 21, vs. Minnesota: Speaking of rookie quarterbacks, will Matt Cassel still be starting by this point, or will the reigns have been turned over to Teddy Bridgewater already? Adrian Peterson is always a threat, and Cordarrelle Patterson is a blossoming playmaker, but the question marks at quarterback will make it tough for them to win this one, particularly in a home opener when the fans will be rocking for their 2-0 Saints making their Superdome debut. Result: W (3-0)
 September 28, at Dallas: Just like last year, the Saints will take on the Cowboys on Sunday night, only this time it will be in Dallas. Last year New Orleans thoroughly destroyed the Cowboys in a game that single-handedly made many Saints fans think "Hey, maybe Mark Ingram isn't a waste of time after all." Meanwhile, this is largely still the same Dallas team we saw last year. Not to mention that the Saints have largely had the Cowboys' number in recent years (4-1 vs. Dallas in the Brees era). This one feels like a win. Result: W (4-0)
 October 5, vs. Tampa Bay: Let's not sugar coat this: Tampa Bay's 2013 was a complete trainwreck. Josh Freeman, Greg Schiano, MRSA…it wasn't pretty. The Bucs actually look to be moving in the right direction though. Doug Martin is back and hopefully (for them) healthy, and they've added some more big receivers to go with Vincent Jackson. If Josh McCown can prove that his impressive performance for Chicago last year wasn't a fluke, the Bucs could make some noise. But they're still at least a year or two away from being serious contenders to take the division, and the Saints should be able to keep rolling at home. Result: W (5-0)
October 19, at Detroit: On paper, the Saints should be able to win this one. The Detroit defense isn't good, and the Saints' offense should be able to handle them. However, Detroit's offense is pretty good, and could put some points on the Saints as well. This game feels like a shootout, and it seems like every year the Saints lose at least one game (usually on the road) that they really should win on paper. This feels like it could be that game. Result: L (5-1)
 October 26, vs. Green Bay: This is one that could pose a challenge. With Aaron Rodgers back, the Packers will be the favorites to win the NFC North. Rodgers is 2-1 against the Saints, with his only loss coming in his first season as a starter. On the other hand, this is a Sunday night game, and the Saints haven't lost a prime time home game since 2009 (going 12-0 in that span, regular season and playoffs combined). The Saints will recover from the disappointment in Detroit to keep that streak going. Result: W (6-1)
 October 30, at Carolina: The Panthers return most of last year's NFC South champions, with the exception that the wide receivers corps has been completely cleaned out and replaced with rookie Kelvin Benjamin and several crash test dummies. That said, this game is on the road, Carolina always plays the Saints tough, and they get New Orleans on a short week coming off of what could be a tough Sunday night game with the Packers. If Cam Newton is still upright and healthy by this point, this could go down as another head-scratcher. Result: L (6-2)
 November 9, vs. San Francisco: Last year I picked the 49ers to beat the Saints at home, and a flurry of late field goals proved me wrong. As much as I'd like to call for a repeat of last year, once again I'm just not feeling it. San Francisco still has, top to bottom, perhaps the strongest roster in the NFL, they've been to three straight NFC Championship games, and if Colin Kaepernick can steer the offense right, they'll be a real Super Bowl contender again. Add in the motivation over last year's game slipping away, and the 49ers could deal the Saints their lone home loss of the year. Result: L (6-3)
 November 16, vs. Cincinnati: Despite first-round playoff collapses the last three years, the Bengals may be one of the most talented teams in the AFC. A.J. Green is one of the NFL's best, Giovani Bernard is a rising star, and the defense is stocked with legit players. But while they may not have any single receiver on the level of Green, the Saints are a more talented team, and getting this game at home will be a big help. Look for the Saints to rebound from the letdown against San Francisco with a solid win here. Result: W (7-3)
 November 24, vs. Baltimore: Another prime time home game for New Orleans, this time a Monday-nighter. While it'd be easy to point that out and put up a W, the reality is that the Saints would be favored in pretty much any circumstances. Baltimore has little-to-no run game, Joe Flacco is too inconsistent, and the defense is still trying to recover from all the personnel losses following their Super Bowl win. The Saints should roll. Result: W (8-3)
 November 30, at Pittsburgh: This is a game that looks a lot tougher on paper than it should actually be. It's a northern road game, but Pittsburgh doesn't carry nearly the kind of threat that their reputation would suggest. Their running game is suspect (and their top two backs could possibly be suspended), and their defense is largely over the hill. It may not be an easy win, but the Saints should be able to get the job done. Result: W (9-3)
 December 7, vs. Carolina: After the loss in Carolina, this will be an important game if the Panthers are still hanging around the top of the division. Coming back to the Superdome, and with a full week to prepare this time, the Saints will take care of business and tighten their grip on the NFC South. Result: W (10-3)
 December 15, at Chicago: I don't really like anything about this game. Too many factors work against the Saints here: on the road, cold weather city, night game, middle of December. The Saints won a close game in Chicago last year, but that was early in the season with a noon kickoff. The Bears have the offensive firepower to keep up with New Orleans, and this is one where the Saints' road woes and cold-weather issues could rear their ugly heads. Result: L (10-4)
 December 21, vs. Atlanta: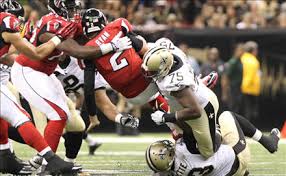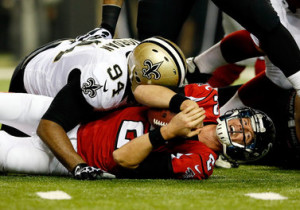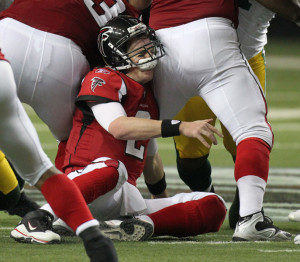 Result: W (11-4)
 December 28, at Tampa Bay: Ah, the regular-season finale. If all's gone well, this game may be meaningless, which means the starters may not play and all conventional wisdom goes out the window. But for the sake of ending the season on a good note and keeping some momentum going into the playoffs, let's presume that they are taking this game seriously. They're still a better team than Tampa anyway, and will look to carry said momentum into the postseason. Result: W (12-4)
So there it is: after an 11-5 second place finish in 2013, the Saints will improve by one game to a 12-4 record in 2014, which will likely win them the NFC South and quite possibly set them up for a first-round playoff bye.
It all begins Sunday. Let's get ready to have some fun.
Back to the New Orleans Saints Newsfeed