The New Orleans Pelicans took an unexpected step back this season for a myriad of reasons, but the result isn't one the franchise is happy with - the Pelicans will not be in the playoffs for the fourth time in the last five years. With a budding young superstar in Anthony Davis on their roster, this team now expects to make the playoffs every single season. Here are three things that have to happen this offseason for them to return to the postseason next year:
3) Get better defensively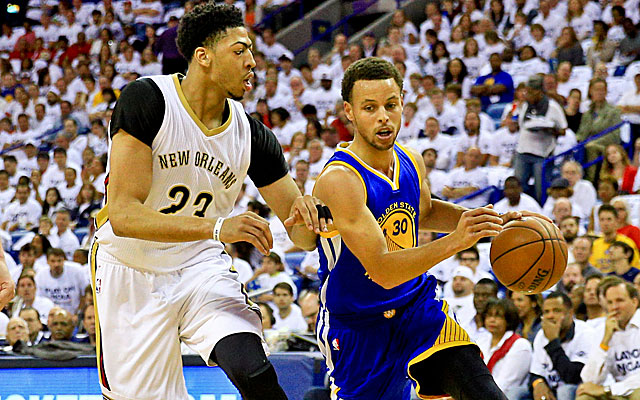 Head coach Alvin Gentry was tasked with bringing his up-tempo version of small ball to the Pelicans, but instead of positively impacting the offense, it negatively impacted their defense. New Orleans ranks 25th in the league in points allowed per game (105.7) while letting opponents shoot 46.4 percent from the field - along with being in the bottom half of the league in steals and blocks. Improving on that end of the floor will determine how much better the Pelicans will be next season.
2) Find perimeter shooting
Also on the docket? Find a shooter! 
Only Tim Frazier and James Ennis - two late-season pickups - are shooting 40 percent or better from three-point range. They've become an easy team to defend as a result, with opposing teams choosing to pack the paint. That also takes away from Anthony Davis' effectiveness because he doesn't have any room to operate down low. 
New Orleans will almost certainly look to the draft to find one (they should be in position to draft Oklahoma's Buddy Hield or Kentucky's Jamal Murray), but adding another in free agency or via trade is also a must.
1) Get healthy!!
The biggest reason for New Orleans' terrible season was the wide rash of injuries they suffered. 13 players have combined to miss nearly 300 games. Quincy Pondexter never played this season with a knee injury, while Anthony Davis (61 games) and Tyreke Evans (25 games) are also out for the year. Eric Gordon was limited to 45 games with a broken finger. Ryan Anderson, Jrue Holidan and Omer Asik each won't play over 70 games due to various injuries.
All in all, the Pelicans have been forced to play with an NBA-record 41 different starting lineups, consisting of 20 different players. This team never had a chance to be successful. Their biggest priority next season will be to come in healthy and ready to play.
Back to the New Orleans Pelicans Newsfeed
Related Topics: Eric Gordon, Quincy Pondexter, Tyreke Evans, NBA News, Pelicans News, Anthony Davis, Ryan Anderson