The New England Patriots don't have a first-round pick to work with in the 2016 NFL Draft, but that doesn't mean that they'll be held back from finding some major impact talent in late April. With that being said, here's our Patriots Draft Rumors Roundup For Jan. 31st.
Patriots Targeting Braxton Miller?
New England has whiffed on the majority of wide receivers they've drafted in recent years, but that's not stopping them from taking a long, hard look at Ohio State's Braxton Miller in the second round. More on Braxton Miller and the Patriots inside our Chat Sports iPhone and Android apps!
According to Tony Pauline of Draftinsider.net, the Patriots are indeed interested in drafting Miller. While names like Bethel Johnson and Chad Jackson elicit groans from the Pats fan base to this day, the team doesn't appear to be scared off on the former quarterback -- prizing his size, versatility and ability to make plays in space.
Another Gronk?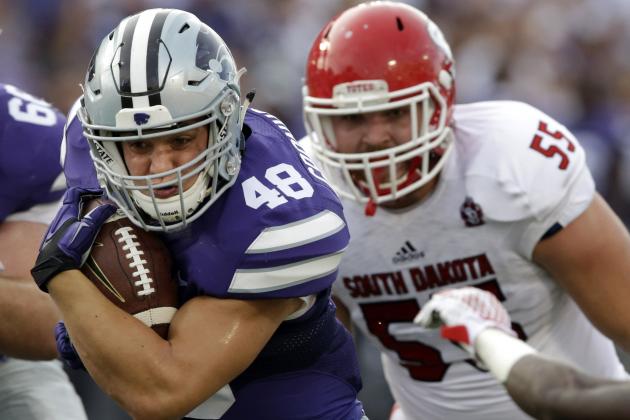 Star tight end Rob Gronkowski could very well be joined by his little brother in New England, as the team met with Kansas State fullback Glenn Gronkowski during this week's Senior Bowl practices.
Gronkowski practiced at tight end, wide receiver and H-back before the showcase. While he's excited about the idea of playing with his brother, he wasn't interested in laying out superlatives about his meeting with Pats coaches. Another Gronk in the fold? Keep an eye on things inside our Chat Sports Android and iPhone apps!
"It went good, but it wasn't any different than what all the other teams are doing. I saw (the scheduled meeting) blow up on the internet, but it was just a statement I made. It lasted about a half hour, just like all the other teams. It was all basic information," Gronkowski said, via NFL.com.
"Baby Gronk" is currently projected to fall anywhere from the sixth round to undrafted free agent status.
Back to the New England Patriots Newsfeed
Related Topics: Patriots News, Glenn Gronkowski, Patriots Rumors, Rob Gronkowski, Braxton Miller