If you're a reporter covering the Patriots, you pretty much know what you're getting by now - Bill Belichick isn't at press conferences just to give you juicy quotes, he's there because the league will fine him if he doesn't show up.
A question at Belichick's Wednesday press conference wasn't quite as insightful as the person asking it might have hoped, and the answer was the most Bill Belichick thing we've seen in a while: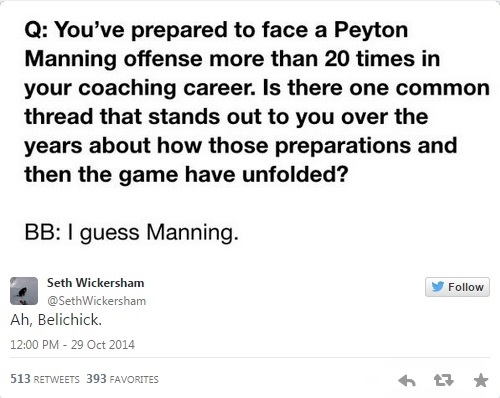 Belichick's Patriots face Manning and the Broncos this Sunday, with kickoff scheduled for 4:25 PM ET.
(h/t ESPN the Magazine's Seth Wickersham)
Never miss another story on one of your favorite teams - sign up for a free Chat Sports account today!
Back to the New England Patriots Newsfeed