Tom Brady can do battle with the best of them, but the New England Patriots still have a major challenge ahead of them in 2015 when it comes to the opposing quarterbacks they'll square off with in the regular season. Here's our list of the 5 Toughest Quarterbacks The Patriots Will Face In 2015.
5. Eli Manning (November 15th)
Fun Fact: The NY Giants were a top-ten team in total offense in 2014. Eli Manning may be pick happy at times, but he's still a wily veteran with plenty of offensive weapons (*cough* Odell Beckham Jr. *cough) at his disposal.
4. Tony Romo (October 11th)
Romo is often the butt of the Internet's collective jokes, but that doesn't take away from just how deadly he can be when his gunslinging ways bear fruit. He's one of the best in the business, Twitter memes or not.
3. Ben Roethlisberger (September 10th)
You can pencil in six to seven transcendent performances by Roethlisberger each year. Some days he's looks decidedly average, but other times he's an absolute wrecking ball with a cannon arm. Let's hope he's in the latter mode for Week 2.
2. Peyton Manning (November 29th)
Peyton Manning in Denver in what will likely be the last November game of his NFL career? Facing off with Manning at any time is tough, but he's going to be extra ornery while trying to finish his career on top of the NFL mountain. Brady/Manning. It's gonna be a show.
1. Andrew Luck (October 18th)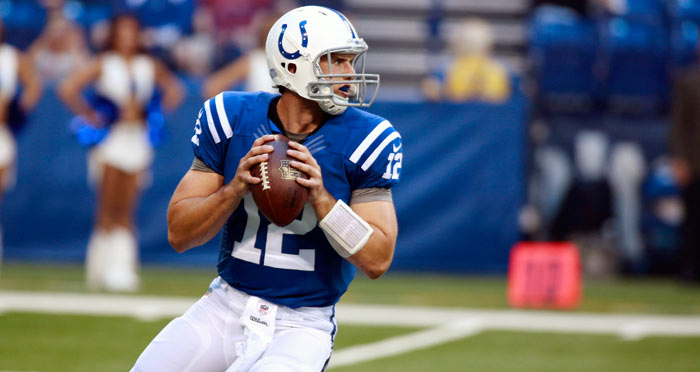 Blending talent and youth into the complete quarterback package, Luck is who you would draw up if you were putting together a prototypical signal caller in a lab somewhere. One of the best pocket QBs around, Luck's more than an handful whenever he steps on the turf.
Follow our New England Patriots team page for the latest Patriots news!
Back to the New England Patriots Newsfeed