Week 3 of the preseason is now over for the New England Patriots, and with the preseason winding down, it's time to forecast who will win the remaining position battles. With that in mind, here are 3 Patriots position battles to watch during the last week of the preseason - and who will win the jobs. 
Nickel Corner
Rookie Cyrus Jones was expected to chip in immediately in the return game, but he has also been seeing a good deal of nickel action in the preseason so far - and has looked good doing it. Justin Coleman and Jonathan Jones are also getting time at the position, which Coleman being the only player in the group with NFL experience.
Winner: Jones
Jones' quickness was always going to get him on the field in some capacity, but he has also shown more moxie and game preparation than the Patriots expected coming into the season. Look for him to win the job and be New England's punt returner Week 1.
Wide Receiver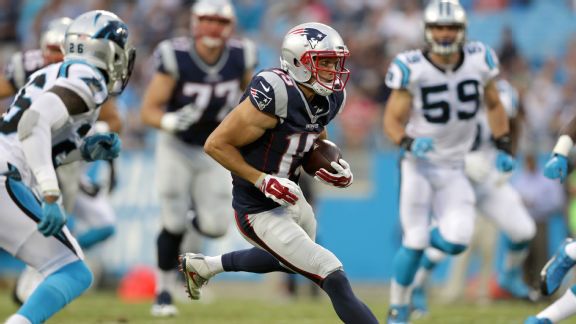 We know Julian Edelman's spot is safe, but Chris Hogan is making a serious push to take Danny Amendola's spot as the other outside receiver. He has been impressive so far in the preseason, including catching five passes for 62 yards and a touchdown against the Panthers.
Winner: Hogan
Amendola hasn't played all offseason after undergoing multiple surgeries this offseason, allowing the opportunity for Hogan to come in and take over the role. At this point, it seems like Hogan is going to have to struggle in the regular season for Amendola to get it back.
Backup Running Back(s)
Dion Lewis will be the starter when he returns from injury (whenever that is), and LeGarrette Blount has his role secured. Behind them, James White and Tyler Gaffney are battling it out. Gaffney is in his first healthy year after missing the last two with injuries, and White served as the No. 3 back last season.
Winner: White
Gaffney has received more carries than White in the preseason, but New England has used White as their pass-catching back - which they are looking for with Lewis' injury. Gaffney may still get on the field, but this is White's job.
Follow our New England Patriots news page for all the latest Patriots news!
Back to the New England Patriots Newsfeed
Related Topics: James White, Jonathan Jones, Justin Coleman, Tyler Gaffney, NFL News, Cyrus Jones, Patriots News, Danny Amendola, Chris Hogan