I caused a little bit of controversy with my last Mike Riley article, giving Nebraska fans 3 reasons why the first-year Huskers head coach is the wrong coach for the job in Lincoln. After Saturday's 30-28 loss to Northwestern, I feel more convinced than ever that the athletic department made a hasty decision in tabbing a mediocre coach to oversee our program. Rather than putting that out there without any backup, here's 4 Coaches Who Are A Better Fit For Nebraska Than Mike Riley.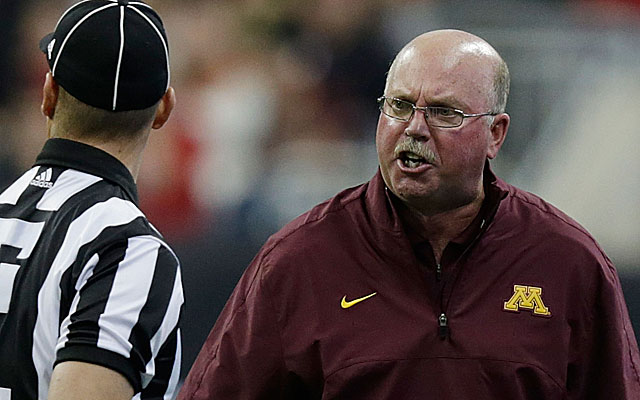 Few coaches in America inspire the kind of devotion among their players as Minnesota's Jerry Kill. An inspirational figure and elite recruiter, Kill's stock is on the rise. He has a level of gravitas befitting of the head coaching gig in Lincoln. He hasn't yet won a bowl game over his eight-year coaching career, but that would change in a hurry when you consider his recruiting skills coupled with the brand name of Nebraska.
The finished product isn't showing on the field yet, but Stoops has been quietly putting together a James Franklin-style turnaround at Kentucky over the past few seasons. Putting together top-25 recruiting classes at an SEC doormat is an absolute triumph, and Stoops has to be considered one of the country's top recruiters at this point.
Fuente has worked wonders as Memphis so far - after taking over an abysmal team that went 2-10, 1-11 and 2-10 in the three seasons before he got there, Fuente overhauled absolutely everything and turned Memphis into a undefeated non-Power Five juggernaut flirting with a Group of Six inclusion in the New Year's Six. Did you watch that Ole Miss upset? Inspiring stuff. While there are concerns about the step up to a Big 10 powerhouse, Fuente has been incredibly impressive so far.
Scott Frost -- Oregon Ducks offensive coordinator
The latest coordinator to get high marks at Oregon, Frost led the Huskers to the '97 national championship as quarterback, and also spent some time coaching there after his NFL career fizzled. If Nebraska wants a known quantity, they'll probably stay away from Frost. If they're prepared to roll the dice though, Frost is a fantastic option when it comes to alumni relations and the like.
Back to the Nebraska Cornhuskers Newsfeed
Related Topics: College Football, NCAA Football, Mike Riley, Nebraska Cornhuskers Football News, Mark Stoops, Jerry Kill, Justin Fuente, Scott Frost