College sports, as the NCAA will tell you, aren't about money. When you see these salaries, though, you'll wonder how they can say that with a straight face. Most of these men are their university's highest-paid employee, and some make around ten times as much as their school's president. Here are the top seven paid college football coaches in the country:
7) Kevin Sumlin - Texas A&M Aggies ($5 million)
Sumlin is under contract through the 2019 season and is 33-11 in three seasons with the Aggies, including bowl victories each year. He signed an extension in December 2013 due to Texas A&M's immediate success in their first two years in the SEC, and despite a down year in 2014, he has led them back into the top 15 thanks to a 5-0 start this season.
6) Charlie Strong - Texas Longhorns ($5.1 million)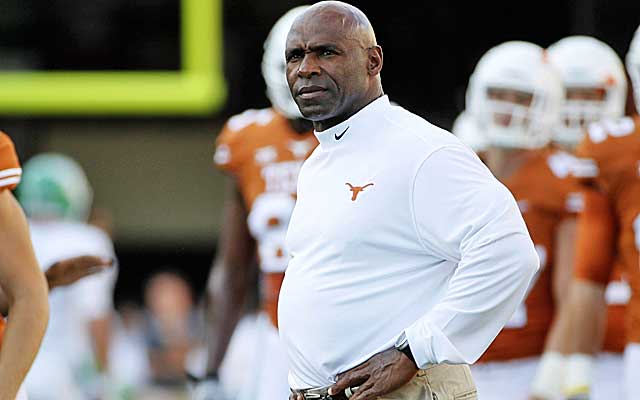 Strong was hired in 2014 to replace Mack Brown. Before taking over at Texas, Strong went 37-15 in four years at Louisville. In his last two seasons, Strong posted a 23-3 record. Strong has gone just 7-11 in just over a season at Texas, as he's in the process of rebuilding the program - though many thing he's going in the wrong direction. Strong's contract is for five seasons, and he's the sixth highest-paid coach in the country.
5) Jimbo Fisher - Florida State Seminoles ($5.2 million)
Replacing a legend is not easy - Fisher has just made it seem that way. Don't forget that Fisher replaced Bobby Bowden, one of the greatest coaches of all-time. In the five years he's been in charge, FSU has won at least nine games, plus a national title. Fisher also happens to be a wonderful recruiter, meaning FSU should be in a good position for years to come.
4) Bob Stoops - Oklahoma Sooners ($5.4 million)
Stoops has been the head man at Oklahoma since 1999, going 172-44 in his time with the Sooners and is the most prolific coach in the Big 12 right now. Stoops has failed to record at least 10 wins only four times, has won one national title and eight Big 12 titles. He has six years left on his contract.
3) Urban Meyer - Ohio State Buckeyes ($5.9 million)
Meyer can legitimately challenge Nick Saban as the best coach in college football after leading the Buckeyes to a national title last season, and what he's done in Columbus has just been amazing. He hasn't lost a conference game, posing a 43-3 overall record in over three seasons at Ohio State, and they're the favorite to win another championship this season.
2) Jim Harbaugh - Michigan Wolverines ($7 million)
Harbaugh might be a bit eccentric, but he's still one of the best coaches in the sport. He's quickly rebuilt Michigan, leading them to a 4-1 record and a No. 18 ranking after just five games at the helm. If the Wolverines continue trending this direction, he'll be well worth the money.
1) Nick Saban - Alabama Crimson Tide ($7.1 million)
Over Saban's eight years in Tuscaloosa, Alabama has won 10 games or more seven times and has not dropped more than one game in SEC play in four years -- an incredible feat in the death conference to end all death conferences. Plus there's the matter of those three BCS National Championships within a four-year span, and the fact that he's lost 11 games in seven seasons since the team's NCAA sanction mess in 2007. He's the unquestioned top coach right now, and will be for as long as he wants to coach.
Back to the NCAA Newsfeed
Related Topics: College Football, NCAA Football, Jim Harbaugh, Bob Stoops, Jimbo Fisher, Nick Saban, Urban Meyer, Kevin Sumlin, Charlie Strong