The most important position for a college football team is quarterback and it's the position that gets the most attention in recruiting. After all, a great quarterback can help cover up other problems on the team. But which quarterbacks look like the top options for the class of 2018? 
The QBs below are the dozen that the Elite 11, the major QB competition, announced will advance to "The Opening," which will happen at the end of June at Nike Headquarters in Oregon. We know it's the "Elite 11," which is why it's weird there were 12 QBs at the event, but 12 made the cut. There were 24 quarterback at the three-day camp, with half advancing. That means a few higher-rated recruits (based on the scouting services) didn't make the cut. 
Each QB has their overall 247Sports composite ranking, their rankings among other QBs (both pro-style and dual-threat), state rank and where they are committed. We've listed the QBs in alphabetical order below. 
Cammon Cooper
Overall rank: 349
Position Rank: 14 (pro)
State Rank: 7 (Utah)
Commitment Status: Washington State
Cooper thrived during the 7-on-7 drills, when he threw for five TDs with just three incompletions. He's one of several QBs in line for a rankings rise after a strong weekend. The lefty committed to Washington State on May 28th and could thrive in the high-powered offense. 
Matthew Corral
Overall rank: 17
Position Rank: 2 (pro)
State Rank: 2 (California)
Commitment Status: USC
Here's one of three five-star recruits on the list. Corral has already committed to USC and looked sharp throughout the weekend of events. He had perhaps the strongest arm at the event. He could be the heir to Sam Darnold at USC. 
Justin Fields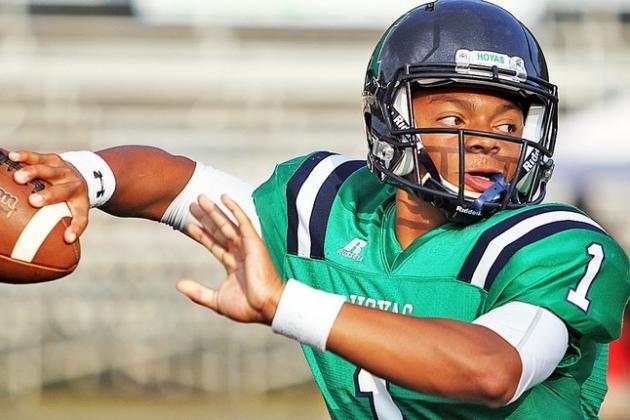 Overall rank: 6
Position Rank: 1 (dual)
State Rank: 2 (Georgia)
Commitment Status: Penn State
How crazy is it that Georgia has two five-star QBs and both are going ton non-SEC schools? Fields is a bit more athletic than Lawrence, hence the dual-threat sub-category. He looks like the future at QB for Penn State when Trace McSorely leaves. 
Trevor Lawrence
Overall rank: 1
Position Rank: 1 (pro)
State Rank: 1 (Georgia)
Commitment Status: Clemson
Lawrence is the top recruit in the nation and he's already committed to Clemson. The reports from the Elite 11 finals was that Lawrence was solid throughout. Lawrence has a bright future and could be starting for the Tigers sooner rather than later. By the way, get on board with calling him "Sunshine" right now, because that's going to be a thing with his hair. 
Devin Leary
Overall rank: 323
Position Rank: 13 (pro)
State Rank: 8 (New Jersey)
Commitment Status: North Carolina State
Leary is one of the lower ranked recruits to make The Opening finals, but he's seems likely to rise after a strong weekend. He committed to N.C. State in April and could give head coach Dave Doeren a true gunslinger. 
Tanner McKee
Overall rank: 58
Position Rank: 4 (pro)
State Rank: 7 (California)
Commitment Status: Uncommitted
Only a few uncommitted commits made the cut at the Elite 11, with McKee among them. He's an interesting recruit, since he actually plans on taking a Mormon church mission right after high schools, which basically makes him a class of 2020 recruit. He told Scout.com that BYU, Texas and Washington are three schools he plans on using some of his five official visits. Stanford is another school in the mix for McKee. He has great size and 6-foot-6, but also did not participate in the 7-on-7 drill, the weekend's most important event. 
Quincy Patterson II
Overall rank: 448
Position Rank: 16 (dual)
State Rank: 5 (Illinois)
Commitment Status: Virginia Tech
Patterson is the lowest-ranked QB to make the cut, but he's due for a big rise up the rankings after this weekend. At 6-foot-4, 230-pounds, he's already built like a college QB. The Hokies might have found a sleeper in Patterson. 
Justin Rogers
Overall rank: 91
Position Rank: 6 (dual)
State Rank: 3 (Louisiana)
Commitment Status: TCU
A dual-threat QB with a big arm, Rogers should be a great fit in TCU's offense. He's a highly-touted recruit that the Horned Frogs plucked out of LSU territory when he committed on May 31st. 
Tyler Shough
Overall rank: 359
Position Rank: 15 (pro)
State Rank: 2 (Arizona)
Commitment Status: Uncommitted
Shough helped himself in the 7-on-7 drills and he is another potential riser of this group. He's just a three-star recruit in the 247Sports composite rankings, but he's a four-star according to just 247Sports. After this weekend, he's due for a rise. Although he remains uncommitted, the Michigan Wolverines are the favorites to land him. 
Dorian Thompson-Robinson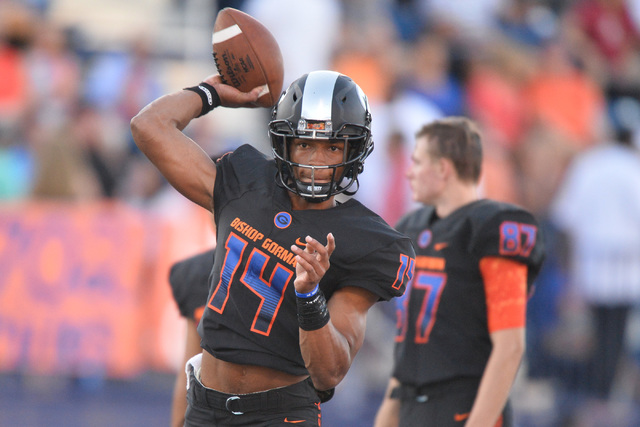 Overall rank: 41
Position Rank: 3 (dual)
State Rank: 2 (Nevada)
Commitment Status: UCLA
Thompson-Robinson steadily improved throughout the weekend and made the cut. He's a UCLA pledge, who could be the heir to Josh Rosen's position. He's a far more athletic QB than Rosen and has plenty of room to grow.  
Jack Tuttle
Overall rank: 165
Position Rank: 8 (pro)
State Rank: 21 (California)
Commitment Status: Utah
Tuttle is committed to Utah, but Alabama is now pushing hard to flip the QB. He showed a strong arm at the event and could be a rankings riser.
Jarren Williams
Overall rank: 397
Position Rank: 15 (dual)
State Rank: 24 (Georgia)
Commitment Status: Kentucky
Here's yet another Georgia player. Although he's a three-star recruit, a very consistent weekend should push him into the four-star range soon. He's committed to Kentucky, which could turn to him not long after he gets on campus. 
Back to the NCAA Newsfeed
Related Topics: Quincy Patterson II, Jarren Williams, Justin Rogers, Justin Fields, Tanner McKee, Trevor Lawrence, Tyler Shough, 2017 College Football Recruiting, College Football Recruiting, Cammon Cooper, Jack Tuttle, Devin Leary, Dorian Thompson-Robinson, Matthew Corral