Each year, college football players take the jump from very good to great. It happens at every position, but one of the positions that receives the most attention is running back. Last year, Christian McCaffrey and Derrick Henry both took massive leaps and ended the year among the best players at their positions. So who will take that jump this season? 
We're not talking about the Leonard Fournettes of the college football world, because anyone who pays attention on Saturdays knows he's a great player. We're talking about the players primed to take their next step and become house-hold players in college football. McCaffrey's jump to stardom is a great example of the type of player featured on this list, although most of the players here won't hit that level of success. In no particular order, here are 5 RBs set to have breakout seasons this year. 
5. Ronald Jones II, USC
Jones was a four-star recruit last season and wasn't expected to have a major impact. However, he racked up 987 yards and eight scores, despite being the team's No. 2 RB. Justin Davis is still at USC and he'll take touches away from Jones. But Jones should get even more carries this year, and he'll generate plenty of buzz and production. If Jones can take the starting job and bulk of the carries away from Davis, he could have a massive year. 
4. Soso Jamabo, UCLA
Paul Perkins is gone and Jamabo should take over the starting role. A five-star recruit out of Texas, Jamabo had 404 yards and four scores in his freshman campaign. Jamabo should win the starting job, and he and QB Josh Rosen could form one of the best backfields in college football next season. 
3. Jovon Robinson, Auburn
Robinson showed potential at the end of last season, picking up at least 90 yards in all but one of Auburn's final six games last year. A former highly-ranked JUCO recruit, Robinson could be in a for a massive season if he gets the bulk of the carries. While he's not the speedster that Roc Thomas is, Robinson is a feature back. If the Tigers find steady QB play, that could bode well for Robinson. 
2. D'Onta Foreman, Texas 
Foreman checks in at 238-pounds, but also has 4.42 speed. He's a rare size/speed combo and showed great potential last season. He racked up 7.2 yards per carry last season as a sophomore and didn't even get the bulk of the carries with Jonathan Gray in the backfield. But Gray is gone and Foreman could have a monster year in Texas' new Baylor-esq offense. Chris Warren, a highly-touted sophomore will get some carries, but Foreman should get the bulk. 
1. Damien Harris/Bo Scarbrough, Alabama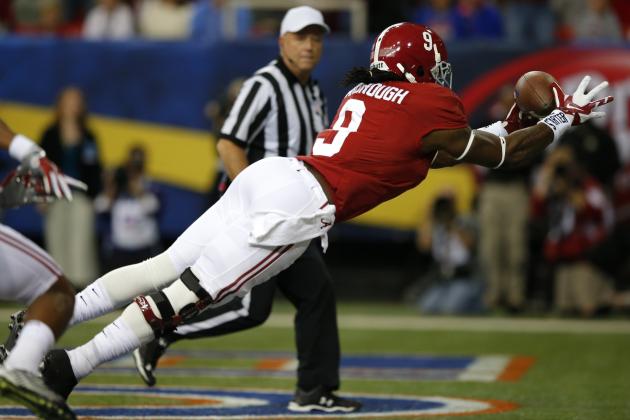 Yes, we're cheating a little bit by including both Alabama RBs. But Derrick Henry is gone and the Crimson Tide are looking for a new feature back for their run-first attack. Both Harris and Scarbrough were five-star recruits, with Scarbrough the one many expect to land the starting job. But don't rule out Harris, who was better in the Spring Game and saw more carries last season. Whoever starts, or even if they both split carries 50-50, should have a big season behind the Alabama O-Line. 
Back to the NCAA Newsfeed
Related Topics: 2016 College Football, Ronald Jones II, Damien Harris, D'Onta Foreman, Bo Scarbrough, Jovon Robinson, Soso Jamabo