The SEC/Big 12 Challenge highlights a big weekend in college basketball, providing us with 10 games filling the slate with intriguing non-conference matchups in the middle of conference season. The game that headlines it all is the Kentucky Wildcats hosting the Kansas Jayhawks. Both teams suffered disappointing losses earlier in the week to Tennessee and West Virginia, respectfully, and the winner of this game will have the inside track on being a No. 1 seed in the NCAA Tournament. Here's a complete preview and prediction of this weekend's biggest game:
Projected Starting Lineups
(4) Kentucky Wildcats (17-3, 7-1 in SEC)
G De'Aaron Fox (Fr.) – 16.2 ppg, 5.9 apg, 4.6 rpg
G Malik Monk (Fr.) – 21.9 ppg, 2.4 rpg
G Isaiah Briscoe (So.) – 14.1 ppg, 4.8 rpg
F Wenyen Gabriel (Fr.) – 6.0 ppg, 6.3 rpg
F Bam Adebayo (Fr.) – 13.5 ppg, 6.9 rpg
(2) Kansas Jayhawks (18-2, 7-1 in Big 12)
G Frank Mason III (Sr.) – 19.9 ppg, 5.2 apg, 4.4 rpg
G Devonte' Graham (Jr.) – 13.7 ppg, 4.7 apg
G Sviatoslav Mykhailiuk (Jr.) – 10.8 ppg, 3.6 rpg
G/F Josh Jackson (Fr.) – 15.5 ppg, 6.6 rpg
F Landen Lucas (Sr.) – 7.3 ppg, 8.0 rpg
What to watch for:
Can Kentucky execute in the half court?
The Wildcats are perhaps the most athletic team in the country, and with De'Aaron Fox running the show, they love to get out on the break and get easy buckets in transition. However, when a team is able to slow the pace and make them play in the half court, they struggle to score. That was the problem for them in their last two losses to Louisville and Tennessee, and almost cost them a win against Vanderbilt.
Kansas hasn't been a typical Bill Self defensive team this year, but transition defense has been the focus for them in practice. They will make Kentucky execute, and that will likely be the deciding factor in the game.
How will Kansas handle their lack of big men depth?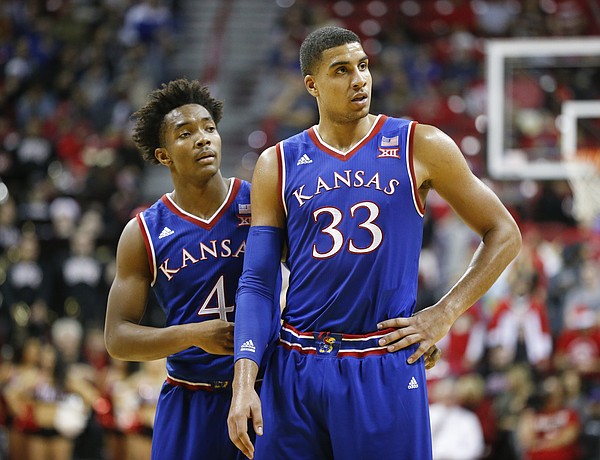 The Jayhawks have plenty of talented guards, but their depth in the post is extremely suspect. And with Carlton Bragg Jr. now suspended indefinitely (which reportedly has nothing to do with the ongoing investigation into an alleged rape on campus - an investigation several KU players are involved in), Landen Lucas is their only true big man who receives consistent playing time. Freshman Mitch Lightfoot is really the only other healthy post player on the roster (Udoka Azubuike is out for the year with a wrist injury), and he has only appeared in 15 games, averaging less than five minutes per game.
If Lucas gets in foul trouble, the Jayhawks will have to go extremely small - a lineup that Bam Adebayo would dominate for Kentucky. How Self manages this problem will be interesting.
Prediction: Kentucky wins 88-76
This is a heavyweight battle in every sense of the word, but Kentucky has two distinct advantages. First off, they're playing at home, where they always play better. Secondly, Kansas has that police investigation hanging over them, which Self admitted was a distraction - and could limit how focused they Jayhawks are coming into this one. With both teams being equal in talent, those two factors give a distinct edge to Kentucky.
Back to the NCAA Newsfeed
Related Topics: Kansas Jayhawks Basketball, Big 12 Basketball, SEC Basketball, NCAA Basketball, Kentucky Wildcats Basketball