The college basketball season kicked off in grand fashion over the weekend, and we'll be treated to our first real showdowns of the season on Tuesday night when Duke faces Kentucky and Kansas plays Michigan State in the Champion's Classic. Though the season is still less than a week old, it's never too early to start looking at what teams look like they could be national championship contenders this season. Here's my power rankings of the top teams in the country, split into four separate categories:
True National Championship Contenders
Maryland Terrapins
Maryland is more loaded than any other team in the country from both a talent and experience standpoint. Point guard Melo Trimble is a legitimate National Player of the Year candidate, senior forward Jake Layman and freshman center Diamond Stone will be first round picks in the NBA Draft in June, Georgia Tech transfer Robert Carter is a walking double-double, and Duke transfer Rasheed Sulaimon is knockdown shooter.
Throw in a bench that comfortably goes 9-10 deep and a top line coach in Mark Turgeon, and you have all the makings of a team poised to make a serious run in March.
North Carolina Tar Heels
UNC has returned all but one contributor from last year's team, and they're already rolling over opponents even without their best player Marcus Paige, who is out for a few more weeks with a broken hand. The Heels have NBA size and are an elite rebounding team while being able to go 10-12 deep without losing much on the court.
My biggest concern with this team centers around if they have enough shooting to do damage in March, but right now, they're as good as anyone.
Kentucky Wildcats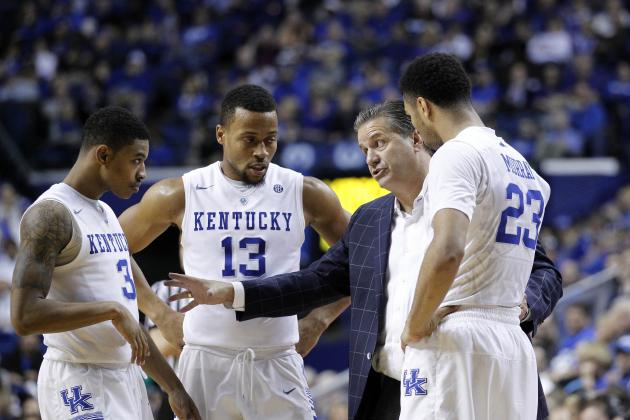 The NBA-factory-called-Kentucky is loaded with another freshman class that is looking to make their mark on the program. Jamal Murray is a versatile wing scorer starting alongside Ulis in the backcourt, giving the Wildcats two top ball-handlers on the court together - a recipe that worked well with starting point guard Tyler Ulis and Andrew Harrison last year. Isaiah Briscoe is averaging a double-double from the backcourt off the bench, and center Skal Labissierre (17.5 ppg) has shown why many think of him as following in the path of Anthony Davis, Nerlens Noel, and Karl-Anthony Towns as a Kentucky one-and-done big man that is a high NBA lottery pick.
As always, the question of how good this Kentucky team will be isn't about talent - they have plenty of that - but rather how quickly this group meshes together.
Duke Blue Devils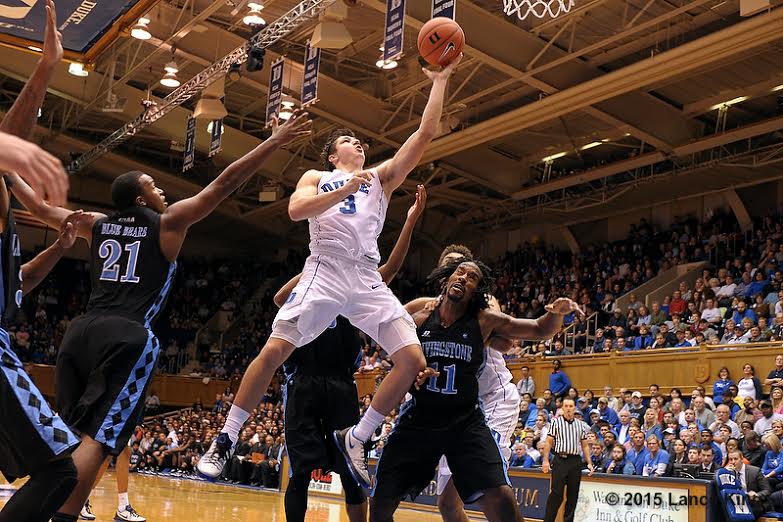 Remember when Duke was supposed to take a step back after losing three first round draft picks last year? Yeah, that's not happening.
Sophomore Grayson Allen as built on his outstanding national championship game performance, averaging a jaw-dropping 27 points, four rebounds, and four assists through Duke's first two games. Stud freshman Brandon Ingram has been every bit as good as advertised (18 points per game), and seniors Amile Jefferson, Marshall Plumlee, and Matt Jones have taken their games to another level. We'll get an early glimpse of just how good Coack K's team is Tuesday against Kentucky.
Kansas Jayhawks
The Kansas Jayhawks have probably flown under the radar as one of the most talented and balanced teams in the country. The returning core of Perry Ellis, Frank Mason III, Wayne Selden Jr., and Brannen Greene give the Jayhawks four players who are capable of winning a game why themselves, while Jamari Traylor and Devonte' Graham have stepped up in the starting lineup. If star recruit Cheick Diallo gets cleared by a current NCAA investigation (which he should, and soon), KU will also have a dominant shot-blocking big man.
This year looks like the year the Jayhawks get back to the Final Four.
Not Quite There Yet
Virginia Cavaliers
Another year of dominance in Charlottesville, and the Cavaliers are finally starting to get some respect. Senior Malcolm Brodgon and junior London Perrantes headline one of the best backcourts in the country, and center Mike Tobey appears to have taken a step forward and given them an equal in the post. We know UVA is a great defensive squad - we just need to see if they have enough options and talent on offense to become really dangerous. However, after being upset by a good George Washington team on Monday night, it looks like their offense might be an issue.
Oklahoma Sooners
Oklahoma returns four starters from last year's Sweet 16 team, and seven players that all saw significant playing time last year. Sophomore Khadeem Lattin is the only newcomer to that starting lineup, and his defensive presence (one block in 12 minutes per game last year) will serve as a nice complement to Oklahoma's guard-heavy roster. They also have the reigning Big 12 Player of the Year back in Buddy Hield, giving the Sooners one of the premier players in the country that is capable of winning a game by himself.
Three of last year's Final Four teams had at least three returning starters from the previous year's roster, and that experience should give them a leg up on other contenders that are relying on freshmen to carry the load. Now, we just need to see them make the progress we all expect them to make before moving them to the next level.
Iowa State Cyclones
Iowa State has to adjust to life without head coach Frank Hoiberg, but they have the returning experience and talent to be very successful again this year. All five starters return from last year's team, and their high-pressure, fast-breaking system gives them a chance to win every game they're in. Depth is a major issue in that system - they only went seven-deep in their season-opening win against Colorado - but they'll get a chance to grow and develop as the season goes on.
Wichita State Shockers
Speaking of winning experience, no one has more than Wichita State's star backcourt of Fred VanVleet and Ron Baker, both of whom are seniors this season. Head coach Gregg Marshall will have this team playing at a high level all season long, but it remains to be seen just how much talent his Missouri Valley Conference power can put around their two stars.
Arizona Wildcats
Arizona has been one of the best defensive teams in the country over the past few years, and that's not going to change this year. Miller is a master at teaching his defensive system and having his all on the same page at that end of the floor, and he still has seven-footer Kaleb Tarczewski to patrol the paint. The Wildcats allowed less than 60 points per game last season, and with supreme length at all five positions, they're poised to do it again this year. For as good of a defensive team as Arizona has been, they have been equally as bad on offense.
They shot just 36 percent from three-point range as a team last year and, quite frankly, couldn't hit anything that wasn't a layup. That will change this year, thanks guard Gabe York (9.2 ppg, 44 percent shooter) finally cracking the starting lineup and the arrival of stud freshmen Allonzo Trier. Both guys - especially Trier, who should be one of the best players in the country - can effectively create their own shot, giving Arizona something they've been lacking.
Overrated
Gonzaga Bulldogs
Gonzaga grabbed a No. 2 seed in the NCAA Tournament last year and made the Elite 8 before ultimately losing to the eventual national champion Duke Blue Devils, but they'll sorely miss guards Kevin Pangos and Gary Bell from that team. Big men Kyle Wiltjer, Domantas Sabonis, and Przemek Karnowski are expected to carry them this year, but they don't have the overall talent to compete with the top teams in the country.
Their lack of experience and talent in the backcourt showed in the first half of their game against Pitt, which was cancelled at halftime with the Zags trailing 37-35. Pitt's defense was able to expose a lot of Gonzaga's weakness, mainly their inability to create offense that's not off a set play. They will significantly hurt them when they face high-level competition outside of the West Coast Conference.
Villanova Wildcats
The back-to-back Big East champs are looking to rebound from back-to-back Round of 32 losses in the NCAA Tournament, but I don't see that happening this year. They still lack size (only one contributor over 6'7") and effectiveness on the glass, which really hurts them when the opposition can slow the game down.
The new 30-second shot clock will speed the game up and make Villanova's guard-heavy lineup more effective, but they're still too one-dimensional to make any real noise against more talented teams that can take away their shots on the perimeter.
Dark Horses
Indiana Hoosiers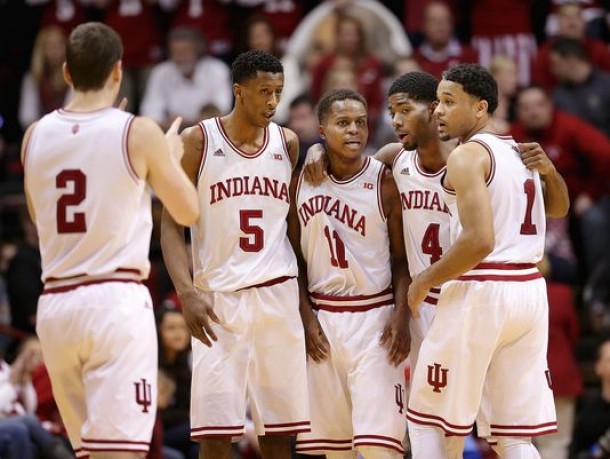 Senior Yogi Ferrell (16.3 ppg, 4.9 apg) and sophomore James Blackmon Jr. (15.7 ppg, 5.3 rpg) are perhaps the most explosive and productive backcourt returning to college basketball this season. They each shot over 42 percent from the field last season, are excellent at attacking the basket, and are deadly three point shooters. While you can get by without it in the NBA, a team's success in college basketball is largely dictated by guard play, and Indiana has two of the most talented and experienced guards in the country.
That duo spearheaded Indiana's offense ,which ranked 18th in the country in points per game last season (77.5) and shot 46.6 percent from the field as a team. Those numbers should increase in head coach Tom Crean's up-tempo system now that they have a dominant interior threat in freshman Thomas Bryant, who will play alongside four returning starters. That offense kept them in a lot of games they shouldn't have been in last year, and their "spurtability" (ability to go on big runs throughout the course of a game) will allow them to outscore a lot of teams and pull off some comebacks when they need to.
Cal Golden Bears
Cal has arguably the best freshmen duo in the country in Jaylen Brown and Ivan Rabb, and they're joined by guard Tyrone Wallace, who might have been a first-round pick in the NBA Draft last year. The trio has the ability to play with anyone in the country, but depth is a serious concern. They'll become a contender if role players start to step up.
LSU Tigers
Two five-star recruits (F Ben Simmons, G Antonio Blakeney), a four-star (G Brandon Sampson), and a transfer (2014 four-star PF Craig Victor) give LSU the best group of incoming talent they've had in a LONG time, and this group is poised to lead the Tigers into the national spotlight. Simmons can do absolutely anything he wants to on the basketball court, while Blakeney might be the purest scorer in the country. Sampson is a sharpshooter through and through, and Victor will contribute as the bruising post presence.
Simmons, Blakeney, and Victor will be inserted into the starting lineup right away along with returning guards Tim Quarterman and Keith Hornsby, while Sampson will be one of the best sixth-men in the country.
Both Simmons and Blakeney had double-doubles in LSU's season-opening win over McNeese State, and as these two continue to develop, they'll be VERY hard to stop.
Back to the NCAA Newsfeed
Related Topics: Oklahoma Sooners Basketball, Gonzaga Bulldogs Football, Iowa State Cyclones Basketball, Kansas Jayhawks Basketball, Wichita State Shockers Basketball, Villanova Wildcats Basketball, Arizona Wildcats Basketball, Cal Golden Bears Basketball, College Basketball, NCAA Basketball, Kentucky Wildcats Basketball, Duke Blue Devils Basketball, Maryland Terrapins Basketball, LSU Tigers Basketball, Indiana Hoosiers Basketball, North Carolina Tar Heels Basketball, Virginia Cavaliers Basketball