The college basketball season is only a few weeks old, but we've already learned a lot about almost every team in the country thanks to their performances in early season tournaments. Though it seems like we just got the season underway, it's never too early to start looking ahead to March. Here's my breakdown of the top teams in the country, separated into four different categories:
True National Championship Contenders The Terrapins struggled early in the season, surviving close games against Georgetown and Rider, but seem to have found their stride with dominanting victories over Rhode Island and Cleveland State.
Point guard Melo Trimble (14.8 ppg, 4.5 apg) has shown why he's one of the best players in the country, using his quickness to get into the lane to get to the basket, draw fouls, or find an open teammate. It's clear the Terps are still working out the lumps in their rotation, along with newcomers Diamond Stone, Rasheed Sulaimon, and Robert Carter in their starting lineup.
Maryland has the talent to win a championship, and it's looking like their players are starting to figure out how to play together. We'll see exactly how far they've come on Tuesday against North Carolina.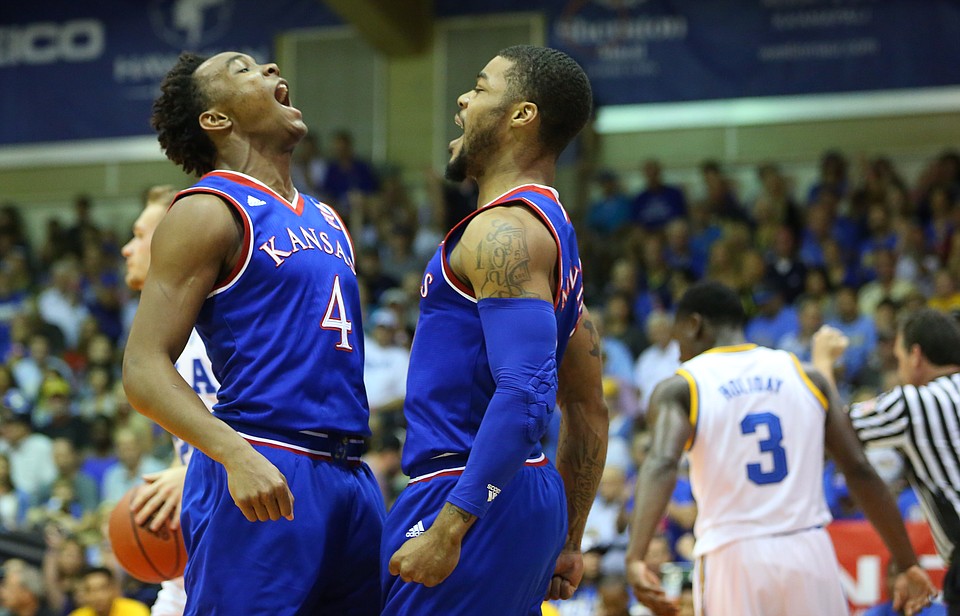 The Jayhawks put their disappointing loss to Michigan State in the rearview mirror as they looked dominant during their Maui Invitational run, controlling their contests against UCLA and Vanderbilt on their way to a title. Their veteran core of Perry Ellis, Wayne Selden Jr., and Frank Mason III are playing as well as any trio in the country, and Kansas is only going to get better when star freshman Cheick Diallo becomes available to play on Dec. 1 (NCAA investigation). This team looks like they'll win the Big 12 in convincing fashion again this year.
Kentucky's win over Duke is still their only game against good compeition this year, but the Wildcats have handled their business as expected. Sophomore Tyler Ulis leads a backcourt with freshmen Jamal Murray and Isaiah Briscoe that is perhaps the best in the country, and talented freshman big man Skal Labissiere is averaging 14.7 points in just 24.3 minutes per game.
The biggest question facing this team in their strength down low, particularly on the glass. Briscoe, a guard, and Marcus Lee, a backup, are the only players averaging more than 4.7 boards per game. The Wildcats routinely get pushed around down low, which could keep them from reaching another Final Four.
Michigan State has (surprisingly) posted the most impressive resume of anyone in the country to this point, knocking off Kansas, Boise State, and Providence in their first seven games. Guard Denzel Valentine has already posted two double-doubles and has emerged as the frontrunner to win National Player of the Year, averaging 19.9 points, 8.9 rebounds, and 8.6 assists per game. 
Valentine has been carrying them so much that the Spartans may run into problems down the road if an opponent is able to neutralize his effectivess, but no one has been able to do that yet. It looks like he could lead the Spartans on a Draymond Green/Mateen Cleaves-type run this year.
Still Have Something To Prove
Duke rebounded from their loss to Kentucky to win the 2K Sports Classic, but they really sturggled to get victories against VCU and Georgetown. Sophomore guard Grayson Allen has had the breakout season we all expected, averaging 22.6 points per game, including two 30+ point performances.
While the Blue Devils have been able to handle lesser teams with ease, they have had to heavily rely on Allen to bail them out against anyone that is remotely good. The Blue Devils need more players to step up - especially star freshman Brandon Ingram - if they want to be recognized as legitimate contenders.
UNC's strong start to the season hit a snag when they lost to a rebuilding Northern Iowa team, then needed to pull off second-half comebacks to oust Northwestern and Kansas State. Given, those performances were without star point guard Marcus Paige, who returns to action Dec. 1 against Maryland. 
Paige will undoubtedly give them a boost, but the problems that have plagued the Heels over the last three years - specifically poor shooting and the inability create their own shot (other than Paige) - are still apparent. Paige's ability can mask a lot of things, but if they can't fix those issues, they won't make the Final Four.
The Sooners have played the fewest games of anyone on this list, but do have a victory over Memphis and a blowout win over Wisconsin on their resume. Guard Buddy Hield (22 ppg, 5.5 rpg) is proving that he's one of the best players in the country, and center Ryan Spangler (13 ppg, 10 rpg) has been a dominant force down low.
The Sooners seem to have all the pieces to challenge Kansas in the Big 12, but need to pass a true test before we dub them serious contenders. They'll get their chance on Dec. 7 against Villanova.
Iowa State has Final Four aspirations in head coach Steve Prohm's first season, and while they have a lot of talent and experience, they haven't been tested yet. The Cyclone's up-tempo system has them as one of the most potent offenses in the country, and their balanced scoring - five players average 13.8 points or more - makes them extremely tough to stop. However, Iowa State's depth (only seven players average more than 3.8 minutes per game) could give them some problems down the road.
Overrated
Villanova Wildcats (6-0)
The back-to-back Big East champs have started the season undefeated, though all six games have come against lesser competition. Villanova has great guard play, led by junior Josh Hart (14.8 ppg, 7.2 rpg) and senior Ryan Arcidiacono (11.7 ppg, 4.2 apg), but have been bounced in the Round of 32 in the NCAA Tournament each of the last two years due to their extreme lack of size. That issue hasn't been addressed and will limit them against good teams again this year.
Gonzaga Bulldogs (4-1)
Gonzaga gets the benefit of the doubt because they're really good at dominating lesser competition with their productive front line, but they lack the playmakers they need to beat other top teams. Their guard play has really limited them this year, causing them to lose to Texas A&M while nearly being upset by UConn and Pitt (game canceled at halftime). They're ranked #13 now, but will be at the bottom of the rankings - if they're ranked at all - by the end of the season.
Virginia has won four straight games since falling to to George Washington, though all of those have come against poor mid-major teams. I really like head coach Tony Bennett and guards Malcolm Brogdon (16.7 ppg, 4.5 rpg) and London Perrantes (10.5 ppg, 5.0 apg), but they simply don't have the offensive firepower outside of that to beat other talented teams. UVA's defense will keep them among the top 15 or top 20 teams in the country, but they just aren't talented enough overall to be a real threat.
Dark Horses
Providence Friars (6-1)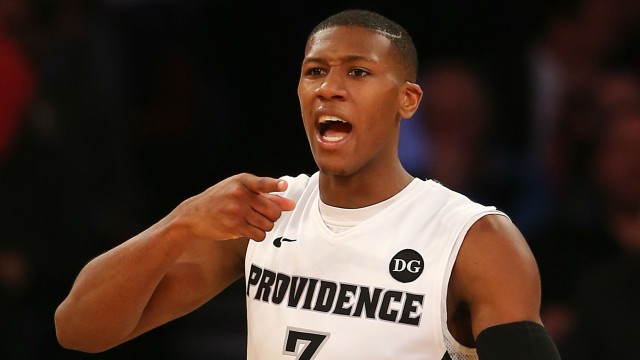 The Friars only loss came to Michigan State, but they still showed enough to be considered a real threat this year. Junior point guard Kris Dunn (19 ppg, 6.7 apg, 6.1 rpg) is the most-talented-player-in-the-country-not-named-Ben-Simmons, and he has the potential to lead the Friars on a Kemba Walker-like run this year. If forwards Rodney Bullock and Ben Bentil continue to play well, Providence will be a team that slowly creeps up the rankings. 
Syracuse was the team that turned the most heads this weekend, jumping from an unranked team to #14 in the country after winning the Battle 4 Atlantis with wins over UConn and Texas A&M. They displayed their offensive versatility, attacking the rim with reckless abandon and draining over 41 percent of their three's, while using their length on defense to disrupt their opponent.
6'7" point guard Michael Gbinije (19.7 ppg, 4.2 apg) has hit his stride and is shooting over 51 percent from three-point range while freshman Malachi Richardson (13.8 ppg) has played like a top-15 pick in the NBA Draft. As long as they continue to get great play from Trevor Cooner, Tyler Lydon, and DaJuan Coleman, the Orange could be a Final Four team.
Back to the NCAA Newsfeed
Related Topics: Skal Labissiere, Iowa State Cyclones Basketball, Kansas Jayhawks Basketball, Villanova Wildcats Basketball, Malachi Richardson, Buddy Hield, Jamal Murray, Kentucky Wildcats Basketball, Isaiah Briscoe, Gonzaga Bulldogs Basketball, Tyler Ulis, Kris Dunn, Syracuse Orange Basketball, Providence Friars Basketball, North Carolina Tar Heels Basketball, Malcolm Brogdon, Marcus Paige, Virginia Cavaliers Basketball, Oklahoma Sooners Basketball, Perry Ellis, Tony Bennett, London Perrantes, Michael Gbinije, Wayne Selden Jr., Michigan State Spartans Basketball, Ryan Spangler, Cheick Diallo, Maryland Terrapins Basketball, Frank Mason III, Denzel Valentine, College Basketball, NCAA Basketball, Grayson Allen, Duke Blue Devils Basketball, Melo Trimble