The 2017 college football season is shaping up to be a loaded one for quarterbacks. Two previous Heisman finalists are back, plus last year's winner in Lamar jackson. Three of the quarterbacks from College Football Playoff teams are returning, and there are several talented quarterbacks who are just underclasssmen. Because there's so much talent, we're taking a look at the best QBs for 2017. 
Quarterback is undoubtedly the most important position in football, and in college, having a difference maker under center (or in the shotgun) can be the difference in making a New Year's Six Bowl or missing the postseason altogether. The debate over which QB is the best in the country is largely arbitrary, here are Chat Sports' 10 best college quarterbacks for the 2017 season. 
10) Jarrett Stidham, Auburn Tigers
The Baylor transfer is set to take over as Auburn's starting quarterback, and he should immediately be one of the best quarterbacks in the conference. The Tigers have lacked a good signal caller since Nick Marshall left, and Stidham will make them a contender in the SEC. Though he's not an elusive runner, he did pass for 1,265 yards with 12 touchdowns and two interceptions in 10 appearances, including three starts, in 2015.
9) Josh Rosen, UCLA Bruins
The key for Rosen will be staying healthy. His potential is evident, something he showed while playing through several injuries that cut his season short. Rosen has all the talent teams want and he might have the highest NFL ceiling of anyone on this list. But because he's only shown a fraction of what he can do in the NFL, this is as high as he can go. And even that might be a bit high. 
8) Wilton Speight, Michigan Wolverines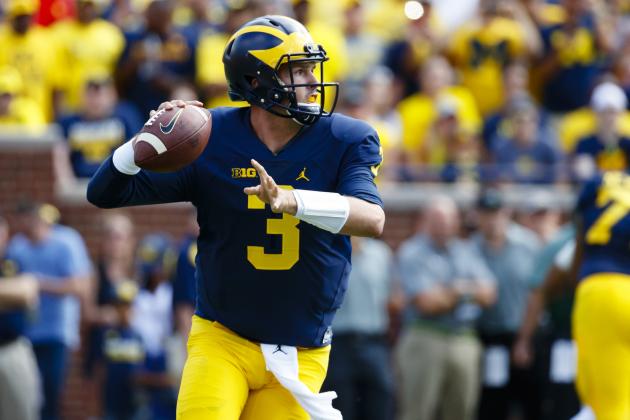 Speight had to beat out John O'Korn for the Michigan starting job, then he exceeded expectations last season. In a run-first offense at Michigan, he completed 62.5% of his passes for 2,375 yards, 17 TDs and just six interceptions. He's not the dynamic athlete most of these players are, but he is perfect for Michigan. Another year under Jim Harbaugh should only help Speight. 
7) Jalen Hurts, Alabama Crimson Tide
Assuming he takes another step in his development (which is expected), Hurts could become one of the elite quarterbacks in the country. Hurts is a talented dual-threat, although he does need some work on his passing. But his numbers as a true freshman, 65.3 completion percentage, 2,592 yards, 22 touchdowns and nine interceptions with 841 yards and 12 touchdowns on the ground, are mighty impressive.
6) Quinton Flowers, USF Bulls
You might not be all that familiar with Flowers, but he's one of the best players you've never heard of before. His passing numbers are solid: 2,551 yards, 22 TDs, six interceptionss with 61.5 completion percentage. But he thrives in the ground game, where he racked up 1,425 yards and 15 touchdowns. He's Lamar Jackson-lite and one heck of a player. 
5) J.T. Barrett, Ohio State Buckeyes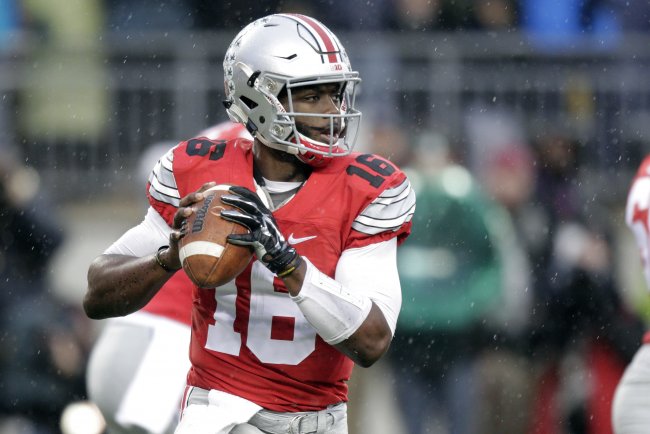 OSU fans might argue Barrett should be higher, but this is a good spot for him. He's a better runner (847 yards and nine touchdowns) than thrower (61.9 completion percentage, 2,428 yards, 24 TDs and five interceptions) and while he wasn't as good as he was in 2014, Barrett is a great college QB. He'll be back next year and if he lights it up in the College Football Playoff, maybe he'll be at No. 2 in the preseason rankings.
4) Jake Browning, Washington Huskies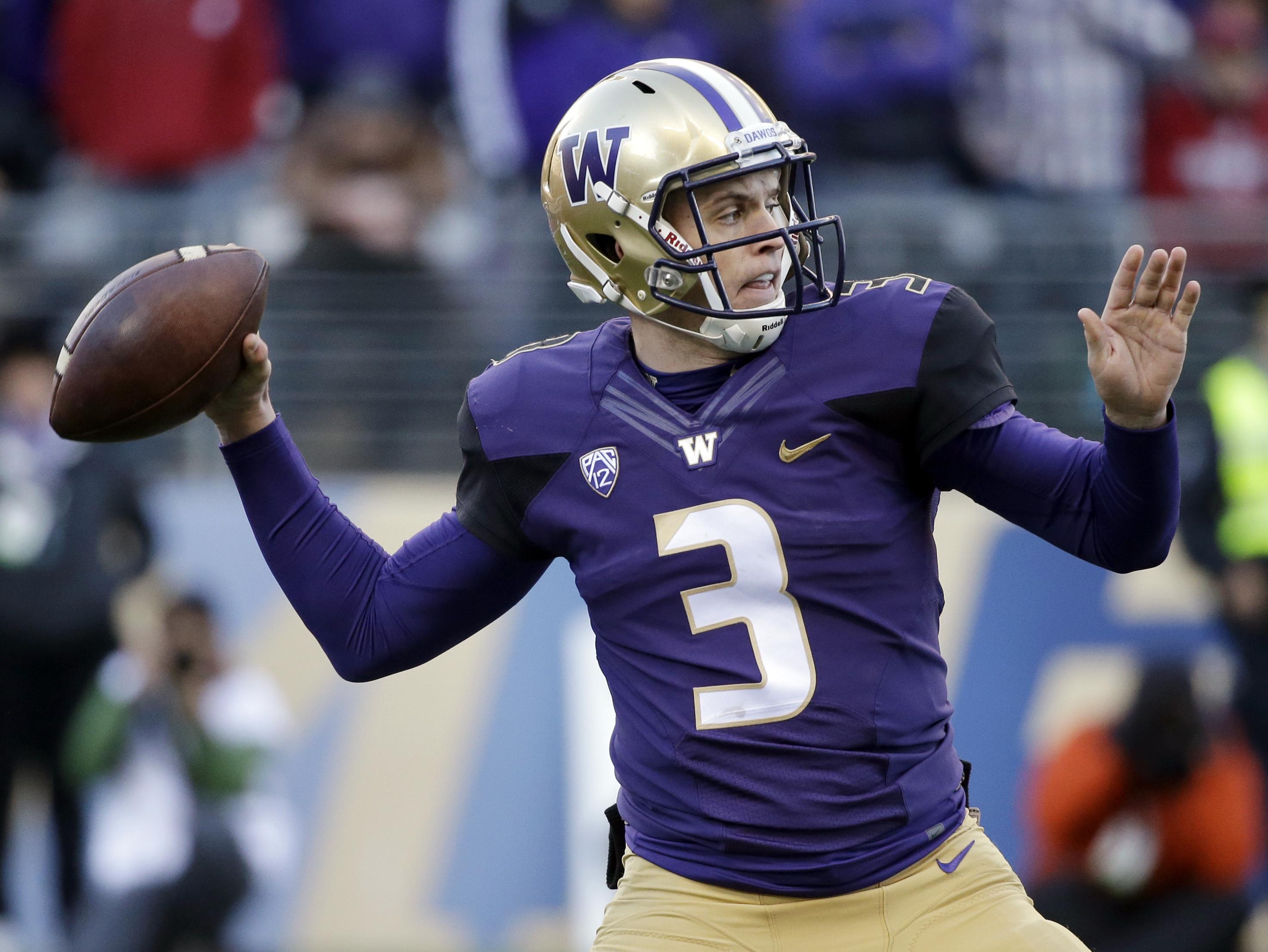 At the start of 2016, anyone suggesting Browning was better than Josh Rosen would get some funny looks. And yet, that's what happened. Browning was fantastic this year, completing 63.2 percent of his passes for 42 touchdowns and just seven interceptions. He even added four rushing touchdowns, although he doesn't have the best running ability. It will be hard for him to repeat last year's performance, but if he can (while leading Washington to another stellar season), he'll be in the Heisman conversation again. 
3) Baker Mayfield, Oklahoma Sooners
Mayfield struggled against Ohio State early last year, and that helped tank his Heisman hopes. But, his season overall was once again impressive. He completed 71.2 percent of his passes for 3,669 yards, 38 touchdowns and eight interceptions. He didn't run as much as he did in 2015, but still picked up 143 yards and six touchdowns. He's now the completely unquestioned leader with Dede Westbrook, Samaje Perine and Joe Mixon all in the NFL.
2) Sam Darnold, USC Trojans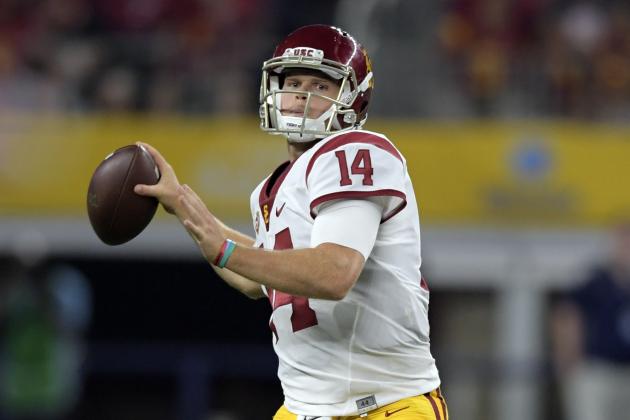 Darnold hardly played in USC's first three games, throwing no more than eight passes in each. But he took over the starting job after that and never looked back. He was fantastic for USC, completing 68.1 percent of his passes for 2,633 yards, 26 touchdowns and eight interceptions. He's a pocket passer for the most part, but did add 230 rushing yards and two touchdowns. Just a freshman last year, he's one of several young Pac-12 QBs with very bright futures - but is future seems to be pointing toward being the No. 1 overall pick in the NFL Draft. 
1) Lamar Jackson, Louisville Cardinals
Well, duh. Jackson is the Heisman winner and is coming off a fantastic year. Sure, he might not repeat, but there's no way anyone other than Jackson deserves top billing. He's a dual-threat and he'll once again carry Louisville. If he can improve (he still has a lot of room to grow as a passer), Jackson will run away with the Heisman again.
Back to the NCAA Newsfeed
Related Topics: Josh Rosen, Lamar Jackson, NCAA Football, Jalen Hurts, J.T. Barrett, Jake Browning, Wilton Speight, Baker Mayfield, Quinton Flowers, Sam Darnold, Jarrett Stidham