We've approached the end of the 2016-17 college basketball season, and a new national champion will be crowned on Monday, April 3. While whoever wins can stake claim to being the best team in the country this year, all national champions aren't created equal. Here is how we rank all of the previous NCAA Tournament champions since 2000.
17) 2014 UConn Huskies
Shabazz Napier's "Kemba run" carried a UConn team to the title that really had no business being there. They went 12-6 in a very average AAC, and Napier is the only player that has made any headway in the NBA. It was a run to remember, but against other championship teams, they simply don't stack up.
16) 2010 Duke Blue Devils
Can you name one Duke player from this team? No? This championship game is mostly remembered for a shot that missed - Gordon Hayward's half-court shot that bounced off the rim at the buzzer and would have won the title for Butler. The Blue Devils were still very good, led by Nolan Smith and Kyle Singler, but have largely been forgotten.
15) 2011 UConn Huskies
The originator of the "Kemba run," Kemba Walker made sure this team didn't lose a tournament game all year. They won the Maui Invitational and the Big East Tournament before cutting down the nets. But they went just 9-9 in the Big East during the regular season and beat Butler in the worst championship game of all time (Butler shot 18.8 percent, UConn shot 34.5 percent and 9.1 percent from three-point range).
Walker provided plenty of memories and iconic moments, but this team wasn't that dominant throughout the course of the season.
14) 2013 Louisville Cardinals
This Louisville team largely falls into the same category as the 2010 Duke team. Despite being the No. 1 overall seed in the tournament, three of their games were decided by single digits and only three players from that team have been in the NBA.
13) 2016 Villanova Wildcats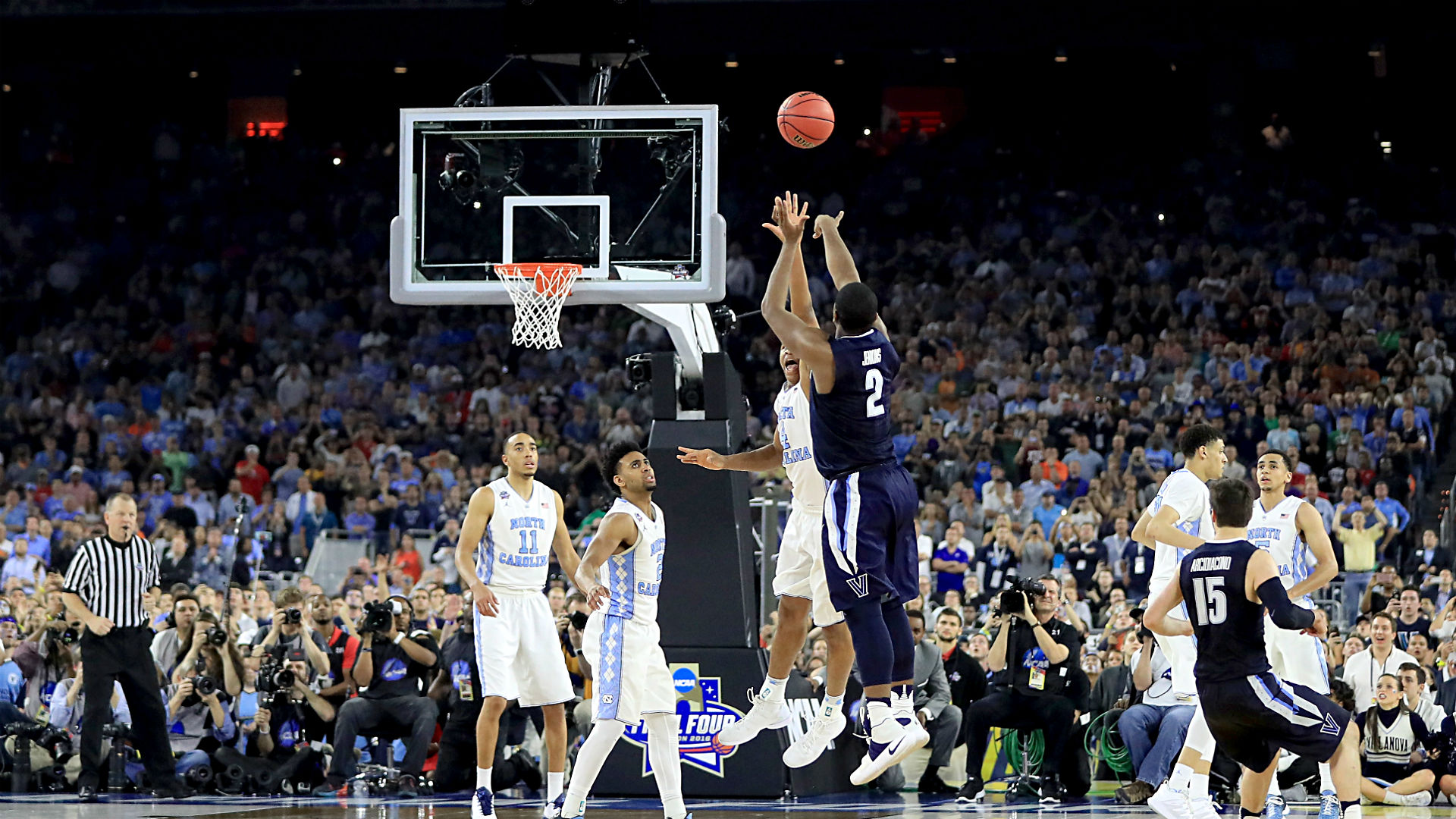 Kris Jenkins' shot is one of the most iconic in college basketball history and one that we will see every March until the end of time. However, this group has their pitfalls. Josh Hart is the only real NBA player on the roster, and they went through the whole season with the stink of coming off of two straight Round of 32 exits. They also didn't beat a ranked team out of conference before their tournament run - but it was one hell of a dominant run.
12) 2006 Florida Gators
The first of Florida's back-to-back championship teams didn't look destined for all that much. Led by Al Horford, Joakim Noah and Corey Brewer, they were just 5-6 in SEC play in the middle of February before getting hot, then got lucky and played George Mason in the Final Four before knocking of very, very good UCLA team in the final.
11) 2004 UConn Huskies
Another team that is largely forgotten, Jim Calhoun's second championship team was led by bonafide college stars in Ben Gordon and Emeka Okafor. That probably had to do with the fact that they didn't run into any real competition in the NCAA Tournament, and played Jarrett Jack's Georgia Tech team in the championship game. But, they went 33-6 and 12-4 in the loaded Big East and ended up having seven players drafted.
10) 2000 Michigan State Spartans
This Michigan State team gets a lot of love because they were Tom Izzo's first championship team and Mateen Cleaves was incredible in the tournament, and they should get that amount of love. However, they lost seven games during the regular season and didn't pull off any really incredible wins in the tournament. So, while they were good and had future pros Mo Peterson and Jason Richardson on the team, they're in the middle of the list.
NOW READ: 
Final Four Preview & Prediction: North Carolina vs. Oregon
Final Four Preview & Prediction: South Carolina vs. Gonzaga
9) 2003 Syracuse Orange
Carmelo Anthony was the only real star on this team (and what a star he was), but Hakim Warrick and Gerry McNamara were both very high quality college players who made big differences in the title game. They also beat a very good Kansas team in the final, as they were led by Kirk Hinrich and Nick Collison.
8) 2009 North Carolina Tar Heels
UNC was the preseason No. 1 team in the country and lost only four games all year - and those four losses came by an average of four points apiece. They also won all six of the NCAA Tournament games by an average of 21.2 points - including a 89-72 win over Michigan State in the national championship game. The Heels also featured several quality pros, headlined by Ty Lawson, Danny Green and Tyler Hansbrough.
7) 2005 North Carolina Tar Heels
This Carolina team lost their season opener to Santa Clara, then dominated the rest of the way. Led by Sean May, Rashad McCants, Raymond Felton and Marvin Williams, the Heels went 33-4 and beat Illinois in the championship game to give Roy Williams his first national title.
6) 2002 Maryland Terrapins
In 2002, it was simply time for this great Maryland team to win the national title - and they don't get anywhere near the credit they deserve. Coming off of the Final Four the year prior, the Terps went 32-4 overall, including 15-1 in a loaded ACC. Steve Blake had the longest NBA career, but Juan Dixon was the leader that season, averaging over 20 points per game and over 25 per game in the NCAA Tournament.
5) 2015 Duke Blue Devils
This Duke team never really got the credit they deserved, and they are one of my favorite teams of all time. They had an abundance of top end talent - Jahlil Okafor and Justise Winslow were both top 10 picks, and Tyus Jones also made the first round and is developing into one of the better backup point guards in the league. On the court, they only lost four games all season, beat 12 ranked teams and were ranked in the top five all season long. 
4) 2008 Kansas Jayhawks
Kansas' adjusted efficiency margin of 34.39 is the highest ever in the KenPom era (since 2002), and are one of the few teams in college basketball history to knock off one seeds in both the Final Four and the national championship game. They beat essentially the same UNC team that won the title in 2009, then beat a Memphis team featuring Derrick Rose in one of the most iconic title games of all time. While this team didn't produce any stars, seven players did end up playing in the NBA.
NOW READ: 
Final Four Preview & Prediction: North Carolina vs. Oregon
Final Four Preview & Prediction: South Carolina vs. Gonzaga
3) 2007 Florida Gators
This Florida team has to be in the top three since they are the only team to win back-to-back national titles since Duke did it in 1991 and 1992. They were a team full of role players outside of Noah, Horford and Brewer (though once of those role players was Mo Speights), but they accomplished something very few teams have.
2) 2012 Kentucky Wildcats
Anthony Davis' Kentucky team was dominant. They lost just two games all year by a combined eight points, went 16-0 in the SEC, won every NCAA Tournament game by at least eight points, and sent seven players to the NBA. In fact, Davis and teammate Michael Kidd-Gilchrist went No. 1 and No. 2 in the draft
1) 2001 Duke Blue Devils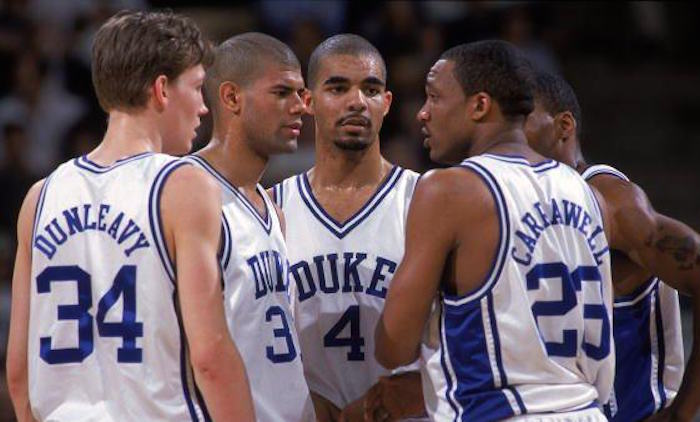 This Duke team is the single greatest team I have ever seen. Their starting lineup consisted of longtime NBA players like Shane Battier, Carlos Boozer and Mike Dunleavy Jr., while Chris Duhon also spent several seasons in the league. Yet, their best player was Jay Williams, who appeared headed for superstardom before his motorcycle accident. 
Three of their four losses during the year came by two points or less, and the Blue Devils won all of their NCAA Tournament games by double digits - despite being down by 22 points in the first half against Maryland in the Final Four.
Back to the NCAA Newsfeed
Related Topics: NCAA Basketball, NCAA Tournament, March Madness, 2017 NCAA Tournament