The first batch of College Football Playoff rankings won't come out for another month or so, but that doesn't mean that we can't take a long-view look at the current batch of college football contenders and pick out the four standouts who we see as the current favorites to punch their tickets to the Orange and Cotton Bowls. Clemson is currently #11 in the AP Poll, so you may be wondering just why we're leap-frogging them over seven other teams and into the CFP field. Well, it's two-fold. Firstly, the Tigers get Notre Dame, Georgia Tech and Florida State all in the friendly confines of Death Valley -- one of the underrated home-field advantage venues in all of college football. The only real road test left for Clemson is Miami (no, South Carolina doesn't count), and there's a 95% chance Canes coach Al Golden will "Al Golden" all over their momentum by the time October 24th rolls around.
Secondly, Deshaun Watson put up an inconsistent, frustrating effort at Louisville last week and STILL pushed Clemson to a 20-17 road win over a desperate Louisville team starting down an 0-3 start. Deshaun Watson isn't out of second gear yet in 2015, but he will get there. When he does (and it should be soon), Clemson will usurp Florida State as the class of the ACC and move forward towards the CFP. We're all in. If Stanford's upset of #6 USC in Southern California last week was huge, Ole Miss' throat-punch of Alabama at Tuscaloosa last week was orbit-breaking, planet-destructing, insanely MASSIVE. Ole Miss jumped 12 spots and went from an SEC contender-in-waiting to a CFP favorite all thanks to 60 on-field minutes in prime time playing in front of one of the more hostile crowds you're going to find in all of the nation.
Ole Miss' run defense was iffy and the pass defense was bent with Bama furiously slinging its way back into things, but there is simply no team in the nation - barring one or two of the teams ahead of Ole Miss on this list -- who boast as balanced of an offensive/defensive attack as the Rebels do.
We have some trepidation about placing TCU this high, especially with the long list of personnel losses Gary Patterson's defense has suffered so far in 2015. However, TCU plays in the Big 12 where shootouts are the norm and an offensive trio like Trevone Boykin, Aaron Green, and Josh Doctson serve as the ultimate trump card.
Whereas Ole Miss is a fully fleshed out, three-dimensional CFP threat, TCU is an Arena Football League team that can beat anyone in the nation by a count of 50-44. They have the biggest boom/bust potential of anyone on this list, but we're putting our eggs in TCU's offensive basket going forward.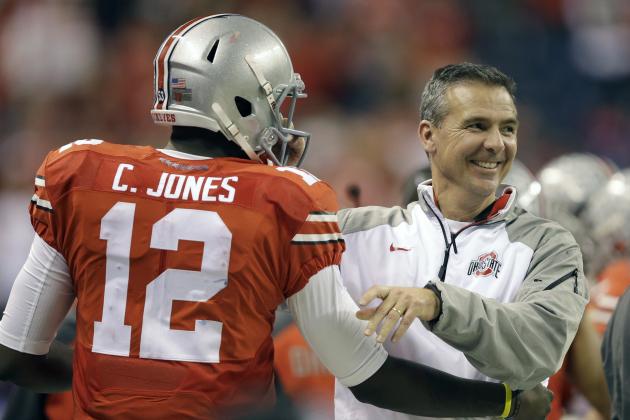 The Northern Illinois scare tells us a couple things about Ohio State. Firstly, they're good enough to play at 25-30% capacity and still take down more than half of the FBS in Columbus. Secondly, they're going to be really pi**ed off going through a seven-game cupcake stretch that reads as follows -- Western Michigan, at Indiana, Maryland, Penn State, at Rutgers, Minnesota, at Illinois. 
We'd be willing to lay 5-to-1 right now that OSU runs through this opposite-of-a-gauntlet and goes into the November 21st home showdown against Michigan State at 10-0. Whether it's Cardale Jones who remains under center, JT Barrett or a robot constructed by robotics majors commissioned by Urban Meyer, the defending national champs are just too dang talented across the board to be dislodged from the #1 spot any time soon.
Back to the NCAA Newsfeed
Related Topics: College Football Playoff, Clemson Tigers, Cardale Jones, NCAA, Ohio State Buckeyes, TCU Horned Frogs, Trevone Boykin, Mississippi Rebels, Ole Miss Rebels, College Football Playoff Rankings