The college basketball season is approaching the mid-point of the conference schedule for most teams across the country, setting the stage for some critical games virtually every night. With February approaching, teams are looking to strengthen those ever important NCAA Tournament resumes and put themselves at the top of their conference standings.
This Saturday brings us several marquee games, including three between ranked teams. Here's a preview for the four games you don't want to miss.
#12 Louisville Cardinals (16-3, 4-2 in ACC) at #10 Florida State Seminoles (17-2, 5-1) - 2:00 pm ET, ESPN
If you haven't paid too much attention to this season so far, you may be surprised to see Florida State ranked in the top 10. Don't be. The Seminoles are tied for first place in the ACC and have legitimate Final Four potential. Dwayne Bacon is the ACC Player of the Year frontrunner, and 6-foot-11 forward Jonathan Isaac is a consensus top 10 pick in this summer's NBA Draft. They have more size and length than virtually everyone else in the country along with being one of the deepest teams. 12 different players are averaging at least 10 minutes per game.
Louisville will be the sixth straight ranked team the Noles play, and they are coming off a 32-point win over Clemson. The Cardinals have a top-15 defense (which you would expect from a Rick Pitino squad), but struggle to score - particularly in the halfcourt. Without point guard Quentin Snyder, who is out with a hip injury, Louisville is heavily relying on Donovan Mitchell to carry the load offensively. He has scored at least 15 points in each of the last six games, but he won't be enough to lead the Cardinals to a road victory.
Prediction: Florida State wins 89-76
#14 Arizona Wildcats (17-2, 6-0) at #3 UCLA Bruins (19-1, 6-1) - 4:00 pm ET, CBS
This matchup isn't for first place in the Pac-12 (Oregon is also 6-0 in conference play), but it might as well be. Arizona is on an 11-game win streak and have been one of the biggest surprises in the country without star Allonzo Trier, who has missed the entire season to this point due to a PED suspension (Trier, who averaged 14.8 ppg last year, is making his return in this game). They've done so with excellent defense, but UCLA is a test they haven't faced yet.
Led by projected top-five pick Lonzo Ball, the Bruins have the best offense in the entire country. They run a fast-paced up-tempo system and have six players who average double-digit points - all of whom can carry the load on any given night. This game will be decided on if Arizona can limit UCLA's transition opportunities and not give them any open looks. Essentially, don't make it easy for UCLA. To this point, no one has managed to do so yet.
Prediction: UCLA wins 89-78
#24 South Carolina Gamecocks (15-3, 5-0) at #5 Kentucky Wildcats (16-2, 6-0) - 6:00 pm ET, ESPN
South Carolina is another team that you should start paying attention to. They lead the nation in defensive efficiency and three-point field goal percentage defense, and with senior guard Sindarius Thornwell (18.2 ppg, 6.9 rpg) in the lineup, they're undefeated (SC went 3-3 during his six-game suspension). Coming off a win over the Florida, the Gamecocks have established themselves as the biggest challenger to Kentucky in the SEC.
This matchup is for sole possession of first place in the conference and is the only time the two will meet this year. Playing in Rupp Arena obviously gives Kentucky a huge advantage, but this game will come down to pace of play. Can De'Aaron Fox, Malik Monk and the rest of the Wildcats speed the game up and get out in transition, or can South Carolina turn it into a halfcourt game? Kentucky is clearly the more talented team and are playing at home, so they'll win - but it'll be close.
Prediction: Kentucky wins 74-66
Miami Hurricanes (12-5, 2-3) at #18 Duke Blue Devils (14-4, 2-3) - 8:15 pm ET, ESPN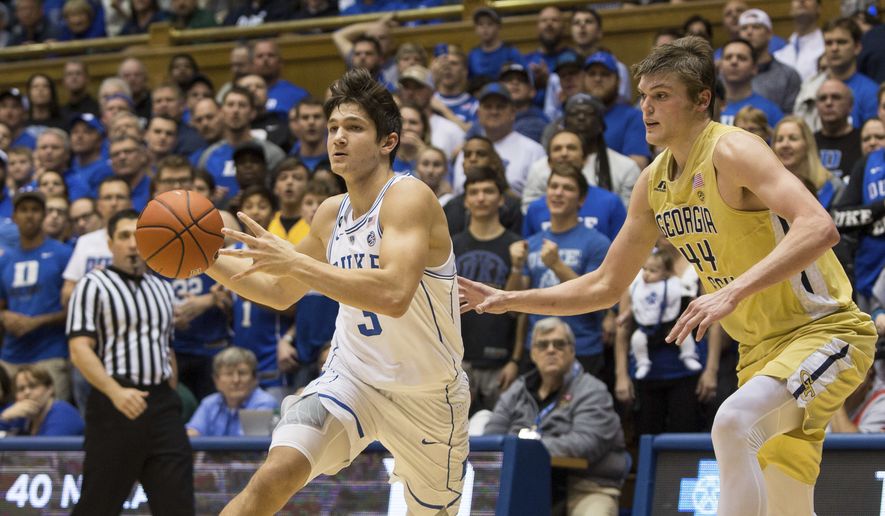 The first site of ESPN's College GameDay this season, this matchup is extremely important to a Duke team that is reeling. Without center Amile Jefferson (foot injury) and with Coach K still out recovering from back surgery, Duke has lost two games in row to Florida State and Louisville - and wasn't really competitive in either.
A lack of ball movement has been a huge problem for them in these losses, and they players they've been counting on haven't stepped up. Grayson Allen isn't playing like the All-American he was last year, projected lottery pick Jayson Tatum has been struggling and their defense has left much to be desired. They need to get back on track sooner rather than later, and if they can't beat a Miami team that has lost three of their last four games (and just lost by 17 to Wake Forest), there will be a real cause for concern in Durham.
However, I don't see that happening. All of Duke's losses have come on the road, and a return to Cameron Indoor Stadium should be what this team needs to recover.
Prediction: Duke wins 81-62
Back to the NCAA Newsfeed
Related Topics: South Carolina Gamecocks Basketball, Arizona Wildcats Basketball, SEC Basketball, Kentucky Wildcats Basketball, ACC Basketball, Miami Hurricanes Basketball, Duke Blue Devils Basketball, NCAA Basketball, Florida State Seminoles Basketball, Pac-12 Basketball, UCLA Bruins Basketball, Louisville Cardinals Basketball