The college basketball season is really heating up as the calendar turns to February, placing an increased emphasis on this weekend's biggest games. After a week in which there were no major upsets, there are plenty of opportunities for teams to make major statements over the next two days. Here's a preview for all of the games you don't want to miss this weekend:
#23 Purdue Boilermakers (18-5, 7-3 in Big Ten) at #17 Maryland Terrapins (20-2, 8-1 in Big Ten)
Saturday, 12:00 pm ET, ESPN
This game isn't for first place in the Big Ten, but a win for either side will go a long way in gaining respect around the country. Led by National Player of the Year candidate Caleb Swanigan (18.8 ppg, 12.9 rpg), who leads the country in 20-20 games this season, Purdue has proven to be one of the better teams in the country and are 3-2 this season against ranked teams. Meanwhile, Maryland has been one of the biggest surprises of the year, currently sitting in first place in the Big Ten despite replacing four starters from last year's team.
This game will come to one thing - can Maryland's backcourt production offset the advantage Purdue will get from Swanigan up front? Purdue's guards can shoot, but aren't known as playmakers. On the flipside, Maryland has several guards - headlined by junior Melo Trimble (17.0 ppg, 3.5 apg) - that can takeover a game at any given time. That, plus Maryland's home-court advantage, gives the Terps the win.
Prediction: Maryland wins 69-63
#5 Arizona Wildcats (21-2, 10-0) at #13 Oregon Ducks (20-3, 9-1)
Saturday, 4:00 pm ET, ESPN
The game of the weekend has first place in the Pac-12 on the line. Arizona is currently one of the hottest teams in the nation on a 15-game win streak, and are playing their best basketball of the season. With Allonzo Trier's return (PED suspension) two weeks ago, Arizona's struggling offense has turned lethal - a scary combination with their top 16 defense. They look like a legitimate Final Four team.
Meanwhile, Oregon hasn't lost a home game since Jan. 8, 2015 (which was to Arizona), but are struggling of late. They were upset by Colorado last weekend and needed a heroic performance from Dillon Brooks (14.2 ppg) to beat Arizona State on Thursday. With Arizona peaking and the Ducks in the midst of a tough stretch, the Wildcats should continue their winning streak.
Prediction: Arizona wins 76-72
#8 Kentucky Wildcats (18-4, 8-1) at #24 Florida Gators (17-5, 7-2)
Saturday, 8:15 pm ET, ESPN
Kentucky snapped a two-game losing streak this week with a dramatic comeback OT victory over Georgia, but a road trip at Florida will provide a much stiffer test. This isn't for the SEC lead (South Carolina is also 8-1 in conference), but Florida needs a win to enter the conversation. The Gators are a solid and balanced team, yet really lack a true star and have yet to beat a ranked team this season. Kentucky has plenty of marquee wins on their resume, but have yet to truly find their stride.
De'Aaron Fox (15.9 ppg, 5.7 apg) will be back for the Wildcats after missing the win over UGA due to an illness, and he and Malik Monk (22.4 ppg) should be able to overwhelm Florida's backcourt. UK will pull away in the second half.
Prediction: Kentucky wins 84-75
#11 UCLA Bruins (20-3, 7-0) at Washington Huskies (9-13, 2-8)
Saturday, 10:30 pm ET, PAC12
This game won't be close - UCLA is a very good team with the best offense in the country, while Washington is in second-to-last place in the Pac-12 with a defense that can't stop anyone. The Bruins will have a field day and win this game easily. However, the intrigue of this game doesn't come from the scoreboard. It comes from Washington's Markelle Fultz (23.1 ppg, 6.0 rpg, 6.0 apg) going up against UCLA's Lonzo Ball (14.8 ppg, 8.0 a pg, 5.8 rpg) for the first time this season.
The two point guards are the No. 1 and No. 2 prospects, respectfully, in the upcoming NBA Draft. Watching them battle for who will potentially be the No. 1 pick in June (and the start of a personal rivalry between them) provides plenty of excitement in this game.
Prediction: UCLA wins 107-83
#20 Notre Dame Fighting Irish (17-6, 6-4) vs. #12 North Carolina Tar Heels (20-4, 8-2)
Sunday, 1:00 pm ET, ESPN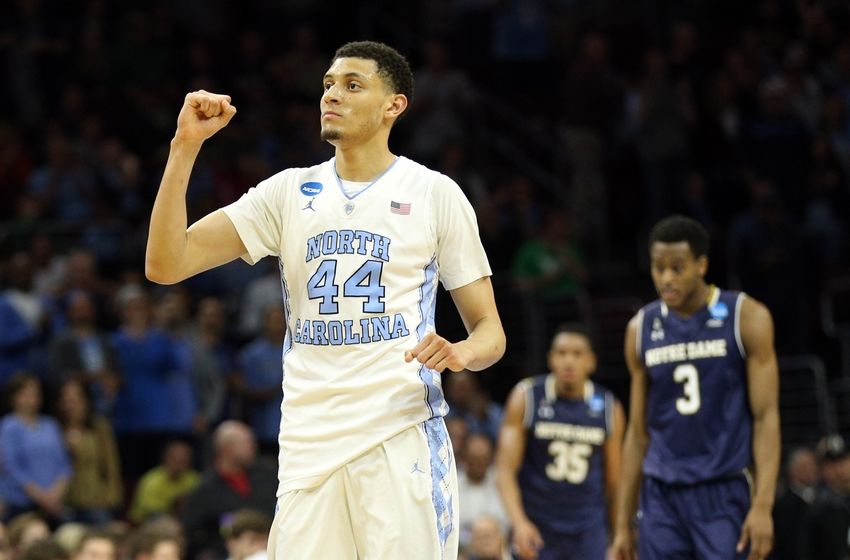 This game was originally scheduled to be played on Saturday in Chapel Hill, but due to current water problems in the city, that game has been postponed to Sunday and moved to Greensboro. However, that will have minimal impact on this game. Notre Dame is slipping, having lost four of their last five games and three in a row overall. UNC isn't playing their best basketball of the season, either, but will be able to dominate the paint more than usual with their huge size advantage. They'll win fairly easily.
Prediction: UNC wins 88-73
Back to the NCAA Newsfeed
Related Topics: Notre Dame Fighting Irish Basketball, Washington Huskies Basketball, Oregon Ducks Basketball, Kentucky Wildcats Basketball, SEC Basketball, Arizona Wildcats Basketball, ACC Basketball, UCLA Bruins Basketball, NCAA Basketball, Lonzo Ball, Pac-12 Basketball, Maryland Terrapins Basketball, Purdue Boilermakers Basketball, Big Ten Basketball, Florida Gators Basketball, Markelle Fultz, North Carolina Tar Heels Basketball