College basketball is in the middle of the conference schedule, but this weekend's slate is headlined by a pair of big non-conference games. The SEC/Big 12 Challenge highlights the weekend with 10 games between the two conferences, with Kentucky hosting Kansas as the marquee matchup in the challenge. Villanova, the top-ranked team in the country, also has a huge non-conference game on Sunday against Virginia. Here's a preview for all of the games you don't want to miss this weekend.
#22 Maryland Terrapins (18-2, 6-1 in Big Ten) at Minnesota Golden Gophers (15-6, 3-5)
Saturday, 2:15 pm ET, BTN
The only game between conference foes on this list, Maryland and Minnesota meet in one of the more underrated games of the weekend. While most of the Big Ten toils in mediocrity - nine teams are either 3-5 or 4-4 in the conference - Maryland has quietly risen to the top of the conference and have only lost two of their first 20 games overall. Led by junior point guard Melo Trimble, the Terps are looking to keep pace with Wisconsin at the top of the conference - and stay in contention for a top four seed in the NCAA Tournament.
As for Minnesota, they are looking to get their season back on track and improve their tournament resume. After starting the year a surprising 12-1 (the Gophers went 8-23 last season), Minnesota has only won three conferences games and come into this game on a four-game losing streak. Playing at home gives them a better chance to snap that streak, and getting a win over a ranked Maryland team would give them another marquee win (they also won at Purdue) to put on their resume. 
However, that won't be the case. Even though Minnesota is a good defensive team (No. 6 in KenPom's adjusted defensive efficiency rankings), Maryland has proven to be excellent in close games (9-1 in games decided by seven points or less). Their clutch play will be what wins them this game.
Prediction: Maryland wins 77-73
#2 Kansas Jayhawks (18-2, 7-1) at #4 Kentucky Wildcats (18-2, 7-1)
Saturday, 6:15 pm ET, ESPN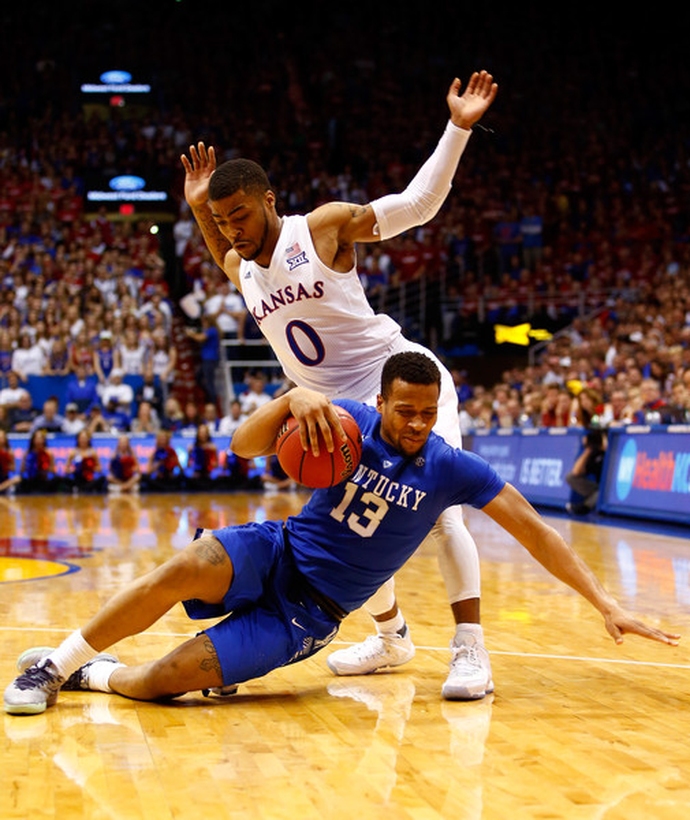 Both Kansas and Kentucky lost this week to West Virginia and Tennessee, respectively, and each are looking to rebound with a big win over a top five team. Kansas has a veteran squad led by guards Frank Mason III and Devonte' Graham, but now only have one true big man in their rotation (senior Landen Lucas) following the indefinite suspension of Carlton Bragg Jr. for undisclosed reasons. Meanwhile, Kentucky has a team full of athletic freshmen and sophomores that want the game to be a track meet. They will run at every opportunity in an attempt to make this a fast-paced game. 
However, the Wildcats have struggled this season when they're forced to play at a slow tempo. That's what Kansas would try to do, but without frontcourt depth, it becomes harder to play that way. Because of that - and the fact the game is at Rupp Arena - Kentucky will win. You can see a more expansive preview of this game here.
Prediction: Kentucky wins 88-76
#12 Virginia Cavaliers (16-3, 6-2 in ACC) at #1 Villanova Wildcats (19-2, 7-2)
Sunday, 1:00 pm ET, FOX
Missing football on Sunday? Villanova and Virginia will do plenty to entertain you. The Wildcats are coming off a stunning upset loss to Marquette during the week, but are the No. 1 team in the country for a reason. They rank 20th in adjusted defensive efficiency and fourth in offensive efficiency, showing how well rounded and dominant they are in all phases of the game. 
Of course, Virginia is as well. They love to play at a slow, deliberate pace, and despite not having a true scoring threat, they still rank 17th in adjusted offensive efficiency and their patented defense sits third in KenPom's rankings. UVA is also surging of late, winning five games in a row - the last being a 71-54 win on the road over Notre Dame. That's a trend for the Cavaliers who are 6-1 in true road games.
All of that indicates Virginia may win, and they'll definitely keep it close. However, Villanova is not losing back-to-back games - Josh Hart & Co. are simply too good for that. Jay Wright will have Villanova focused and ready to go, and Virginia's offense simply won't be able to keep up.
Prediction: Villanova wins 73-64
Back to the NCAA Newsfeed
Related Topics: Virginia Cavaliers Basketball, Big 12 Basketball, Big East Basketball, Kentucky Wildcats Basketball, SEC Basketball, Kansas Jayhawks Football, ACC Basketball, NCAA Basketball, Maryland Terrapins Basketball, Big Ten Basketball, Minnesota Golden Gophers Basketball, Villanova Wildcats Basketball