We're already eight weeks into the college football season and true playoff contenders are already starting to emerge from the pack, while other hyped preseason favorites have quickly fallen by the wayside. With that in mind, who can we expect to see playing for the national championship at the end of the season?
1) Ohio State Buckeyes
It hasn't always been pretty, but the defending champion Buckeyes are undefeated. The biggest game of the season will be against Michigan State, which could decide which Big Ten team gets a spot in the College Football Playoff. Still, as long as Ohio State keeps winning, they'll be the favorites and keep the top seed this season.
2) Clemson Tigers Clemson handed Miami their worst loss in program history, blowing them out 58-0 in Miami - really impressive considering this Miami team nearly beat Florida State two weeks ago.
The Tigers have flown somewhat under the radar all season playing in the ACC, but the No. 3 team in the country has shown all of the ingredients you would expect from a championship team. They have an explosive offense led by a superstar QB, and they now have the powerful, aggressive, playmaking defense to complement them. Their biggest victory came in a sloppy two-point home victory over Notre Dame, but they've handled their business in specatular fashion in every other contest. This team is for real.
3) Alabama Crimson Tide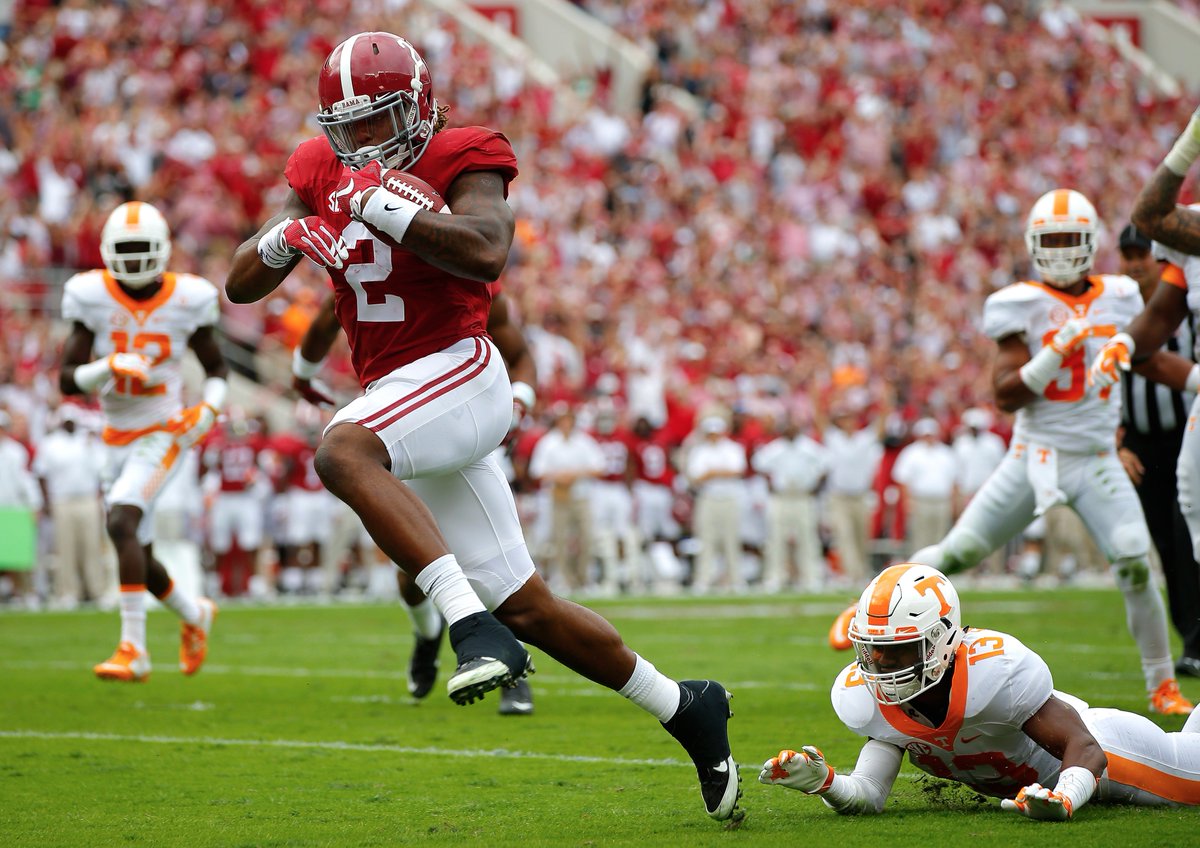 Alabama has had Tennessee's number for nearly a decade. The Vols' last win against the Tide came back on October 21st, 2006. They are 0-9 against Bama since then, including a heartbreaking 19-14 loss in Tuscaloosa on Saturday. Tennessee surged ahead, 14-13, with just under six minutes left thanks to a Jalen Hurd 12-yard TD run, but watched it all slip away three minutes later. Alabama Heisman candidate Derrick Henry answered Tennessee's punch with a knockout uppercut, scooting into the end zone for a 14-yard score to keep the #8 team in the nation in the College Football Playoff hunt.
They do trail SEC West rival LSU in the standings, but with that game in Tuscaloosa, the Tide should win that one and become the SEC favorite.
4) Stanford Cardinal
Stanford makes their first appearance in the predictions following Utah's loss to USC and the injured neck of Baylor quarterback Seth Russell. But that doesn't take anything away from Stanford - this team is really, really good. 
Stanford RB Christian McCaffrey's Heisman stock has skyrocketed over the past two weeks. Providing a worthy encore to his 243-yard, 4-TD performance against UCLA last week, McCaffrey gained 300 all-purpose yards in a simply explosive performance to key the Cardinal's 31-14 win over the Washington Huskies. McCaffrey rushed 23 times for 109 yards and a score, caught five balls for 112 yards and another TD, and added another 79 yards on kick returns. He entered the game with an FBS-best 253 all-purpose yards per game, and he's a big reason why the Cardinal are once again a College Football Playoff threat.
Back to the NCAA Newsfeed
Related Topics: College Football, Ohio State Buckeyes Football, NCAA Football, Alabama Crimson Tide Football, Christian McCaffrey, Deshaun Watson, College Football Playoff, Baylor Bears Football, Clemson Tigers Football