Every team in college football has the goal of finishing the season undefeated, but very few teams - if any - are able to accomplish that feat each year. Last season, three of the four College Football Playoff participants had one loss. Which teams that have already suffered a defeat are the most likely to make the playoff at the end of the season? Here are the top five one-loss teams:
5) Oklahoma Sooners
How do you rebound from losing to a struggling Texas team? By beating Kansas State 55-0 and blowing out a good Texas Tech team 63-27 today. Their offense has gotten back on track after putting up a measly 17 points against the Longhorns and they finally got their running game going for the first time to take some pressure off of quarterback Baker Mayfield. Samaje Perine racked up 201 yards and four touchdowns while backup Joe Mixon chipped in another 154 yards and two more scores.
If Oklahoma can continue to find that level of balance on offense, they'll be a real threat to TCU and Baylor at the top of the Big 12.
4) Florida Gators
Yes, Florida suffered their first loss of the season last week and will be without their starting quarterback Will Grier for the remainder of the season, but the Gators showed a lot of promising things in the defeat to LSU. Backup Treon Harris (271 pass yards, 2 TDs) showed that he has what it takes to lead the offense. Nearly upsetting LSU in a night game in Death Valley is no small feat, and they're still the front-runners in the SEC East. 
3) Notre Dame Fighting Irish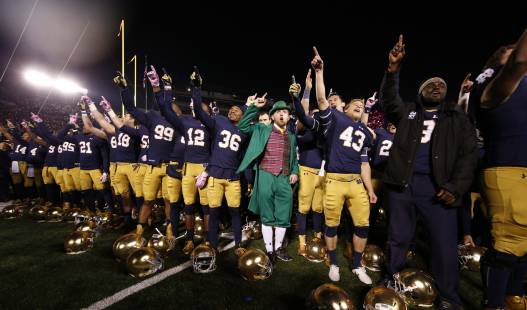 Many wrote off Notre Dame after they lost QB Malik Zaire and even more did so after the Irish lost to Clemson. However, Notre Dame can still make a College Football Playoff run thanks to holding on to a 41-31 win over USC. ND has games against Temple and Pittsburgh, which will be a challenge since the two teams have just one combined loss. Wake and BC should be wins. That just leaves the season finale against Stanford, which is shaping up to be a College Football Playoff play-in game. If Notre Dame goes 11-1, is the CFP Committee going to leave them out? Probably not.
2) Stanford Cardinal
tanford RB Christian McCaffrey's Heisman stock has skyrocketed over the past two weeks. Providing a worthy encore to his 243-yard, 4-TD performance against UCLA last week, McCaffrey gained 300 all-purpose yards in a simply explosive performance to key the Cardinal's 31-14 win over the Washington Huskies. McCaffrey rushed 23 times for 109 yards and a score, caught five balls for 112 yards and another TD, and added another 79 yards on kick returns. He entered the game with an FBS-best 253 all-purpose yards per game, and he's a big reason why the Cardinal are once again a College Football Playoff threat.
1) Alabama Crimson Tide
Alabama has had Tennessee's number for nearly a decade. The Vols' last win against the Tide came back on October 21st, 2006. They are 0-9 against Bama since then, including a heartbreaking 19-14 loss in Tuscaloosa on Saturday. Tennessee surged ahead, 14-13, with just under six minutes left thanks to a Jalen Hurd 12-yard TD run, but watched it all slip away three minutes later. Alabama Heisman candidate Derrick Henry answered Tennessee's punch with a knockout uppercut, scooting into the end zone for a 14-yard score to keep the #8 team in the nation in the College Football Playoff hunt.
They do trail SEC West rival LSU in the standings, but with that game in Tuscaloosa, the Tide should win that one and become the SEC favorite.
Back to the NCAA Newsfeed
Related Topics: College Football, Oklahoma Sooners Football, Notre Dame Fighting Irish Football, Florida Gators Football, NCAA Football, Alabama Crimson Tide Football, Stanford Cardinal Football