After a first round where we saw very few upsets, the first day of the second round more than made up for it. Wisconsin knocked off the defending champions in Villanova, and 11-seed Xavier dominated Florida State to the tune of a 25-point win. So, what's in store for a Sunday filled with eight high-quality matchups? Here are previews and predictions for all of Sunday's second round games:
(2) Louisville Cardinals vs. (7) Michigan Wolverines - 12:10 pm ET, CBS
This run that Michigan is on is magical. They caught fire in the second half to come back and beat Oklahoma State in their opener, but that masked their defensive inefficiencies. The Cowboys were able to get into the paint with ease and routinely got the open shots they wanted.
Now, Louisville is not a great offensive team, but they are good enough on defense to limit Michigan's shooters. The Cardinals limit their opponents to 31.5 percent shooting from three-point range, and their length will challenge the Wolverines. That, plus enough offense from Donovan Mitchell and Deng Adel, will lead to a narrow Louisville win.
Prediction: Louisville
(2) Kentucky Wildcats vs. (10) Wichita State Shockers - 2:40 pm ET, CBS
This will be the game of the day. Wichita State might just be the best 10-seed in NCAA Tournament history, and rank 14th in the county in both adjusted offensive and defensive efficiency, per KenPom.com. Gregg Marshall's squad goes 10 deep, and all of them are capable of going off at any given time. That said, in a close game (which this will undoubtedly be), both De'Aaron Fox and Malik Monk have proven time and time again this year that they make big shots in the clutch. They will be the difference in a one- or two-possession game.
Prediction: Kentucky
(1) Kansas Jayhawks vs. (9) Michigan State Spartans - 5:15 pm ET, CBS
This will be a fun matchup between two lottery picks in the upcoming draft in Kansas' Josh Jackson and Michigan State' Miles Bridges. Those two will go at each other, but the Jayhawks have a much better supporting cast. Aside from their explosion in the first round against Miami, the Spartans a very average offensive team, ranking 57th in the country in adjusted offensive efficiency. Kansas will win by about 10 points.
Prediction: Kansas
(1) North Carolina Tar Heels vs. (8) Arkansas Razorbacks - 6:10 pm ET, TNT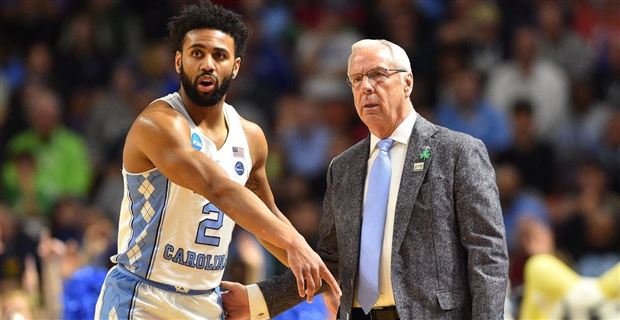 On paper, UNC should win this one in a blowout. Arkansas is one of the worst defensive teams remaining in the tournament and rank 128th in the country in rebounding, while North Carolina has an explosive offense and leads the nation in rebounding. The Razorbacks also aren't a good three-point shooting team (36.5 percent), which is how teams usually are able to neutralize UNC's rebounding advantage.
Now, the status of UNC PG Joel Berry II will change the complexion of this game. He is the heart and soul of this Carolina team and the key to their entire offense, but he suffered an ankle injury in the first round against Texas Southern. Berry is expected to play, and I expect the Heels to win either way. However, if Berry is ineffective, the game will be interesting.
Prediction: North Carolina
(3) Oregon Ducks vs. (11) Rhode Island Rams - 7:10 pm ET, TBS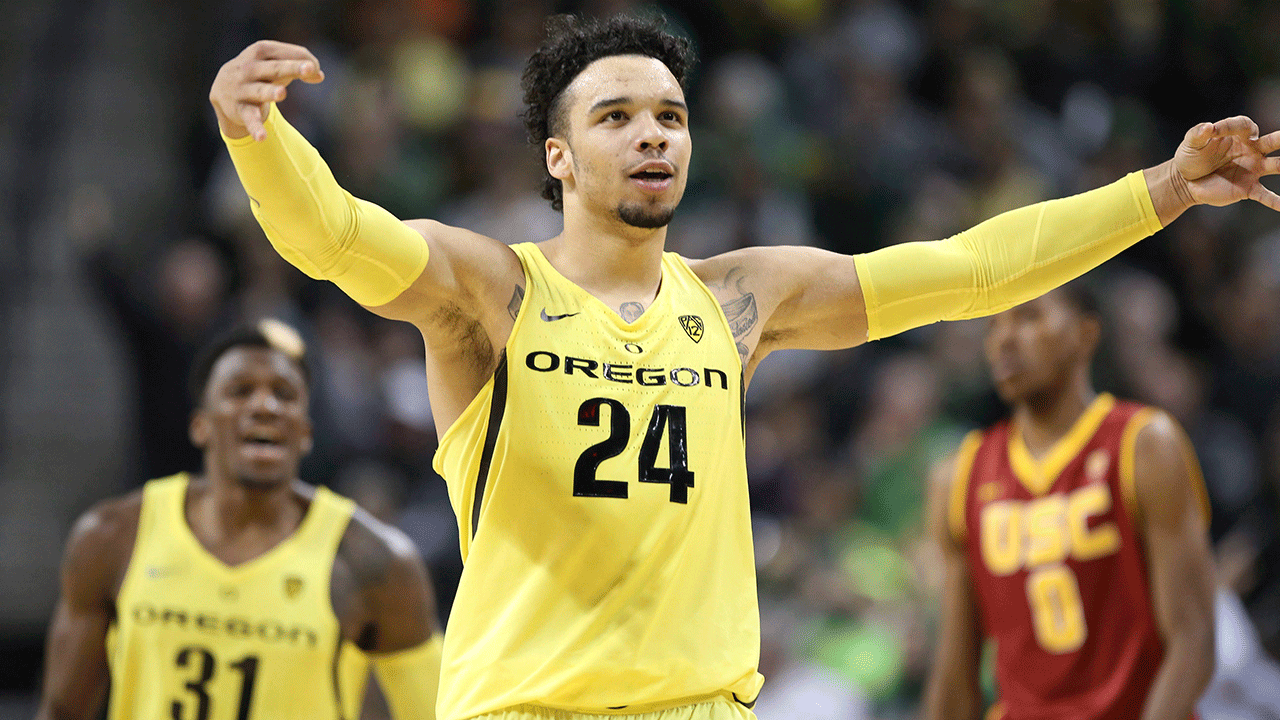 Rhode Island has been a popular upset pick in the tournament as they're finally healthy and playing like the preseason top 25 team they were, but they do have a major flaw. The Rams struggle offensively, ranking 175th in the country in effective field goal percentage, 149th in points per game and 63rd in KenPom.com's adjusted offensive efficiency rankings.
On the flip side, Oregon has no problem scoring, but their defense has question marks after Chris Boucher's injury. This will be a close game throughout, but as we've seen in this tournament, the better offensive team tends to win. That, and Dillon Brooks, is why I'm taking Oregon.
Prediction: Oregon
(3) Baylor Bears vs. (11) USC Trojans - 7:45 pm ET, truTV
There is something special happening with this USC team. They have trailed by double digits in each of their first two tournament games (they played in the First Four), but obviously came back to win. The Trojans do not have a great defense, but they have a versatile offense led by 6-foot-10 matchup nightmare Bennie Boatwright. 
In the six years since the First Four has been introduced, three teams have advanced to at least the Sweet 16, showing there his some good history behind this upset. Considering Baylor's lack of shooting and their recent struggles in the NCAA Tournament, I expect USC to be the fourth such team.
Prediction: USC
(2) Duke Blue Devils vs. (7) South Carolina Gamecocks - 8:40 pm ET, TNT
Cue Lee Corso - this will be closer than the experts think, and that's not just because I went to South Carolina. The Gamecocks play excellent defense, especially on the perimeter (opponents shoot just 30.1 percent from three), which is where Duke makes their mark. It's impossible to stop Jayson Tatum, Luke Kennard and Grayson Allen, but South Carolina will be able to limit them as much as anyone has to this point. 
That's the good news for the Gamecocks. Now the good news for Duke - outside of Sindarius Thornwell, South Carolina is extremely limited offensively. Look for SC to stall out in the second half, allowing the Blue Devils to pull away late.
Prediction: Duke
(3) UCLA Bruins vs. (6) Cincinnati Bearcats - 9:40 pm ET, TBS
Another sneaky good game, this is a classic strength vs. strength matchup. UCLA's offense is the best in the country, while Cincinnati's defense is one of the best. Neither team is as strong on the other side of the court, either. However, UCLA's zone should have some success as the Bearcats are a terrible shooting team (34.5 percent from three-point range, 190th in the country). This game will be uncomfortably close for UCLA, but Cincinnati's inability to match the Bruins offensively down the stretch will be the difference.
Prediction: UCLA
Back to the NCAA Newsfeed
Related Topics: NCAA Basketball, NCAA Tournament, March Madness, 2017 NCAA Tournament