One more week of college football in the books, one more week for us to gauge the best individual talents in the nation. As we head into October, we've got a CLEAR #1 in our Heisman Trophy rankings and a handful of guys duking it out to be his runner-up. How're things shaking out right now? Who's the prohibitive favorite to win the award? Here's Lee's List of the top 8 Heisman candidates after Week 4.
Rosen is the most polished true freshman quarterback I've ever seen, or least that I can remember. The 18-year-old signal caller has drawn comparisons to elite NFL QBs such as Peyton Manning, and if he continues to lead UCLA's charge up the AP rankings, he'll make the jump from top true freshman in the nation to a true Heisman threat.
Nkemdiche is doing his best JJ Watt impersonation this year, scoring his third offensive touchdown of the year on Saturday in Ole Miss' 27-16 home victory over Vanderbilt. That's not to say anything about his all-world work as the anchor of the Rebels' "Land Shark" D. Ohio State's Joey Bosa was the paper choice for "most likely defender to challenge for a Heisman" this offseason. Nkemdiche is the actual contender.
Elliott vaults back onto the list after a true Zeke game against Western Michigan -- 16 carries, three catches, 153 total yards, and a highlight reel touchdown run. Saturday was Elliott's 9th game in a row with 100 yards rushing or more. He's Mr. Consistency and remains a likely option to be invited to New York.
5. RB Paul Perkins -- UCLA Bruins
A fair amount of Heisman projection lists after Week 4 have Perkins hanging just outside of the top 5. WHY?!?!? Perkins' meteoric rise to prominence continues on Saturday with three TDs in UCLA's blowout romp in the desert over Arizona. Yes, he only amassed 85 rushing yards. But, they were 85 HUGE rushing yards for a newly-minted College Football Playoff contender.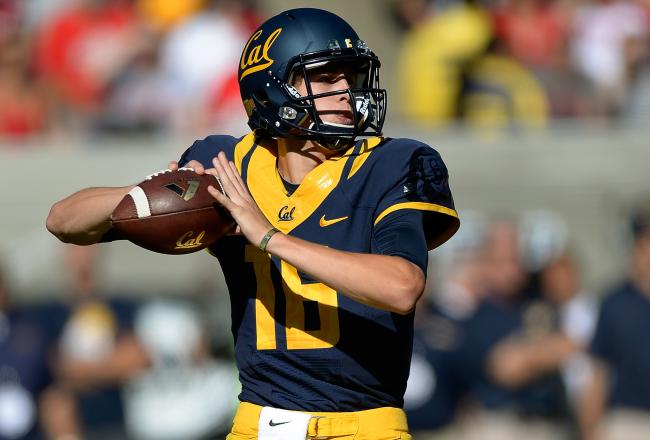 The (not-so) secret behind the Cal Golden Bears' 4-0 start? Jared Goff. The Bears escaped Seattle with a 30-24 win over Washington yesterday on the strength of Goff's 342 passing yards and two touchdowns. Sonny Dykes' Cal renaissance (from 1-11 in 2013 to now) has been spearheaded by Goff -- the one college quarterback that EVERYONE will be coveting come draft day next year.
We talked about Ezekiel Elliott's nine-game 100-yard rushing streak earlier. That's only 3/4 of the way to Chubb's 12-game streak, extended with a 131-yard effort in UGA's 48-6 thrashing of Southern in Athens on Saturday. With that effort, Chubb tied Herschel Walker's all-time Georgia mark and established himself as the clear-cut #2 running back in the nation (more on that later.)
If Trevone Boykin continues on his current pace, he'll throw for over 4,400 yards with a staggering 42 touchdowns this year...IN THE REGULAR SEASON. Jared Goff may be the better pure passer, but Trevone Boykin is the better athlete and the unquestioned leader of a TCU offense that could probably be mirrored by a JV private school defense and still win 11 or 12 games.
1. RB Leonard Fournette -- LSU Tigers
Want a good idea of just how far ahead of the rest of the Heisman pack Leonard Fournette is right now? Say his name. Then count to 1,000. Then say the rest or the list. That is the best approximation we can come up of the distance between Fournette and the field -- and LSU's played just three games! Fournette was responsible for over half of LSU's offense in the Tigers' 34-24 road victory over Syracuse on Saturday. That's nearly unheard of for a non-QB. He's also got two straight 200-yard rushing games under the belt (an LSU record) and is on pace to break Barry Sanders' single-season rushing record of 2,628 (2,735) and narrowly fall short of his 37 rushing touchdown record (35) That's just with one projected bowl game included...
He may not stay this unreal all season long, but what if he does? If that's the case, this could very well be the start of the greatest season by a running back in college football history.
Back to the NCAA Newsfeed
Related Topics: Josh Rosen, Paul Perkins, Nick Chubb, Leonard Fournette, Ezekiel Elliott, Robert Nkemdiche, Jared Goff, Heisman Trophy, Lee's List, Trevone Boykin