What a difference a week makes. Last weekend, we thought we had a clear-cut order for our Heisman Watch list which had a chance of staying static for the remainder of the year. However, Saturday's upheaval has added two new names to our countdown, along with knocking LSU RB Leonard Fournette from the #1 perch he's been on all year. Who's the new favorite? Find out in this week's edition of Lee's List.
10. QB DeShone Kizer -- Notre Dame Fighting Irish
Kizer was an absolute star in Notre Dame's 42-30 road win at Pitt, posting six total touchdowns (5 passing, 1 running) to play a role in every Notre Dame point scored. Notre Dame's got an inside track at a College Football Playoff with all the standings shakeup this week, and Kizer's stock will rise as they continue to rise.
Mayfield enters our countdown thanks to his complete obliteration of Iowa State's secondary in the Sooners' 52-16 blowout home win. Mayfield went 23-of-31 for 342 yards and three touchdowns, adding a score on the ground as well. Oklahoma's CFP hopes have hinged on his arm all year long. If they make the full standings leap, he'll be the key.
Florida State may have fallen 23-13 to Clemson in Death Valley, but that's no fault of Cook's. Cook torched a normally stout Clemson front seven for 194 yards and a touchdown on 21 carries, including a 75-yard highlight reel TD scamper. If FSU would have won, he'd be higher. Them's the Heisman breaks.
Boykin's entire 2015 resume keeps him on this list, but he falls five spots this week after throwing four interceptions in TCU's 49-29 loss to still-undefeated Oklahoma State. He's still one of the top two QBs in the nation, but his Heisman stock has dropped sharply.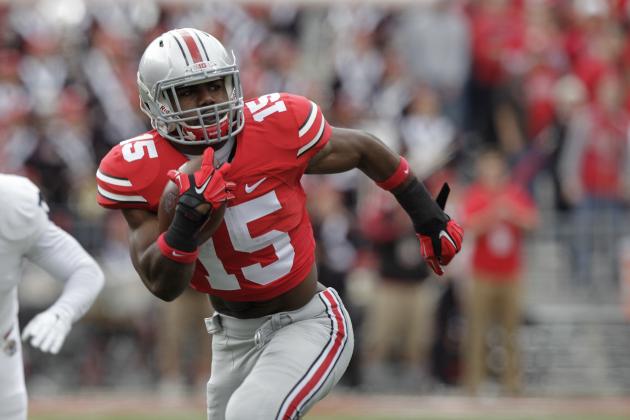 Elliott just keeps chugging. And chugging. And chugging. Zeke put together his 14th straight 100-yard game in Ohio State's 28-14 win over Minnesota, knifing through the Gophers for 114 yards and a touchdown on 26 carries. He's college football's Mr. Consistent. If the top four wasn't so top heavy with RB/WR standouts, Watson would be pacing this Heisman Trophy race. He'll have to settle with being the quarterback of the #1 team in the nation and the best dual-threat QB going. He's surpassed Boykin, especially after passing for 297 yards and rushing for 107 in the Tigers' breakthrough, ACC Atlantic Division-clinching win over FSU.
McCaffrey shined yet again in the Cardinal's 42-10 road blowout of Colorado, running for 147 yards while adding a 28-yard touchdown pass on a trick play. He had 236 all-purpose yards in total, gutting the Buffaloes' defense while continuing to establish himself as one of the most indispensible backs in the nation.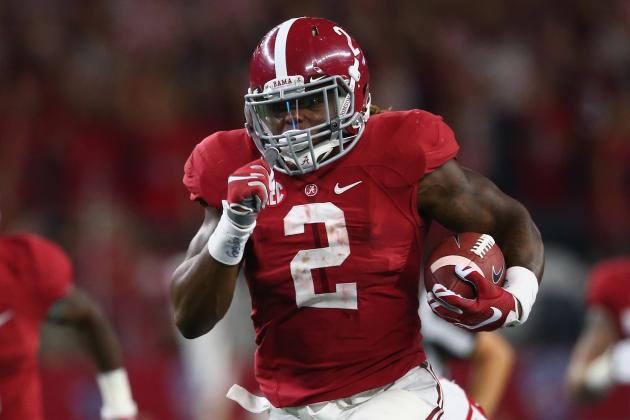 This is going to be controversial, especially with the way he outshined our #2 entrant in Alabama's 30-16 win over LSU last night. Henry ran for 210 yards and three touchdowns, marking his 2nd game with 200 yards or more in Bama's past 3 contests. However, his overall body of work will still need a late-season boost for him to make the full jump to Heisman favorite.
2. RB Leonard Fournette -- LSU Tigers
Fournette's seemingly-unstoppable train towards a Heisman Trophy ran engine room first into Alabama's brick wall of a front seven. He ran for just 31 yards and a touchdown, snapping his season-long streak of games with 150 rushing yards or more. He falls from our #1 spot for the first time all year, but Saturday's stinker doesn't make the rest of his season any less impressive. QB Seth Russell's season-ending neck injury hasn't put a damper on Coleman's groove. In fact, Coleman has contiuned to cement himself as the most dominant college wideout we've seen in a long time like nothing ever happened. Coleman had a season-high 216 receiving yards in Baylor's 31-24 win over Kansas State. He also added two touchdowns to up his season total to an eye-popping 20 on the year. He's passed the 100-yard mark in every game except one this year, along with posting a score in all eight of Baylor's contests.
He's also on pace for 35 total TD catches, which would be an NCAA record. Get acquainted with Coleman. He's the new king of the Heisman Trophy landscape.
Back to the NCAA Newsfeed
Related Topics: Corey Coleman, Leonard Fournette, Ezekiel Elliott, Christian McCaffrey, Deshone Kizer, Deshaun Watson, Dalvin Cook, Trevone Boykin, Baker Mayfield, Derrick Henry