We're getting into crunch time of the 2015 college football season, which means the Heisman Trophy race is heating up something fierce. Another weekend of huge games and interesting upsets has led to more chaos in our weekly edition of Lee's List. Here are the top ten Heisman candidates going after another bonkers week around the nation.
If Doctson played in any other conference than the Big 12, he'd be much more celebrated than he is now. However, his 11 catches, 187 yards and two touchdowns in TCU's 40-10 win over West Virginia kind of got lost in the shuffle with the other offensive craziness happening around the Big 12 on Saturday. He's still one of the two best WRs in the nation, regardless.
Cook missed Saturday's 45-21 home win over Syracuse with an ankle injury. We're still waiting on his status for next Saturday's massive ACC showdown at Clemson before we write him off of this list. If he comes back and leads FSU to a road upset, he'll vault up this list.
Oh my. If Lynch played in a Power 5 conference, he'd be in the Top 3 at the very least. However, he's toiling in relative obscurity with an undefeated Memphis team that currently sits #15 in the AP Poll. He didn't help matters with a blah game by his standards in the team's 41-13 win over Tulane -- 26-of-42, 343 yards and one touchdown.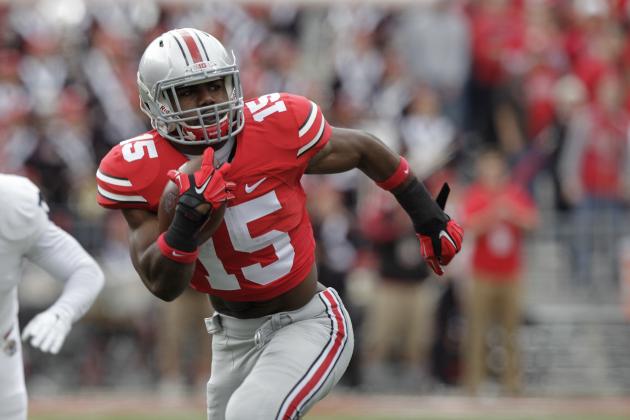 Elliott is going to be featured heavily in Ohio State's November 7th contest against Minnesota with QB JT Barrett suspended due to an arrest for operating a vehicle while intoxicated. More Barrett means more 100-yard games, adding to his already mind-boggling 13-game streak.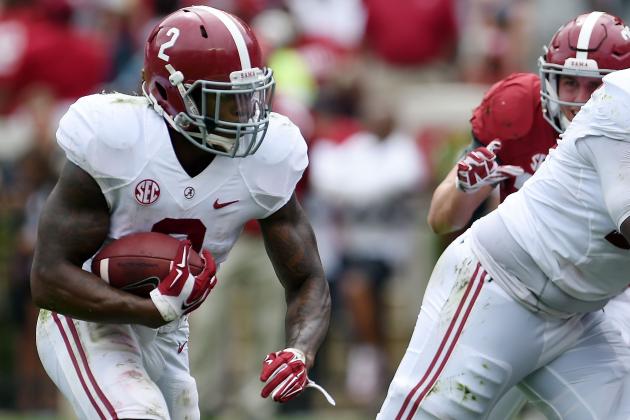 A bye is the only thing that can stop Henry's roll. He was basically the team's entire offense in their last game -- a 19-14 escape job against Tennessee. As long as Alabama's in the College Football Playoff hunt, Henry will be on this list.
Another Heisman candidate just chilling on a bye, Coleman's importance to the Baylor offense has amplified with news that starting QB Seth Russell is out for the season with a broken bone in his neck. If Baylor's offense keeps rolling and Coleman keeps racking up pinball score-like numbers, there'll be no denying his worth as a Heisman candidate. There it is. We were waiting for THE game from Watson -- the one where we can point to his stat line and say "THAT'S why we're so high on him as a Heisman hopeful." It happened Saturday, as Watson posted 437 all-purpose yards (383 passing, 54 rushing) and six touchdowns (5 passing, 1 rushing) to carry Clemson to a 56-41 win over a game NC State team. #3 Clemson is a CFP favorite, and it's Watson's leadership/dynamic ability which serves as one of the main reasons for that.
McCaffrey drops a spot in our rankings by no fault of his own. We were just spoiled by his back-to-back 300 all-purpose yard games the two weeks before this. He was still solid in Stanford's 30-28 heart-stopper of a win over Washington State, gaining 136 all-purpose yards and serving as an effective decoy on offense.
2. QB Trevone Boykin -- TCU Horned Frogs
Boykin is bonkers. He was so good in TCU's triumph over West Virginia that even WVU head coach Dana Holgorsen couldn't help giving him a high five after he weaved his way in Madden-like fashion for a first down. Boykin passed for 388 yards and rushed for 84, getting a hand in on four touchdowns as he lifted TCU to yet another CFP resume-boosting win.
1. RB Leonard Fournette -- LSU Tigers
We've looked at a lot of Heisman Watch lists this week that have minimized Fournette's lead over the pack. WHAT?!?! Fournette hasn't rushed for under 150 yards all season long. He's the Steph Curry of college football. If you have a TV and LSU is playing, you can't help but shifting back to their game when Fournette is getting hot. He's the type of CFP superstar we'll tell our kids and grandkids about as the years go on.
Back to the NCAA Newsfeed
Related Topics: Corey Coleman, Paxton Lynch, Heisman Watch, Leonard Fournette, Ezekiel Elliott, Christian McCaffrey, Deshaun Watson, Lee's List, Dalvin Cook, Trevone Boykin, Derrick Henry, Josh Doctson