We're still reeling from one of the craziest Saturdays in college football history -- one where three top-ten teams went down and a litany of other games went down to the wire. As a result of all the daffiness, we've had quite the shake-up in this week's edition of Lee's List -- The Top 10 Heisman Candidates. The top three remain familiar but it's the Wild Wild West from there. Let's get this ball rolling, shall we?
Watson passed for under 100 yards in Clemson's 24-22 escape job against Notre Dame last night, but that's not an issue considering that he accounted from three touchdowns -- including a scintillating long touchdown run. As long as Clemson remains undefeated and continues to move up the College Football Playoff ladder, he belongs here.
Ho hum, ho hum. Derrick Henry rushed for 148 yards and scored on a 30-yard run that put Alabama ahead to stay in the team's 38-10 rout of Georgia in Athens. He's so startlingly consistent that he's a safe bet to climb this list as the weeks go on. Not the most "sexy" pick right now, but definitely worthy.
The only people to have stopped Kessler's aerial display this year are the schedule-makers who gave the Trojans a bye this week. Regardless, completing 73% of your passes with 15 TDs against 1 INT guarantees you a spot on this or any list.
Here's your defensive player of the week in our Heisman rankings. Garrett rocketed up a ton of national experts' Heisman boards this week after he tore apart Mississippi State's vaunted offensive line with repeated pressure off the edge. He's currently the most disruptive defensive force going in the nation, and one very few casual fans outside of the South are aware of.
The first of three Big 12 quarterbacks on our countdown, Russell has led Baylor to an absolutely mind-splitting average of 63.75 points per game over the team's first four contests. The junior standout pushed his passing touchdown total to 19 with four TDs in the Bears' 63-35 win over Texas Tech on Saturday.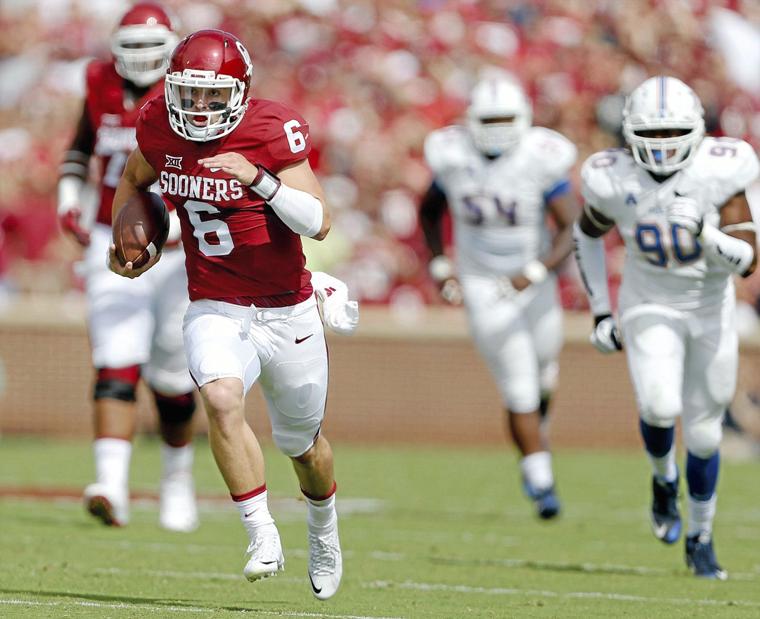 Russell's stats may eclipse that of his 13-TD, 3-INT rival from Norman, but it's the way Mayfield ripped apart a VERY good West Virginia secondary which gives him an advantage this week. Mayfield completed just 14 of his 25 passes against WVU, but he averaged just under 23 yards per completion and routinely cut the top off the Mountaineers D with seeming glee. Plus, any successful OU quarterback is virtually guaranteed to be invited to New York. Right?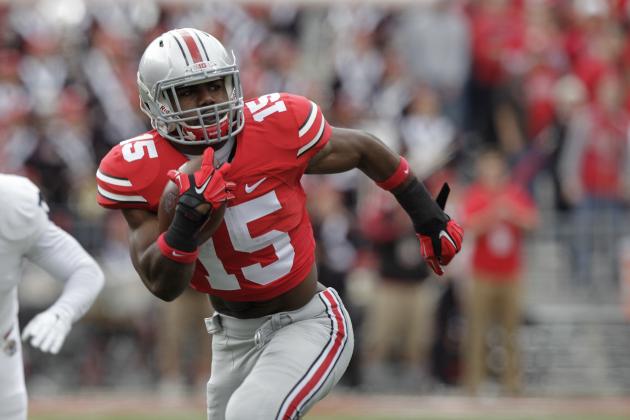 His #1 Ohio State Buckeyes may have barely escaped Indiana with a too-close-for-comfort 34-27 win, but that was no fault of Zeke's. Elliott was named the Walter Camp National Player of the Week after carrying the ball 23 times for 274 yards and three touchdowns, carrying the load like Atlas for the defending national champs.
Chubb's 83-yard TD run against Alabama was the game's lone bright spot for the reeling Bulldogs. It also pushed him to over 100 yards once again, tying him with Herschel Walker for the Georgia record of 13 straight 100-yard rushing games. He'll have a chance to break the tie when the team visits Tennessee next week.
Dropping 50 points on the Texas Longhorns doesn't mean what it used to, but Boykin's five touchdown passes (four to freshman KaVonte Turpin) keep him entrenched near the top of our list. Boykin is going to make an NFL team VERY HAPPY, whether it's as a QB or wide receiver.
1. RB Leonard Fournette -- LSU Tigers
Can we just give Fournette the trophy now and save all the pomp and circumstance? Fournette set an SEC record with his third straight 200-yard rushing game on Saturday, and he's leading the nation in rushing yardage with 864 -- even more impressive seeing that LSU has played just four games.
Back to the NCAA Newsfeed
Related Topics: Nick Chubb, Leonard Fournette, Ezekiel Elliott, Deshaun Watson, Myles Garrett, Cody Kessler, Trevone Boykin, Baker Mayfield, Derrick Henry, Seth Russell