We have a major shakeup in this week's edition of Lee's List, as a handful of contenders have shifted up, down or out of our Heisman watch rankings based on performance and circumstance. Who's our Heisman favorite? How does the rest of the list shake out? Check out our rankings below.
Russell takes a sharp fall on our list for two reasons. The less-pressing one is the fact that he went just 16-of-37 for 197 yards, 2 TDs and 1 INT in #2 Baylor's 45-27 win over Iowa State. The much more troublesome reason is that Russell broke a bone in his neck and his status after the bye is in question. If he's able to go, he'll likely vault back up this list.
9. WR Corey Coleman -- Baylor Bears
The aforementioned Russell's two touchdown passes went to his favorite target because of course they did. Coleman is now up to an insane 18 touchdown catches on the year, putting him on pace for a NUTSO 32 regular-season tallies. Best WR in the nation.
Watson isn't having the most statistically eye-popping season, but he's the perfect dual-threat facilitator on a #4 Clemson team that has gone from fringe CFP contender to playoff-berth favorite over the span of a few weeks. Mercilessly beating down Miami 58-0 before taking a second-half breather helps here too.
Cook takes a bit of a dive after Florida State's reverse-miracle loss to Georgia Tech on Saturday. We're not inclined to dock him for a blocked FG that didn't concern him, nor for a solid little 17-carry, 82-yard, 1-TD outing. However, official voters are influenced by losses, and his day was just underwhelming enough to slide him behind some fast risers.
Get to know Paxton Lynch. Get to know Memphis. The undefeated #16 Tigers are the highest-ranked Group of Six team right now, and Lynch has done WORK to get them there. His Heisman stock is skyrocketing, especially after Friday when he gouged Tulsa for 447 yards and four touchdowns in a 66-42 win.
Lucky #13! That's Elliott's alive-and-well streak of 100-yard games, extended thanks to a 142-yard, 2-TD effort in #1 OSU's 49-7 pasting of Rutgers. You could slot Zeke anywhere on this list other than #1 and we'd nod and smile.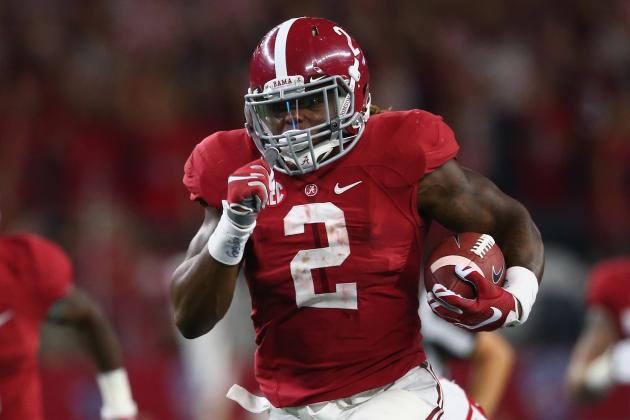 #7 Alabama's offense was stymied for the most part in a 19-14 escape job against Tennessee, but Henry was the major outlier. In fact, he was basically the Tide's whole offense -- rushing 28 times for 143 yards and two touchdowns. His 2nd TD handed Alabama back the lead with about two minutes left and sealed the team's ninth-straight win over the Vols.
Boykin enjoyed a bye this week, but there's no way we're going to forget the damage he's done through seven games. Boykin's hitting at a 10.16 yards-per-attempt clip, posting a sterling 180.7 rating to go along with his 25 touchdowns. We keep saying it, but it's true -- he's the best QB going.
This may be a purely reactionary rating, but WOWOWOWOWOWWOWOW. McCaffrey posted his third 300-yard all-purpose game of the season on Saturday night, hitting 300 on the head exactly in #8 Stanford's 31-14 win over Washington last night. He entered the game with an FBS-best 253 all-purpose yards per game, and his everywhere-at-once contribution has been a primary factor in Stanford's rise back into the College Football Playoff conversation.
1. RB Leonard Fournette -- LSU Tigers
#4 LSU kinda flew under the radar this week seeing that they took out a cupcake Western Kentucky team, but Fournette is still college football's ruler and overlord. He rushed for a season-low 150 yards on Saturday, which is insane because 150 yards is the ceiling for most mortal running backs. He leads CFB in rushing yards, rushing yards per game and highlight reel craziness. No one can touch him right now.
Back to the NCAA Newsfeed
Related Topics: Corey Coleman, Paxton Lynch, Leonard Fournette, Ezekiel Elliott, Christian McCaffrey, Deshaun Watson, Dalvin Cook, Trevone Boykin, Derrick Henry, Seth Russell