The 2016 college football season is still months away from starting, but the oddsmakers have already determined their favorites for the 2016 Heisman Trophy race. Bovada released their Heisman odds this week, and we're here to break down the favorites. With that in mind, here are the top 5 candidates for the Heisman Trophy, according to the bookies in Vegas. 
T-4. Baker Mayfield, QB, Oklahoma Sooners
Odds: 10/1
A former walk-on, no one on this list has surpassed expectations like Mayfield has. He's one of the best QBs in college football and will be in the thick of the Heisman race once again this season. For more on this story, check out the Chat Sports Android and iPhone apps! 
T-4. J.T. Barrett, QB, Ohio State Buckeyes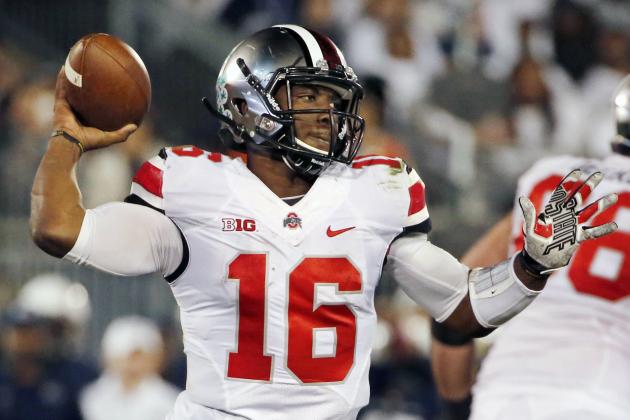 Odds: 10/1
The Buckeyes lose a ton of talent, but they do have Barrett coming back. He'll take on a bigger role in the offense with Ezekiel Elliott taking his talents to the NFL. Barrett should put up plenty of stats, but he'll need to lead the Buckeyes to wins as well to capture the Heisman. Are you a Buckeye fan? Then you'll love the Chat Sports Android and iPhone app!
T-2. Christian McCaffrey, RB, Stanford Cardinal
Odds: 5/1
Many thought McCaffrey should have won the Heisman this season, especially after he torched Iowa in the Rose Bowl. Stanford will be without several starters on the offense line that. That might hurt McCaffrey's number and chances, but he's still an incredible talent who can take home the Heisman. Check out the Chat Sports Android and iPhone app for more news on Stanford.
T-2. Leonard Fournette, RB, LSU Tigers Odds: 5/1
Fournette was the Heisman front-runner early in the year after a monster start, but his campaign slowed down after rough games against Alabama and Arkansas. Better QB play will only help Fournette and he could top 2,000 yards next year. He'll once again carry the Tigers' offense. For more on Fournette, check out the Chat Sports Android and iPhone app!
1. Deshaun Watson, QB, Clemson Tigers
Odds: 9/2
Watson was one of the finalists this season and nearly led Clemson to a national title. Another offseason of work means Watson should be even better next year. Watson racked up over 5,000 yards and 47 TDs on offense last season. He could top those numbers next season, especially if he gets Clemson back to the College Football playoffs. For more news on Watson and Clemson, check out the Chat Sports Android and iPhone app!
Back to the NCAA Newsfeed
Related Topics: Leonard Fournette, Christian McCaffrey, Deshaun Watson, Heisman Trophy, J.T. Barrett, Baker Mayfield