The NCAA Tournament is perhaps the most unpredictable sporting event in the world, but one thing fans can always count on is that there will be a plethora of upsets - especially in the first weekend. Last year, there were 10 lower seeds pulled off first-round upsets (not counting the 8-9 games), and there figure to be a good amount this year as well.
In my bracket, I'm picking eight first-round upsets. There are some others that are highly plausible (namely #10 Wichita State over #7 Dayton), but here are the eight upsets I think are the most likely to happen in the first round of this year's NCAA Tournament.
(10) VCU Rams over (7) Saint Mary's Gaels
Saint Mary's has been a team that has been ranked pretty much all season, but I think they're primed for an upset. They haven't proven that they can consistently beat high quality teams, and their lack of athleticism is a big reason why. They really struggle to defend teams that are quicker than them, and VCU just so happens to be one of the most athletic teams in the country.
The Rams have plenty of NCAA Tournament experience and have won at least one tournament game in four of the last six seasons. VCU will have no problems attacking the rim against Saint Mary's defense and should force a ton of turnovers with their press. It's a bad matchup for the Gaels.
(11) Xavier Musketeers over (6) Maryland Terrapins
Speaking of teams that may have gotten more credit that they deserved this season (including from myself), we have Maryland. They didn't beat a ranked team all year, struggle with consistency and are very weak both in the post. Xavier is a wounded team without Edmond Sumner but have started to figure out how to play without him, getting a win over Butler in the Big East Tournament and only losing by three to Creighton.
Most importantly, Maryland is regressing. The Terps have lost six of their last 10 games, including four of the last six. They're in a funk at the wrong time, and that will lead to an Xavier win.
(11) Rhode Island Rams over (6) Creighton Blue Jays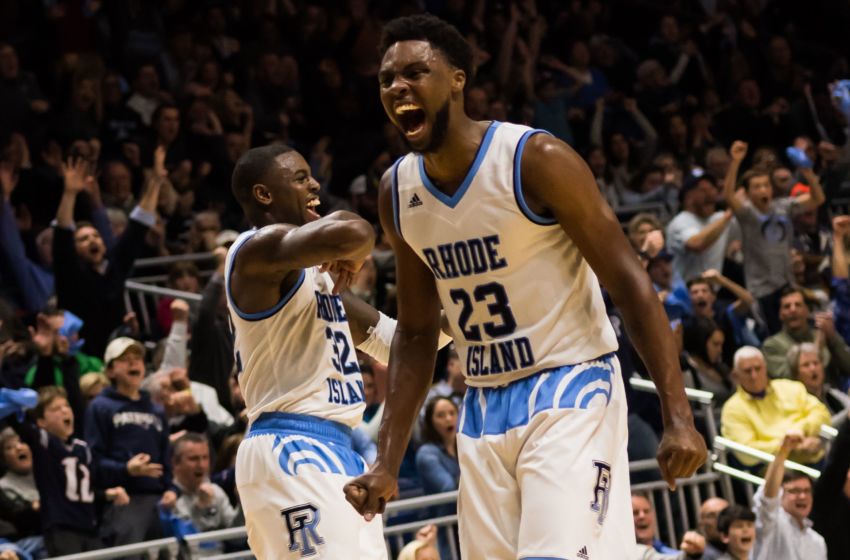 Rhode Island needed to win the Atlantic 10 Tournament just to earn a bid, and now that they're here, they're a very, very dangerous team. The Rams are on an eight-game winning streak, finally displaying all of the ability that had them ranked in the preseason top 25. They're also finally healthy, which is the biggest reason behind this surge. 
Creighton has one of the best players you've probably never heard of in big man Justin Patton (13.1 ppg, 6.2 rpg), but they just haven't been the same since losing star point guard Maurice Watson Jr. They're a team that has become more reliant on the three-pointer, and as the adage goes, they either live by it or die by it. In this game, they die by it due to Rhode Island's defense.
(11) Wake Forest Demon Deacons over (6) Cincinnati Bearcats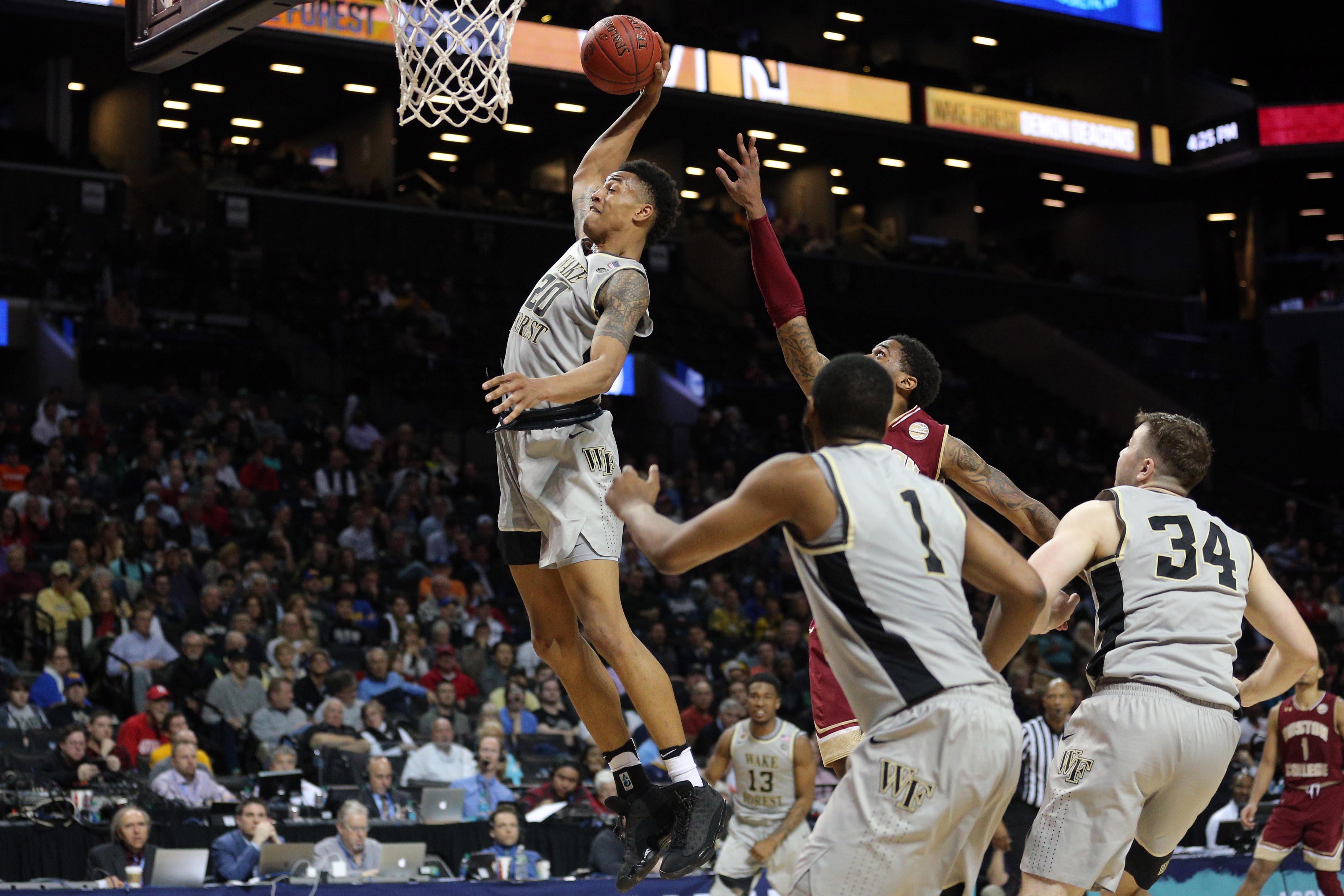 This one is pretty easy. I think whoever wins the play-in game between Wake Forest and Kansas State (I'm picking Wake) will beat Cincinnati for one reason - the Bearcats really struggle to score. They are tied for 128th in the country in points per game (75.0), yet that number dips even lower when they've played teams who also made the tournament this year (68.5 per game - and that is skewed by a 96-point performance against Texas Southern). They simply won't be able to keep up on the scoreboard against whoever they play. 
(12) UNC-Wilmington Seahawks over (5) Virginia Cavaliers
Speaking of teams that struggle to score, here is Virginia, who ranks 312th in points per game (66.6). A lot of that has to do with the slow pace they play, but they also don't have a single player who can consistently create their own shot and can be consistently relied on to give them offense. While they try to slow the game game, UNCW wants to speed the game up. 
Wilmington nearly upset Duke in the first round last year, and they have been waiting to make their mark in this year's tournament. They're extremely balanced with four different players averaging at least 12 points, and their top three scorers are all guards, led by 6-foot-5 sophomore C.J. Bryce (17.6 ppg). That versatility will spread Virginia's pack-line defense out as much as they can, and their efficiency (Wilmington leads the nation in fewest turnovers per possession) will keep the Cavaliers from creating opportunities off their defense.
It will be a close game, and Virginia has struggled in close games because of their inability to score. That will lead to a UNCW win.
(12) Middle Tennessee Blue Raiders over (5) Minnesota Golden Gophers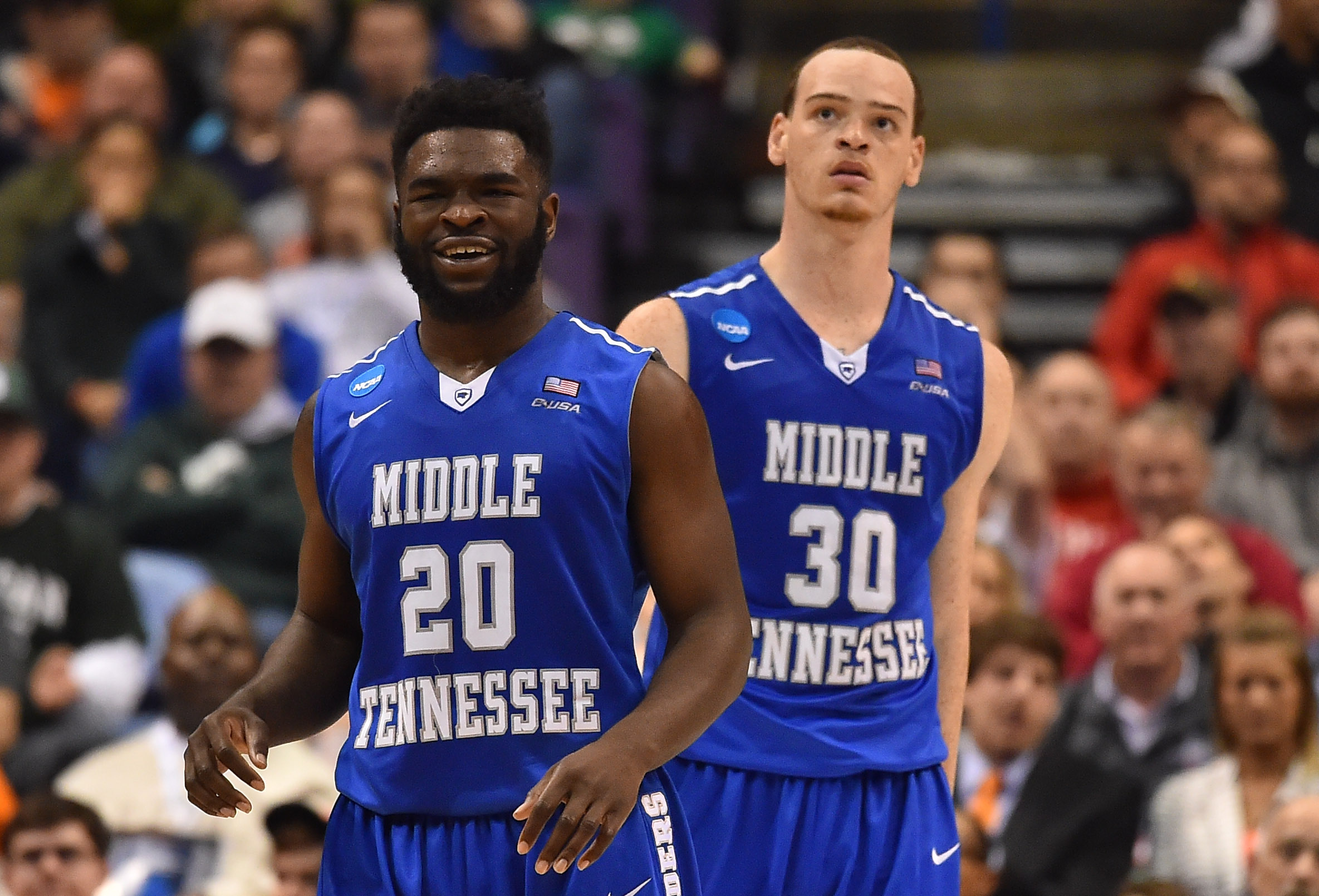 The Blue Raiders wrecked a whole lot of brackets last year by upsetting Michigan State as a 15-seed last year, and return almost everyone from that team. Junior Giddy Potts (15.8 ppg, 5.5 rpg) is a star, but their best player may be Arkansas transfer JaCorey Williams, who is averaging 17.3 ppg and 7.3 rpg. They are talented, proven (No. 35 RPI) and experienced.
Minnesota is a quality team that is good in a lot of areas, but they don't have anything they can hang their hat on. They're also one of the most inefficient offensive teams in the tournament field, ranking 81st in adjusted offense by KenPom.com. That, and their tournament inexperience, will cause them to be upset.
(13) East Tennessee State Buccaneers over (4) Florida Gators
Florida surged up the rankings with a nine-game winning streak in January and February, but have stumbled of late, losing three of their last four games. As is the case with Maryland, the Gators seem to be regressing at the wrong time. And, like Minnesota, the Gators are average in a lot of areas without doing anything great. One thing they don't do particularly well is move the ball (235th in the country in assists), making them easier to defend.
Now, we get to a dynamic East Tennessee State team that is capable of an offensive explosion at any given time. Senior guard T.J. Cromer (19.1 ppg) has the makings of an NCAA Tournament star, and I expect him to lead the Bucs to a win over the Gators.
(13) Vermont Catamounts over (4) Purdue Boilermakers
This is probably the biggest upset I have on this list (always want to save the best for last, right?). If you don't know a lot about Vermont, you're not alone. But here's what you need to know - they went undefeated in conference play (current 21-game win streak overall), play great defense and are very balanced. They're particularly good at forcing turnovers, and Purdue ranks just 172nd in the country in fewest turnovers per possession.
The Boilermakers also have a history of falling victim to first round upsets of late, failing to win an NCAA Tournament in each of the last two seasons. Vermont will force enough turnovers to offset Purdue's size advantage, and that will lead them to an upset win.
Back to the NCAA Newsfeed
Related Topics: NCAA Tournament, March Madness, 2017 NCAA Tournament