Landing a head coaching job at the college football level is not easy and neither is keeping it. Part of the college football coaching circle of life is the coaching carousel at the end of the year. Coaches are fired and hired every season and that won't change in 2016. So which college football coaches are on the hot seat entering this season? 
We're only focusing on Power 5 coaches for this list, which means we won't discuss which MAC coaches could get the boot this year. While any coach could be fired if he has an 0-12 year on the field or runs into major problems off it, this is reserved for coaches with seats already a little warm. With that in mind, here are eight college football coaches on the hot seat for 2016. 
Dave Clawson, Wake Forest Demon Deacons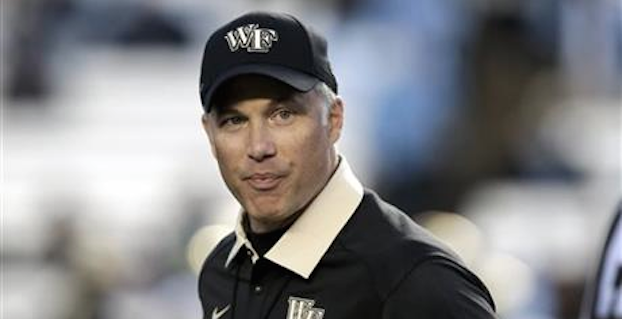 Clawson's previous coaching stint at Bowling Green got off to a slow start before became successful. It took him until his fourth year to get Bowling Green above .500 and he needs to do the same in his third year at Wake Forest. Under Clawson, Wake has posted two straight 3-9 seasons, is just 4-18 against FBS teams and only jas two ACC wins - which came in a 6-3 victory over Virginia Tech and a 3-0 win against Boston College. The results need to start turning around quickly for Clawson to keep his job.
Darrell Hazell, Purdue Boilermakers
No coach's seat is hotter this year than Hazell's. That's because he's lucky he didn't get fired last year and, frankly, it was a real surprise that he wasn't canned. He's won just six games in three years at Purdue, and his buyout drops after this season ends. Barring a surprising bowl game appearance, Hazell will end up fired. 
Dana Holgorsen, West Virginia Mountaineers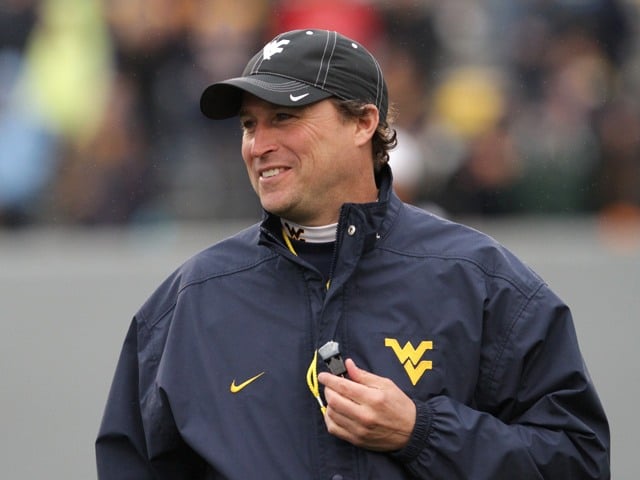 West Virginia nearly fired Holgorsen at the end of last season, and he's firmly on the hot seat this season. WVU returns plenty of talent, and while a Big 12 title isn't likely, eight or nine regular season wins will be enough for Holgorsen to feel safe about his job. The Mountaineers have proven themselves as a middle-of-the-road team in the Big 12 under Holgorsen, but they want more. If Holgorsen can't get his team to that point, WVU might try to find someone who can. 
Mike MacIntyre, Colorado Buffaloes
After three years, MacIntyre has posted a 10-27 record. He's yet to reach five wins, but he's put Colorado in a better spot than the Buffaloes were in when he arrived. But Colorado needs more than four wins in 2016. A bowl game would be make his job totally safe, but getting out of the Pac-12 cellar might be enough as well. 
Derek Mason, Vanderbilt Commodores 
Winning is not easy at Vanderbilt, but James Franklin did it. Mason was generally considered a strong hire coming over from Stanford, and Vandy has produced good defenses under Mason. But the offense has been awful. Mason has posted a poor 4-17 record against FBS teams, with just two wins against the SEC in his two years. Those two games were 6-3 and 3-0 wins. Mason should get another year if his team can show improvement, but another three or four win season is not going to sit well.   
Les Miles, LSU Tigers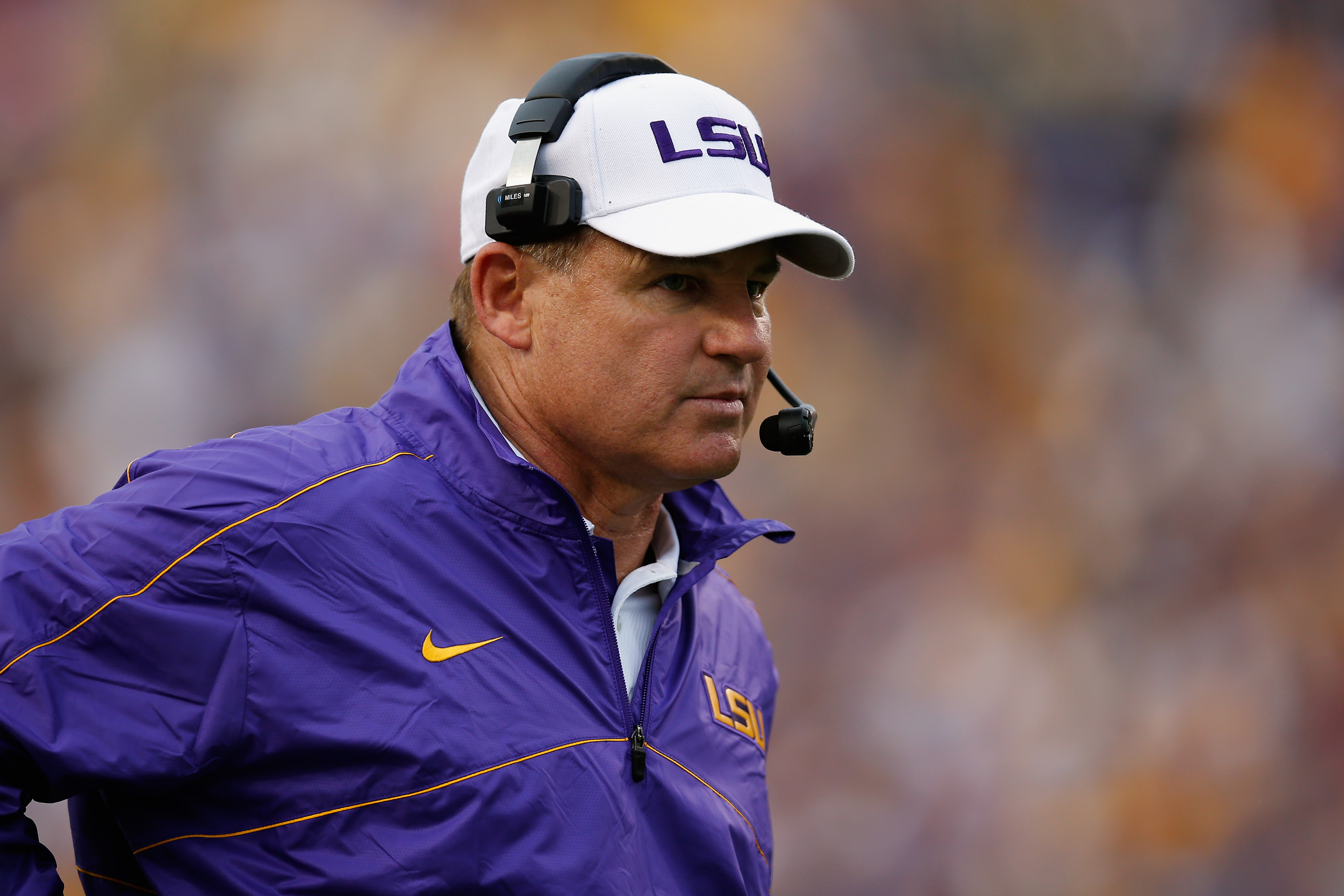 Remember last year, when everyone was happy that the LSU athletic department decided to not fire Miles at the last second? We're going to go through that whole ordeal again in 2016 if LSU and Miles don't win the SEC West (at the very least). LSU only kept Miles because of public pressure and are the decision makers are itching for a reason to move on from Miles and target Jimbo Fisher. So what happens if LSU struggles, falls to Alabama the sixth straight time and has poor QB play? Hint: it might not end well for Miles. 
Charlie Strong, Texas Longhorns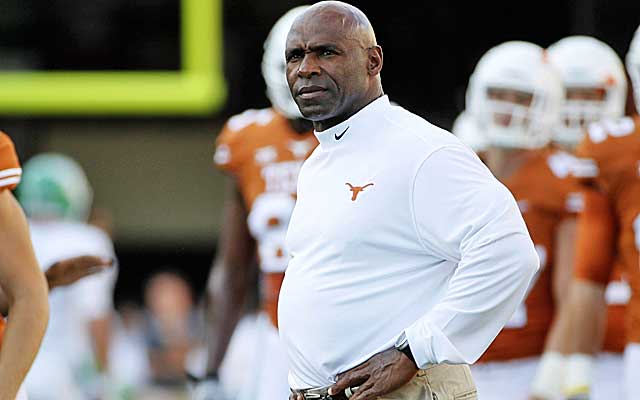 Strong is 11-14 at Texas, and another poor season will likely cost him his job. He took over a rebuilding job at Texas, evidenced by the lack of Texas draft picks the last two years. But the Longhorns need to start winning this year. Strong has brought in plenty of talent and he'll need that talent to start winning games. Strong doesn't need to win the Big 12 to keep his job (and Texas isn't expected to), but he needs to do better than the 6-7 mark he put up in his first year at Texas. The offense needs to be the crux of that turnaround, so don't be surprised if true freshman Shane Buechele is the starter sooner than later.  
Kevin Sumlin, Texas A&M Aggies
Sumlin posted a surprising 11-2 mark in his first year at A&M, but the Aggies regressed since. Sumlin has posted nine wins and eight wins twice, but hasn't had a signature win since beating Alabama in that first year. Sumlin has not fared well against Top 25 teams and hasn't won the SEC yet. That's the ultimate goal. While the report that the Aggies considered firing Sumlin was heavily denied, there's no doubt there are problems with the program. Two five-star QB recruits left this offseason (not including Kenny Hill before last season) leaving A&M hoping that Trevor Knight plays like Bowl Game Trevor Knight and not regular season Trevor Knight. A new athletic director only complicates things. A poor season and/or losses in the games that matter could result in Sumlin's firing. 
Back to the NCAA Newsfeed
Related Topics: Les Miles, College Football Rumors, Derek Mason, Kevin Sumlin, Mike MacIntyre, Dana Holgorsen, College Football Coaching Hot Seat, Dave Clawson, Darrell Hazell, Charlie Strong