College basketball has officially hit the crazy part of the season. 13 of the top 20 teams in the country suffered at least one loss over the past week, and 12 ranked teams were upset by unranked teams. All of that led up to another wild weekend, where most of those upsets took place. Here are the seven biggest takeaways from the college basketball weekend:
1) Kansas is going to be OK
The marquee game of the weekend was Kentucky hosting Kansas, and the Jayhawks went into Rupp Arena and came away with the 79-73 win. Going into the matchup, many were concerned that the sky was falling on KU's season. With freshman center Udoka Azubuike suffering a season-ending wrist injury earlier in the year, forward Carlton Bragg Jr.'s indefinite suspension left Kansas with Landen Lucas as the only big man in their normal rotation.
Everyone assumed that Kansas would struggle with that, but Bill Self managed the situation beautifully against Kentucky. Junior Dwight Coleby and freshman Mitch Lightfoot each saw spot minutes when Lucas was in foul trouble or needed a short breather, and Self even went extremely small and put Josh Jackson at center. This will likely be the formula KU uses for the rest of the season, and as the win over Kentucky showed, it will work for them.
2) Kentucky's offense needs to execute better
On the flip side of that game, Kentucky has lost two games in a row and are facing some serious problems. They have had defensive breakdowns in those losses to Tennessee and Kansas, but a more pressing issue (in my eyes, at least) is the inability to execute and their struggle to score in their half-court offense. With De'Aaron Fox and Malik Monk leading the way, the Wildcats are one of the most dynamic teams in the country in transition, but have a tough time finding offense when buckets aren't so easy to get.
Kansas was able to slow the game down by playing a zone and changing up their defenses, and the result was 17 turnovers by Kentucky. It also led to a few slow stretches for the Kentucky offense, who scored just three points in the final five minutes of the first half and only 10 points from the 12:38 mark to the 4:24 mark in the second half. Those stretches are more alarming long-term for UK.
3) The ACC is insanely deep
Florida State, North Carolina and Notre Dame - all of whom were ranked in the top 15 nationally - went on the road on Saturday and lost to Syracuse, Miami and Georgia Tech, respectfully. The kicker? None of those teams had a winning conference record coming into the weekend. Duke also needed a 30-point second half from Luke Kennard (more on him next) and a 14-2 run to close the game to get past Wake Forest.
Every team has at least two losses in conference play, and 10 teams are now at least .500. ESPN's Joe Lunardi has all 10 of those teams in the NCAA Tournament in his latest bracketology update, and this weekend was just another example of how deep the conference is.
4) Luke Kennard is Duke's best player and everything needs to go through him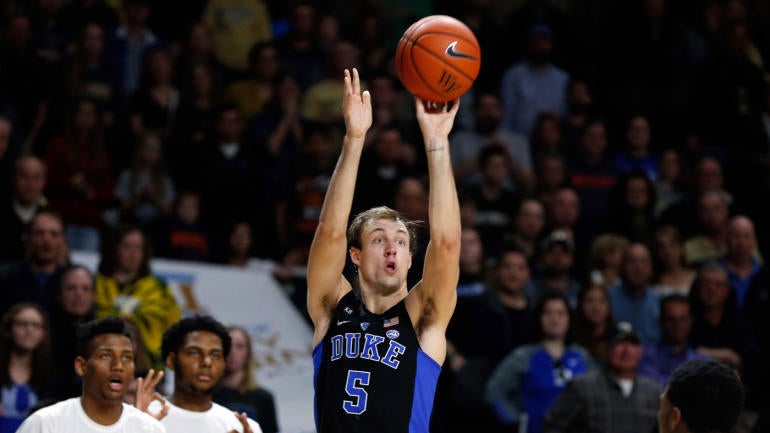 Speaking of Kennard, he has been Duke's best player all season - yet the team seems to have been reluctant to give him that role. In one sense, that could be expected. He was supposed to start the year as a benchwarmer and role player while All-American Grayson Allen and projected lottery picks Jayson Tatum and Harry Giles handled the load. However, that performance - and his game-winning shot - against Wake kept Duke from going into a complete freefall and cemented his place at the top of Duke's pecking order. The Blue Devils will turn their season around if they embrace that and continue to get Kennard more involved.
5) Virginia has a hard time putting teams away
For 32 minutes on Sunday, Virginia was absolutely dismantling the No. 1 team in the country. Their defense held Villanova to just 18 percent shooting in the first half and kept stars Josh Hart and Kris Jenkins from making a field goal until the final eight minutes of the game. That should've been enough to Virginia to cruise to an easy win. However, Villanova found their stride in those final eight minutes, allowing this to happen:
COUNT IT!! Donte DiVincenzo gets the tip in FTW! #UVAvsNOVA pic.twitter.com/SAWO9AG2w9

— Brian Rauf (@brauf33) January 29, 2017
In reality, the game should've never been close - that's how in control Virginia was. The problem is that due to the slow pace of play they prefer, it limits the number of possessions in a game and lessens their margin for error. So, despite that dominance, they never led by more than 13 points in the game. That pace kept Villanova within striking distance if they ever caught fire or if UVA slipped up on either side of the floor. Both of those things happened over a four-minute span in the second half, turning a 13-point lead for Virginia into a tie game. That's something good teams eventually take advantage of.
6) Louisville's offense may have turned the corner
Louisville has been tough to figure out this season. Their defense has been very good all year, but a lack of offensive firepower has caused them to lose to Baylor, Virginia, Notre Dame and Florida State. When they have been able to find their offense, they've been able to beat Kentucky and Duke - the problem has been finding that offense consistently.
Well, the Cardinals may have found it this week, dropping 106 points on Pitt and 85 points against NC State, both of which were blowout wins. Donovan Mitchell led the way with 28.5 points per game, recording the two highest-scoring games in his career. Now, Pitt and NC State aren't the best teams, but if Louisville has figured out something that works for them, they can beat anyone.
7) Maryland is the best team in the Big Ten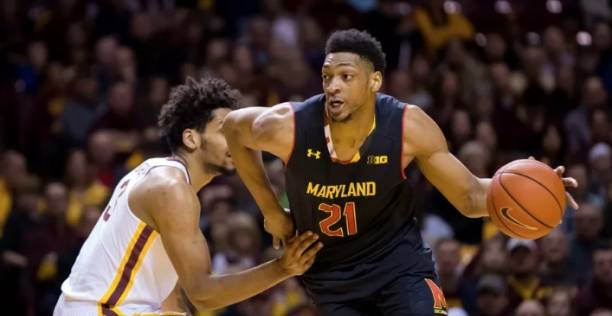 The Big Ten has largely been a disappointing mix of mediocrity and parity this season, and surprisingly, Maryland has emerged as the best team. They're tied with Wisconsin for first place in the conference, but the Badgers'  narrow wins over Rutgers, Minnesota and Michigan (at home) show that they aren't clicking on all cylinders right now. Meanwhile, Maryland hasn't lost a road game in conference and are excellent in the clutch, going 10-1 in games decided by seven points or less. The Big Ten isn't great, but the Terps are the best team in it right now.
Back to the NCAA Newsfeed
Related Topics: Notre Dame Fighting Irish Basketball, Virginia Cavaliers Basketball, Big East Basketball, Kentucky Wildcats Basketball, Kansas Jayhawks Basketball, SEC Basketball, ACC Basketball, Miami Hurricanes Basketball, Syracuse Orange Basketball, NCAA Basketball, Florida State Seminoles Basketball, Duke Blue Devils Basketball, Maryland Terrapins Basketball, Luke Kennard, Big Ten Basketball, Villanova Wildcats Basketball, Big 12 Basketball, North Carolina Tar Heels Basketball, Georgia Tech Yellow Jackets Basketball