The calendar has flipped to March, meaning that college basketball is set to take over the sporting world for the next month. All of the Power Six conferences are heading into the final few days of the regular season, but for the smaller conferences, they have their conference tournaments this weekend. That means a ton of programs you may have never heard of before will be clinching NCAA Tournament bids over the next few days.
Mid-major programs like Gonzaga, Dayton, VCU and Wichita State have crossed over and essentially become power programs, but there are a few other smaller teams you may not be as familiar with that are capable of pulling an upset or two and making a run in the tournament. Here are the six mid-major teams you need to know about now - and should pay attention to this weekend:
Illinois State split the Missouri Valley regular season title with Wichita State, and even if they don't win the conference tournament, they will likely still get in the field via an at-large bid. Though they play at a slow pace, their defense has been one of the best in the country all year. They rank sixth in the country in points allowed per game (60.7) and are 10th in adjusted defensive efficiency, according to KenPom.com.
However, unlike the Virginia team they are often compared to due to their style of play, the Redbirds have a few players capable of taking over a game offensively. MiKyle McIntosh (12.8 ppg), Deontae Hawkins (14.1 ppg) and Paris Lee (13.0 ppg) have all done so at various points throughout the year. They are a heavy favorite to be a 12-seed that pulls off the first-round upset.
The Blue Raiders wrecked a whole lot of brackets last year by upsetting Michigan State as a 15-seed last year, and return almost everyone from that team. Junior Giddy Potts (15.0 ppg, 5.4 rpg) is a star, but their best player may be Arkansas transfer JaCorey Williams, who is averaging 17.4 ppg and 7.5 rpg. They are talented, proven (No. 32 RPI) and experienced. While Middle Tennessee may not have the size necessary to make a long run, they are certainly capable of pulling off an upset or two.
Monmouth Hawks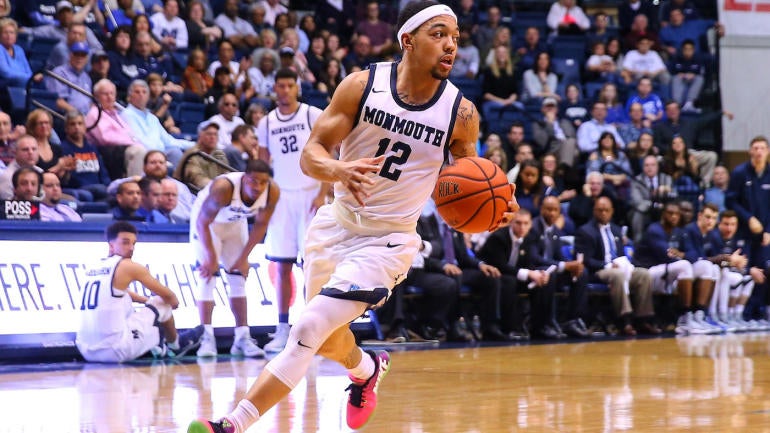 Speaking of talented teams returning from last season, Monmouth missed out on the tournament in 2016 after falling to Iona in the MAAC Championship Game. They really should have gotten in as an at-large bid, but this looks like the year they break through. The Hawks may only have one win over a top 100 RPI team (Princeton), but only lost by one at South Carolina and played tough at North Carolina before falling apart late in the second half.
Monmouth is a small team with plenty of talented guards headlined by Justin Robinson (19.7 ppg, 4.8 apg), who may just be the best player under 5-foot-8 in the entire country. If they go up against another guard-oriented team, they have a very good chance to pull off the upset with their up-tempo, run-and-gun style. However, if they get paired against a team with size, they could be easily overpowered. Matchups will be more key for them than most.
St. Mary's is on here for a different reason than the other five. You may be tempted to pick them since you have likely heard of them before due to the fact they've been ranked for most of the season, their rivalry with Gonzaga and past success in the tournament - do not fall into that trap. Currently projected to be a No. 6 seed by ESPN's Joe Lunardi, the Gaels are almost guaranteed to lose in the first round.
They are 26-3, but Dayton is the only team they have beaten that is ranked in the top 59 in KenPom.com's rankings. St. Mary's has beaten the teams they are supposed to beat, but don't really have any quality wins. They are well coached, but are very unathletic and really struggle to defend teams that are quicker than them. That has been and will continue to be a huge problem for them.
UNC-Wilmington Seahawks
Wilmington nearly upset Duke in the first round last year, and they have been waiting to make their mark in this year's tournament. UNCW is 26-5 this season, though three of those five losses came by five points or less - and two were by a single point. Four different players average over 12 points, and their top three scorers are all guards, led by 6-foot-5 sophomore C.J. Bryce.
Those guards went toe-to-toe with a Duke backcourt that featured No. 2 pick Brandon Ingram along with Grayson Allen and Luke Kennard last year and played them evenly. With another year of experience under their belts, the Seahawks are a team no one wants to see.
UT-Arlington is 23-6, and all six losses have come away from home - though they did pick up a big win on the road over St. Mary's. Unlike the other teams on this list, they don't have one particular thing they do that overwhelms their opponents - they are just a deep, talented, well-coached team.
Six different players average at least eight points per game, but 6-foot-9 forward Kevin Hervey (17.0 ppg, 8.3 rpg) has the potential to turn into a star on the big stage. A stretch big, he makes nearly two three-pointers per game and is a matchup nightmare for virtually every team they play. His play will determine if the Mavericks make any noise in March or not.
Back to the NCAA Newsfeed
Related Topics: St. Mary's Gaels Basketball, Middle Tennessee Blue Raiders Basketball, UT-Arlington Mavericks Basketball, Illinois State Redbirds Basketball, UNC Wilmington Basketball, Monmouth Hawks Basketball, NCAA Basketball, NCAA Tournament